Mike Pence Says 'The Violence Must Stop' as Protests Rage Across U.S.
Vice President Mike Pence formally accepted the Republican Party's renomination as candidate for Vice President during Wednesday's Republican National Convention.
In keeping with the Trump administration's focus on law and order, Pence told those in attendance that Democratic Presidential candidate Joe Biden would "be nothing but a Trojan horse for the radical left."
Referencing the Democratic National Convention, Pence said that "Biden didn't say one word about the violence and chaos engulfing American cities, so let me be clear. The violence must stop, whether in Minneapolis, Portland or Kenosha. Too many heroes have died defending our freedom to see Americans strike each other down. We will have law and order on the streets of this country for every American of every race and creed and color."
While emphasizing the White House's support for peaceful protest, Pence declared that "rioting and looting are not peaceful protest. Tearing down statues is not free speech, and those who do so will be prosecuted to the fullest extent of the law."
At the end of Pence's speech, President Trump and First Lady Melania Trump joined Pence and Second Lady Karen Pence on stage before greeting those in attendance.
Although Pence warned those listening about the dangers of a Biden presidency, he made no mention of his direct political opponent, California Senator Kamala Harris. Harris was tapped by Biden to be his running mate on the Democratic presidential ticket.
Pence said in August that he was looking forward to debating Democratic Vice Presidential candidate Kamala Harris in Utah in October. After Harris was named as Biden's running mate, Pence said his message to Harris was "Congratulations. I'll see you in Salt Lake City."
In August, Pence told Fox News host Sean Hannity that he considered Harris to be a "skilled debater."
"But I can't wait to get to Salt Lake City and be on the stage with her," Pence added, "to compare Joe Biden's nearly 50 years in public life—the agenda of the radical left, the agenda that she's embraced throughout her political career—with the results of this president and this administration."
Harris has been critical of Pence, particularly his comments about members of the LGBTQ community. During his Indiana Congressional run during the 1990s, Pence supported gay conversion therapy by saying that funding should "be directed toward those institutions which provide assistance to those seeking to change their sexual behavior." Pence has also spoken against same-sex marriage and said that homosexuality was a choice.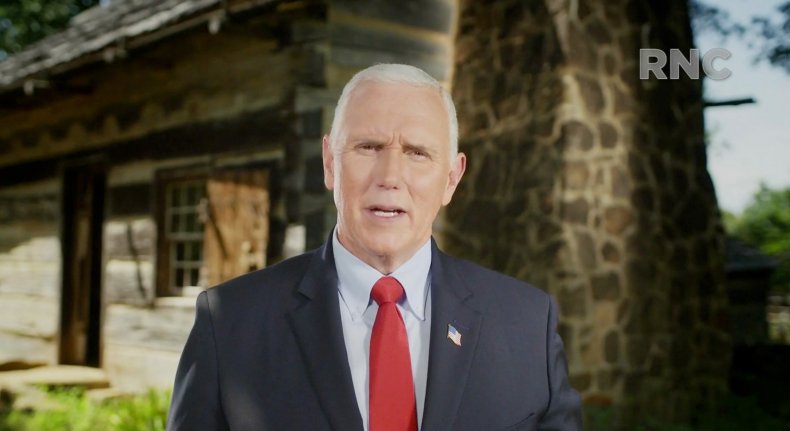 Biden took criticism from LGBTQ groups in 2019 after referring to Pence as "a decent guy" at the Munich Security Conference. Later, Biden clarified his remarks. "There is nothing decent about being anti-LGBTQ rights," Biden tweeted, "and that includes the vice president."
Harris said in a March 2019 interview with MSNBC that she disagreed with "most of what the vice president stands for when he makes decisions about our LGBTQ community in a way that doesn't understand that they should be entitled to full equality and all rights under the law as any other American."
Pence's conservative Christian beliefs have caused some to look at him as an outsider. In a 2002 interview with The Hill, Pence said he would not work late with a female aide, dine alone with a woman he was not married to nor attend an event where alcohol was available without his wife in attendance.
"If there's alcohol being served and people are being loose," Pence said, "I want to have the best looking brunette in the room standing next to me."
President Trump has praised Pence, noting Pence's popularity with "every religious group."
"He's done everything he can do," Trump said in August. "He's respected by every religious group. Whether it's evangelical, whether it's any other group, they respect Mike Pence."
Former South Bend, Indiana Mayor Pete Buttigieg, who ran as an openly gay Democratic presidential candidate, tweeted before Pence's remarks on Wednesday that he did not expect the vice president to "come around."
"Yet, it is still jarring that a man rooted in faith and scripture would punch the clock every day for a bass whose conduct flies in the face of every notion, liberal and conservative, of basic morality and decency," Buttigieg wrote.
Harris, pointing toward her experience as California's Attorney General, has indicated excitement about the chance to run against the Republican presidential ticket.
"As somebody who's presented my fair share of arguments in court, the case against Donald Trump and Mike Pence is open and shut," Harris said in August.
Correction 4:13 p.m. EST 8/28/2020: This article originally named Pete Buttigieg as the first openly gay presidential candidate. That statement was incorrect. Fred Karger became the first openly gay presidential candidate when he ran as a Republican in 2012. We regret the error.