Rabbi Who Appeared With Mike Pence Thinks Jews Who Don't Believe in Jesus are Hell-Bound
Loren Jacobs, the Christian rabbi recruited to pray alongside Vice President Mike Pence for the Jewish victims of a neo-Nazi attack on the Tree of Life synagogue last weekend, believes that Jews who don't accept Jesus Christ as their savior will burn in hell.
Jacobs leads the Jews for Jesus congregation at Shema Yisrael outside of Detroit but is not ordained by any rabbinical school. He holds two degrees from Christian universities in religious studies.
The Jews for Jesus religious sect believes in the New Testament and is not typically recognized as a Jewish organization.
During his prayer at a political rally this Monday, Jacobs invoked the name of Jesus multiple times both for the victims of the shootings and Republicans campaigning in the Detroit area.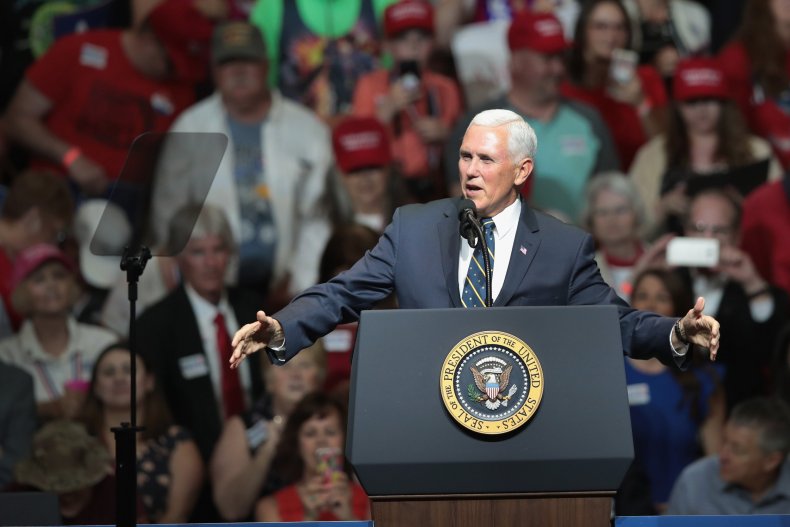 Still, Pence introduced Jacobs as a "leader of the Jewish community here in Michigan." Jacobs, meanwhile, has written on multiple occasions about how the Jews he prayed for at the Republican rally will go to hell because they did not accept Jesus Christ as their lord and savior.
On his congregation's website, Jacobs wrote that "no Jewish person is going to appear before God and say, 'Judge of the whole Earth, I'm not responsible for not believing in the Savior you sent to us. I never knew.' Or, 'Master of the universe, I didn't like the way Yeshua [Jesus] was presented to me. Besides, my Rabbi told me not to believe in Him, so it's not my fault.' These excuses won't be accepted! We are responsible for choosing the spiritual leaders to whom we listen. We are warned not to listen to false teachers. If the blind mislead the blind, so that both fall into a pit, both are responsible."
In another essay on the website, he wrote: "Humanity is fallen, lost, far from God, perishing, without eternal life, headed to the Second Death and Hell, and in the most desperate need of the salvation provided by God and Messiah Yeshua [Jesus]."
Republican Congressional candidate Lena Epstein, whom Pence was campaigning for, said she invited Jacobs to speak "because we must unite as a nation."
"Any media or political competitor who is attacking me or the Vice President is guilty of nothing short of religious intolerance and should be ashamed," she said. In a statement, Epstein reiterated that she is Jewish, and if elected, she would be the only Jewish Republican woman in Congress.
But it was Pence, a born-again evangelical Christian, who invited Jacobs to speak on stage. Pence's deputy chief of staff, Jarrod Agen, told NBC News that after the rabbi spoke in private, Pence invited him to the stage for the rally to hear.
"We often have ecumenical prayers at the beginning of events that aren't an endorsement of any particular faith," said Agen.
Rabbi Jason Miller, a religious leader and entrepreneur in Michigan, criticized Epstein for preaching religious tolerance while only inviting one faith leader from a controversial sect to speak at her rally.
"Yesterday I received the directory of the Michigan Board of Rabbis. There are over 60 rabbis on this list and yet the only rabbi they could find to offer a prayer for the 11 Jewish victims in Pittsburgh at the Mike Pence rally was a local Jews for Jesus rabbi? That's pathetic," he tweeted. "In my opinion, the Vice President of [the] United States (or his aides) should know who the speakers will be at any event or rally in which he participates. It is called due diligence."
Eleven were left dead on Saturday after a neo-Nazi entered the Tree of Life synagogue during a bris, the Jewish ceremony of circumcision, and began shooting. The event is believed to be the deadliest attack on the Jewish community in U.S. history.