Mike Pence Snubbed by Arab Politicians in Israel Over Trump Jerusalem Decision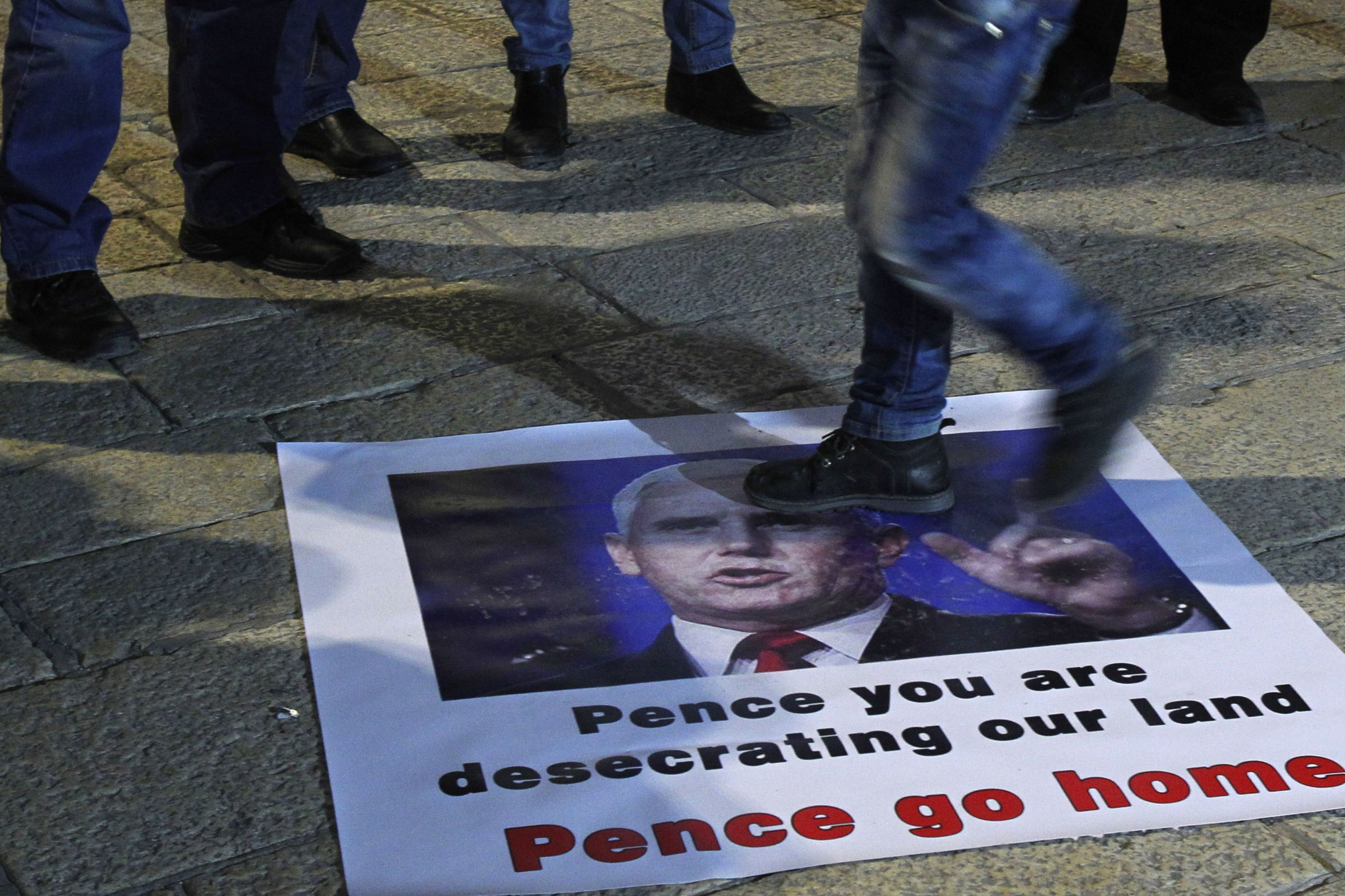 Arab lawmakers in Israel will boycott Vice President Mike Pence's speech to the Israeli parliament in Jerusalem on Monday, citing the U.S.'s decision to recognize the contested city as the capital of Israel.
Trump's second-in-command is on the final stop of a four-day Middle East visit. His arrival has aroused protest not only from Arab Israelis and Palestinians in Jerusalem and the West Bank, but also from Arab representatives in Israel.
Ayman Odeh, leader of the Arab Joint List, the third-biggest party in Israel, announced the boycott of Pence's speech on Saturday.
"[Pence] is a dangerous man with a messianic vision that includes the destruction of the entire region," said Odeh.
The Palestinians seek East Jerusalem, the location of the Haram al-Sharif, or Noble Sanctuary, the third-holiest site in Islam, as the capital of any future state. But the site is also sacred to Jews, who refer to it as the Temple Mount, the holiest site in Judaism.
Israel captured the territory from Jordan in the 1967 Six-Day War. The Israeli government, which operates mostly out of West Jerusalem, claims the whole city as its capital.
Ahmad Tibi, member of the Joint List and Israel's most popular Arab politician, confirmed the boycott of Pence's speech to Newsweek.
"Pence pressed for the U.S. embassy to be moved to Jerusalem and indicated that discussions on it are off the table," he said. "This administration is part of the problem and not part of the solution."
When asked where he will be instead of watching Pence's visit, Tibi said he would remain inside the Knesset. On where inside the building he would choose to be, he said, "You will see."
Pence had planned to pay a visit to the region during the Christmas period, but after Trump's decision, a series of Christian community leaders declined to meet with him.
In the Christian West Bank city of Bethlehem, banners read "Bethlehem refuses US vice president's visit" in close proximity to the said birthplace of Jesus, the Church of the Nativity.
Pence blamed the passing of tax reform for his cancellation, rescheduling it for this month. Both Muslim and Christian leaders are again refusing to meet him, and he has none scheduled for his Israel visit.
Pence also faced opposition, albeit less pronounced, from Arab leaders. Meeting Jordan's King Abdullah on Sunday, Pence said that "friends occasionally have disagreements" after Abdullah protested the Trump administration's decision. He also said that he and Egyptian President Abdel Fattah el-Sisi had disagreed on the embassy move.
Pence met with Israeli Prime Minister Benjamin Netanyahu on Monday morning. He will later have dinner with the Israeli leader, who is mired in a corruption scandal, and his wife, Sara, at their residence in Jerusalem.