Former Vice President Mike Pence received a standing ovation after he delivered a speech to a controversial Iranian dissident group once considered a terrorist organization by the U.S.
Pence had travelled more than 5,000 miles to address the People's Mujahedeen of Iran (MEK) in Albania, where the fringe group is now based following its exile from its native country.
During his talk, Pence hit out at the "brutality" of the Tehran regime, as well as urging the Biden administration not to renew an Iran nuclear deal which the U.S. withdrew from under Donald Trump's presidency.
While considered a cult with no real support in Iran, a number of high-profile figures from both parties in Washington D.C. have long considered the MEK a real democratic alternative to Iran's current rulers.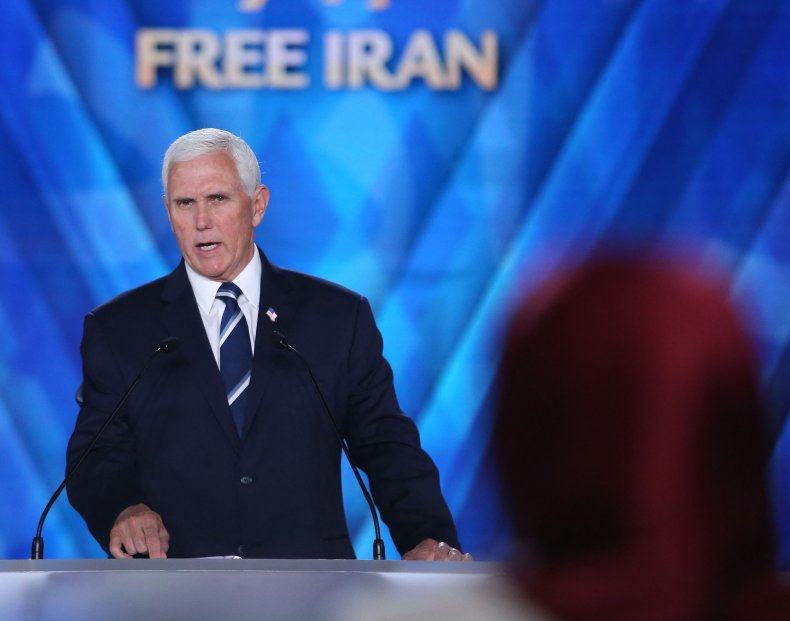 "No oppressive regime can last forever. For inside every human heart is an unquenchable fire that burns to be free," Pence said. "Just as the Soviet Union collapsed under the weight of its own evil, so too will be the fate of the oppressors in Iran.
"The day will come when the ayatollahs release their iron-fisted grip on Iran and her people and a new, glorious day will dawn.
"A bright future will begin, ushering in an era of peace, prosperity, stability, and freedom for the good people of Iran and the world, so help us God," Pence added, prompting a standing ovation from the MEK crowd.
The MEK began in 1965 as an opposition group to the dictatorial rule of Shah Mohammad Reza Pahlavi in Iran.
Following the Islamic Revolution in 1979 during which Pahlavi was overthrown, the MEK spent years vehemently fighting with the Islamic Republic and Ayatollah Ruhollah Khomeini, who was installed as the supreme leader of Iran until his death in 1989.
The group eventually went into exile into neighboring Iraq in 1986, where they sided with Saddam Hussein in his own war with the Islamic republic, a move which essentially lost all their support within Iran.
In 1997, the MEK was proscribed as a terrorist group by the State Department before being removed from the list in 2012.
In 2013, Albania agreed to take in some 3,000 members of MEK at the request of Washington and the United Nations, where they remain in their Ashraf-3 compound, where Pence delivered his speech.
"This is the first opportunity I've had to visit Albania since completing my term as vice president of the United States. And while I no longer speak on behalf of the American government I do speak with confidence regarding the views of millions of Americans," Pence said.
"I can say to all of those gathered here, including many of my fellow Americans, that the American people are with you as you stand and labor for freedom in Iran."
Pence is not the only U.S. figure to have publicly supported the MEK in recent years because of its opposition to the Iranian regime, despite its previous listing as a terrorist group.
Former National Security Adviser John Bolton, Trump lawyer and ex-New York Mayor Rudy Giuliani and former Democratic Party chairs Edward Rendell and Howard Dean have all appeared at events supporting the MEK in recent years.
In May, former Secretary of State Mike Pompeo also visited Ashraf-3 and visited the camp's museum which details Iranian casualties since the Islamist regime in Iran came to power in 1979.
"It's just ridiculous that they've been able to get the influence that they have had in the U.S.," Barbara Slavin, director of the Future of Iran Initiative at the Atlantic Council, told the Middle East Eye in 2019. "I think that's primarily due to the money ... that they pay lobbyists to press their case."
A spokesperson for the MEK told Newsweek that Pence was not paid for his speech in Albania. Pence has been contacted for comment.
Correction 06/24/2022, 12:17 p.m. EDT. This article was corrected to say that Mike Pompeo visited MEK's camp in May, not Mark Meadows.