Mike Pence Spoke to Dominic Raab After Boris Johnson Was Hospitalized for Coronavirus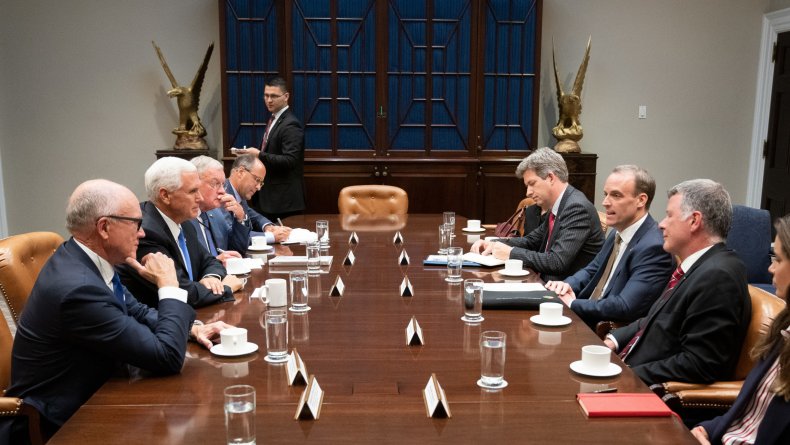 Vice President Mike Pence spoke to UK Foreign Secretary Dominic Raab after he was thrust into filling the British government's top role by Prime Minister Boris Johnson's hospitalization.
Katie Miller, Pence's Press Secretary, confirmed to Newsweek that the VP spoke with Raab in the hours immediately after he was tasked with managing the UK's response to the COVID-19 epidemic while Johnson is ill.
Although some previous British prime ministers have chosen a deputy prime minister to be his or her designated successor in a manner similar to an American Vice President, Johnson chose not to name a deputy when he formed a government after the UK's December 12 election.
Instead, Johnson tapped Raab, a 10-year House of Commons veteran and an ardent supporter of the UK's exit from the European Union, as First Secretary of State, in addition to his primary role as the UK's top diplomat.
Johnson, a New York-born ex-journalist, has a strong relationship with Trump, who called him "a good man" when Conservative Party members chose him to replace Teresa May last July.
The Vice President met with Raab on August 8 last year, when the Raab visited the White House during his first trip as Foreign Secretary.
Johnson is the first leader of a major power to be hospitalized as a result of COVID-19, the illness caused by a novel coronavirus which the World Health Organization has dubbed SARS-Cov-2.
His government initially resisted imposing the sorts of lockdowns and stay-at-home orders which have now become commonplace across the globe, and as recently as March 13 his top scientific adviser was still advocating a course of encouraging the development of "herd immunity" by allowing large segments of the British population to become infected.
This plan was scrapped amid criticism from the British scientific community, and the UK instead adopted a nationwide policy of social distancing on March 23 after Johnson delivered a televised speech calling on Britons to stay at home for the next three weeks.
Four days later, Johnson and Health Secretary Matt Hancock announced that they each had tested positive for COVID-19.
Neither the White House nor the National Security Council responded to Newsweek's requests for further details on the conversation between Pence and Raab or about whether Trump planned to speak with him.