Mike Pence Subpoena Could Be the 2024 Boost He's Looking For
Former Vice President Mike Pence has been hit by a subpoena by the special counsel investigating his former boss' efforts to overturn the results of the 2020 election, but it may not all be bad news for Pence.
Last week, federal prosecutors announced they were seeking Pence's testimony as part of Special Counsel Jack Smith's probe—an aggressive move that will put the former VP, a 2024 hopeful, in a tricky situation.
Amid reports that Pence is planning to fight the subpoena to avoid facing a grand jury, experts say that the move from the Justice Department may have inadvertently teed up an opportunity for Pence to score big with GOP voters, even if he fails to challenge prosecutors.
"It's likely that he won't be successful," Republican strategist Matt Klink told Newsweek. "But protesting a subpoena from President Trump's special counsel will boost his standing among Republican insiders who see 'the swamp' and a heavily politicized Justice Department as one of this country's biggest problems."
While Pence hasn't announced a formal presidential run, he typically ranks third behind former President Donald Trump and Florida Governor Ron DeSantis in hypothetical 2024 polls. Recent polls from Ipsos, Morning Consult and YouGov show the former vice president with between 6 to 8 percent of support in the Republican primaries.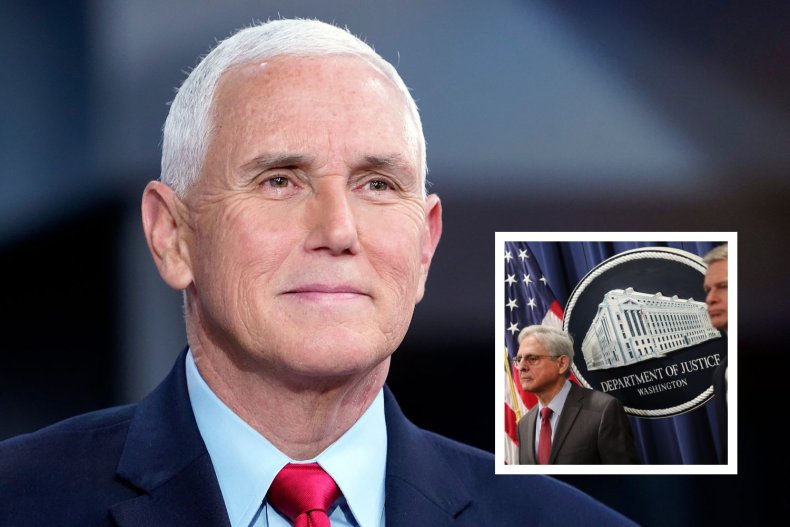 While a decision to resist the subpoena could potentially help Pence build support among voters, Klink noted that Pence is still a "heavy underdog" and that should he run for he GOP nomination, much of his campaign will be shaped by what his former commander-in-chief says about him.
GOP consultant Alex Patton agreed, saying the factors Pence has to consider are part of the larger "strange tip-toe dance" that Pence is attempting with Trump—a relationship Paton described as "a long distance hug with a ol' frenemy and abusive partner."
Patton told Newsweek that because of their tumultuous relationship, Pence's next move can't be removed from the image that Trump has already painted of his former running mate as "a wimp" and the reason why there wasn't a second Trump term.
"At this point, the political calculation of the former VP Pence is that being perceived as 'fighting subpoenas' is almost a prerequisite for his Presidential bid to be viable," he said.
Although there are reports that Pence is planning to fight the subpoena, it's also been speculated that the Republican won't be citing executive privilege, like Trump has and has instructed his allies to do. Instead, sources told Politico that Pence is planning to argue that his former role as a president of the Senate will shield him from the subpoena.
Pence believes that because he was a member of the legislative branch, ordering him to testify would jeopardize the separation of powers guaranteed by the Constitution's "speech or debate" clause.
At the same time, a former Pence aide has argued that complying with the subpoena could give him the "security blanket" he's been looking for.
"In some ways, it's political advantage if DOJ takes Donald Trump out of the running, that works in Mike Pence's favor, and I'm sure that is part of the calculus going to the Pence team right now," Olivia Troye, who worked for Trump, told MSNBC over the weekend.