Mike Pence's Subpoena Hail Mary May Come Back to Bite Him, Ex-Judge Warns
A former adviser to Mike Pence warned him this week that the former vice president's ongoing effort to dodge a subpoena connected to a federal investigation of Donald Trump's role in the January 6, 2021, riots at the U.S. Capitol could come back to hurt him as he mulls a run for president.
Writing in The New York Times on Friday, J. Michael Luttig—a former judge on the U.S. Court of Appeals for the 4th Circuit who advised the then-vice president ahead of the Electoral College count on January 6—said Pence's challenge to special counsel Jack Smith's subpoena for him to appear before a grand jury in Washington was ill-advised, particularly given Pence's pledge to fight the subpoena "to the Supreme Court."
While the effort could gain him points with voters as he mulls a 2024 run, Luttig wrote, the courts would likely rule in favor of the Department of Justice. He called the subpoena "perfectly legitimate."
And the timing, Luttig said, could be poor.
"A politician should be careful what he wishes for—no more so than when he's a possible presidential candidate who would have the Supreme Court decide a constitutional case that could undermine his viability in an upcoming campaign," Luttig wrote.
"The former vice president should not want the embarrassing spectacle of the Supreme Court compelling him to appear before a grand jury in Washington just when he's starting his campaign for the presidency," he added.
Whether Pence would win is another story.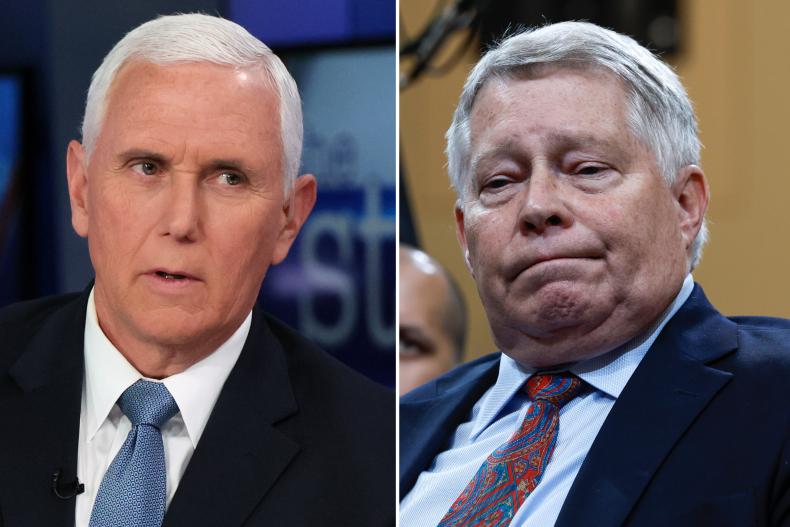 While Pence—like other members of Congress implicated in Smith's investigation—has sought to invoke protections under the "speech and debate" clause protecting Congress members' speech, the case of January 6 is an unprecedented one, with the protections afforded lawmakers still undefined.
On Thursday, lawyers for Pennsylvania Congressman Scott Perry—another person of interest in the investigation—delivered their first arguments in a partially sealed hearing over the legality of the DOJ subpoenas, with arguments in Pence's potential case still likely months away.
And as vice president, Pence still needs to make the case that his role presiding over the Senate on January 6 made him eligible for the same protections afforded members of Congress.
That in itself, Luttig wrote, could prove challenging.
"There are relatively few circumstances in which a former vice president would be entitled to constitutional protection for his conversations related to his ceremonial and ministerial roles of presiding over the electoral vote count," wrote Luttig. "What Mr. Smith wants to know about are Mr. Pence's communications and interactions with Mr. Trump before, and perhaps during, the vote count, which are entirely fair game for a grand jury investigating possible crimes against the United States."
Newsweek has reached out to Pence's political action committee—Advancing American Freedom—for comment.