Mike Pence Calls Chief Justice Roberts a 'Disappointment' to Conservatives
Vice President Mike Pence has described Chief Justice John Roberts as a "disappointment to conservatives" in a direct criticism of the judge who has ruled against the Trump administration in a series of cases.
In an interview with the Christian Broadcast Network [CBN], Pence was asked by David Brody whether he was "scratching his head a bit on John Roberts." Brody added that conservatives have had a track record of having some problems with Supreme Court judges."
A number of recent cases has seen Roberts side with the court's liberal bloc on LGBTQ discrimination, upholding the Affordable Care Act, and rejecting a Nevada church's request to overturn limits on attendance due to the coronavirus pandemic.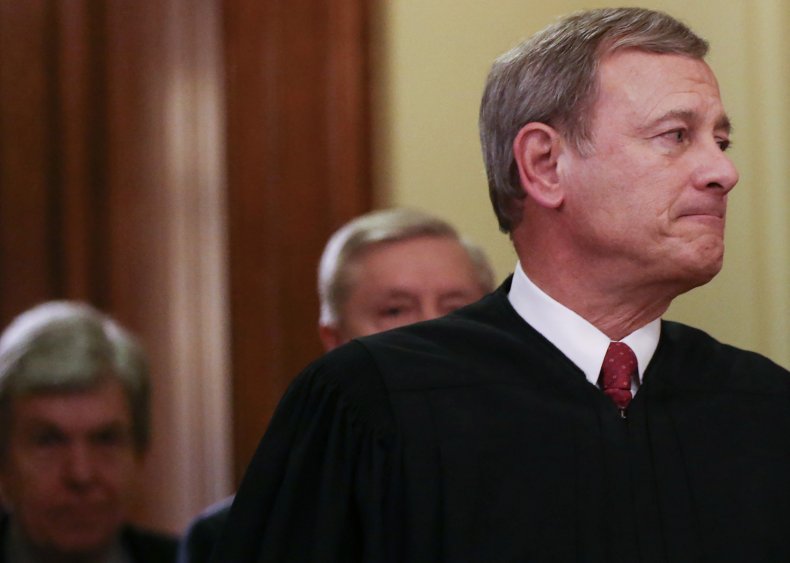 Pence said: "Look, we have great respect for the institution of the Supreme Court of the United States, but Chief Justice John Roberts has been a disappointment to conservatives."
"I think several cases out of the Supreme Court are a reminder of just how important this election is for the future of the Supreme Court.
"We remember the issue back in 2016, which I believe loomed large in voters' decisions between Hillary Clinton and the man who became president of the United States and some people thought that would not be as big an issue these days but I think that's all changed."
Pence referred to the recent case of the Supreme Court ruling which struck down a Louisiana abortion law, which in his words "only said that doctors working in abortion clinics would have to have admitting privileges at local hospitals.
"That's a very modest restriction on abortion providers," Pence said, adding that, "I think it's been a wake up call for pro-life voters around the country who understand in a very real sense that the destiny of the Supreme Court is on the ballot in 2020."
Pence told CBN that Trump would repeat what he did during the 2016 campaign and publish another list of nominees to any Supreme Court vacancy during his second term, should he win, adding that in "the next four years he will keep his word and appoint more principled conservatives to our courts."
Roberts was appointed in 2005 by George W. Bush and has taken umbrage at being called an "Obama judge" who ruled against the administration. Roberts has sided with the Trump administration on a number of cases, such as upholding the president's travel ban early in his term as well as the use of military funds for the president's wall.
Jonathan Adler, professor at the Case Western Reserve University School of Law, has described Roberts as "conservative justice" and "a judicial minimalist who seeks to avoid sweeping decisions with disruptive effects."
"Chief Justice Roberts seeks to resolve cases narrowly, hewing closely to precedent and preserving status quo expectations," Adler wrote in an op-ed in The New York Times last month.