Mike Pence's Taylor University Commencement Announcement Prompts Backlash from Students, Alumni
This May, Vice President Mike Pence is set to deliver two commencement addresses, but students at Taylor University are attempting to get his invitation rescinded.
On Thursday, Taylor University in Upland, Indiana, announced Pence would be a featured speaker at the May 18 ceremony.
"Mr. Pence has been a good friend to the University over many years, and is a Christian brother whose life and values have exemplified what we strive to instill in our graduates," Taylor University President Dr. Paul Lowell Haines said. "We welcome the Vice President and his wife, Karen Pence, to this 173-year-old premier institution of Christian higher education, and thank them for their love and service for our nation, our state, and our institution."
The school praised Pence for his work as governor of Indiana, by expanding school choice and creating the first state-funded pre-Kindergarten plan in the state's history.
Given that Pence is a high-profile speaker and the school has a larger-than-usual graduating class, university officials said tickets would be required for admission. Tickets would be given to graduates and their families, although, it wasn't revealed how many tickets each person would receive.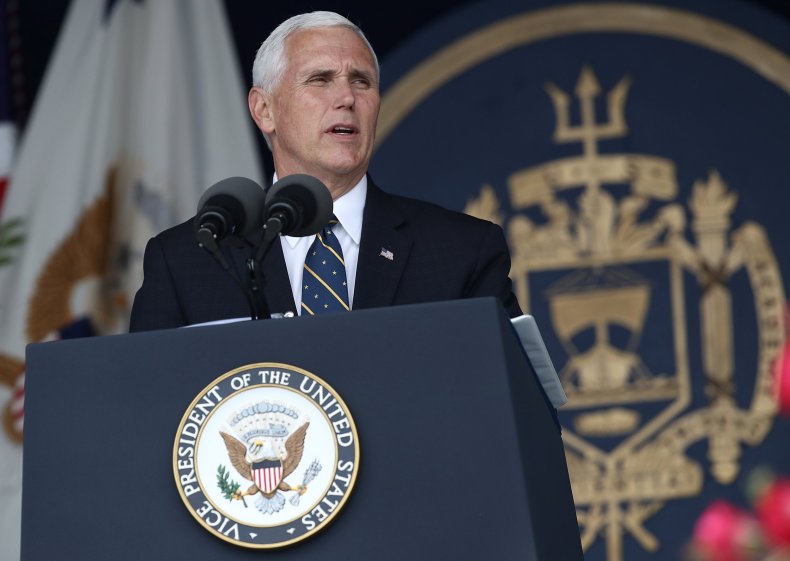 In response to the announcement, a Change.org petition was created and gathered more than 150 signatures in two hours. It encouraged people to sign and also contact the university by phone to ask that the Vice President's invitation be rescinded.
"Inviting Vice President Mike Pence to Taylor University makes our alumni, faculty, staff and current students complicit in the Trump Administration's policies, which we believe are not consistent with an ethic of love," the petition said.
People who identified as current students and alumni signed the petition, with one person commenting that the upcoming speech made them "ashamed" of their alma mater. Others expressed that they would no longer be supporting the educational institution. Another suggested Democratic presidential candidate Peter Buttigieg would have been a better choice.
Alex Hoekstra, who graduated in 2007 and started the petition, told Newsweek that he hopes to see a response from the university because President Donald Trump's administration didn't reflect "Jesus," "the Bible," or the "ethics of Christian love."
"As an alumni of Taylor and as a gay man I'm pretty personally injured by the policies of the Trump/Pence administration and I know that a lot of alumni who identify as other minority groups are personally affected by the Trump/Pence administration," Hoekstra said.
The weekend before Taylor University's graduation, Pence is scheduled to speak in Lynchburg, Virginia, to Liberty University's graduating class. Both Taylor University and Liberty University are Christian universities who have praised Pence for his commitment to his faith.
In 2018, Pence delivered a commencement address at Hillsdale College in Michigan. During the speech, the vice president said he "marveled" at the college's "long and often lonely stand for freedom." He highlighted the administration's accomplishments in dealing with Iran and North Korea and making the decision to move the American Embassy to Jerusalem.
"You'll be glad to know the America that awaits your energies and ambitions is experiencing a new era of opportunity and optimism," Pence told graduates. "You are beginning your careers at a time of a growing American economy and restored American stature at home and abroad. And I can personally attest, from my travels across this nation, faith in America is rising once again."
This article has been updated to include the response from Alex Hoekstra.