Despite Unknowns About Asymptomatic Spread, Pence Confident U.S. Can Reopen with 'Sufficient Amount of Testing'
Vice President Mike Pence said that there will be enough capacity for COVID-19 testing which would pave the way for the first phase of the reopening of the U.S. economy. Pence's insistence follows criticism from Democrats and medical experts that the White House has been left wanting in implementing enough tests for the virus.
But in a press conference on Friday, Pence, who heads the White House coronavirus task force, said that there were enough tests to allow states to follow the first phase of federal guidelines.
Released by the White House this week, those guidelines outline a suite of conditions required before restrictions can be eased, which include a reported decrease of COVID-19 cases over 14 days and a robust testing program for at-risk health workers.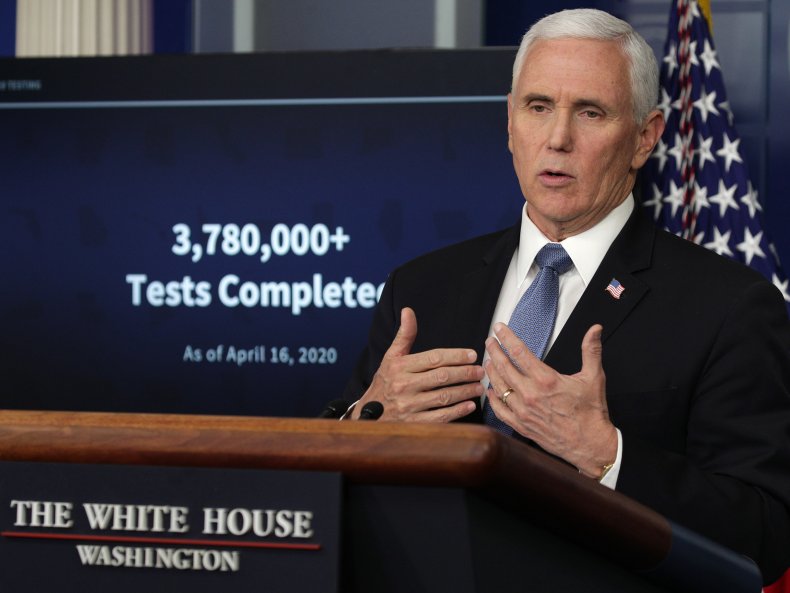 "We believe today that we have the capacity in the United States to do a sufficient amount of testing for states to move into phase one in a time and manner that they deem to be appropriate," Pence told reporters. "Our best scientists and health experts assess that today we have a sufficient amount of testing to meet the requirements of a phase one reopening if state governors should choose to do that."
In phase one, "vulnerable individuals" would still have to shelter in place and there would also be a ban on groups of more than 10 people unless they can socially distance. Bars and schools would remain closed and all non-essential travel would also be off limits.
On Friday, Newsweek reported that Democratic lawmakers had been left angered by a conference call with the White House for what they said was a lack of clarity over the administration's plans to increase testing.
A source told Newsweek that during the call, Sen. Angus King, an independent from Maine who caucuses with the Democrats, dubbed the administration's bid to implement a national testing regime as a "dereliction of duty."
On Thursday, Washington Gov. Jay Inslee (D) said his state, which is among the hardest hit, was "1,000 miles away" from having enough tests, according to The Hill.
Dr. Anthony Fauci, head of the National Institute of Allergy and Infectious Diseases, backed Pence's assertion that testing capacity would be sufficient.
He told reporters at Friday's press conference that "we will have and there will be enough tests to allow us to take this country through phase one."
However coronavirus response coordinator, Deborah Birx said that phase two of was uncertain because it was difficult to test those who had the virus but had no symptoms.
"The real unknown in this, to be completely transparent, is asymptomatic and asymptomatic spread, and so if we find that there's a lot of asymptomatic individuals that we find in this active monitoring in what we are very much concerned about, the most vulnerable, then we will have to have increased testing to cover all of those sites."
With the White House admitting that there have been issues in getting enough swabs, Brett Giroir, an assistant secretary of Health and Human Services, said 5 million more swabs would be secured by the end of April, and more in May.
Giroir said at least 4.5 million tests per month were needed in phase one of the reopening, which it is currently on track for, The Hill reported.
The graphic below, provided by Statista, shows the growth of COVID-19 cases in three U.S. states.