Vice President Mike Pence is staying at President Donald Trump's golf resort in Doonbeg during his visit to Ireland, even though it means flying 140 miles to Dublin for his meetings.
According to the Irish network RTE, Pence has ancestral links to Doonbeg through his grandparents and will eat at a distant relative's restaurant in the town during the trip.
Pence arrived in Ireland from Poland on Monday evening, where he met with Simon Coveney, minister of foreign affairs and trade.
He replaced President Trump on the visit to Poland after the U.S. leader decided to stay home and monitor Hurricane Dorian.
Trump stayed at Doonbeg during his stopover in Ireland in July following a state visit to the U.K., a decision criticized by his opponents as cashing in on the presidency.
The president was pictured playing golf at his course in Virginia on Monday as the Category 5 Hurricane Dorian threatened to wreak havoc on the west coast of America.
"While the president is making appearances at his Virginia golf club, the vice president is making appearances at his Ireland golf club. Because the priority is always making Trump money," Citizens for Ethics, a Washington D.C. watchdog, tweeted.
The vice president is flying from County Clare's Doonbeg on Ireland's western coast to the capital city Dublin on its east coast for meetings all day on Tuesday, before taking Air Force Two back again.
His schedule shows meetings with Ireland's President Michael D. Higgins, Taoiseach Leo Varadkar, and business leaders from both sides of the Atlantic.
Marc Short, Pence's chief of staff, told reporters that Trump suggested the vice president stay at his resort because he was planning to be in Doonbeg anyway for family reasons.
Protests greeted Pence on his arrival in Ireland, with the evangelical Christian's views on homosexuality a particular focus. Pence opposes gay marriage.
Taoiseach Varadkar is gay. He will dine with his partner Dr. Matthew Barrett, Pence, and second lady Karen Pence at lunch on Tuesday.
Police in County Clare stopped a protester as she marched towards the terminal at Shannon Airport carrying placards as Pence landed yesterday.
The placards read "No fáilte for fascists" and "Queers against Pence," the Irish Independent reported.
"Mike Pence should not be honored. I very much fear that in years to come people will wish they stood up against this regime," Sarah Clancy, the protester and a poet, told the publication.
"In Ireland, we live in one of the most free countries in the world. I can protest Mike Pence's visit, his inhumanity, racism and homophobia without fear of persecution or retribution.
"All I face is ridicule from people who maybe don't understand the crossroads we are at in the world at the moment.
"If we don't speak out here when there is no risk to ourselves, then who will?"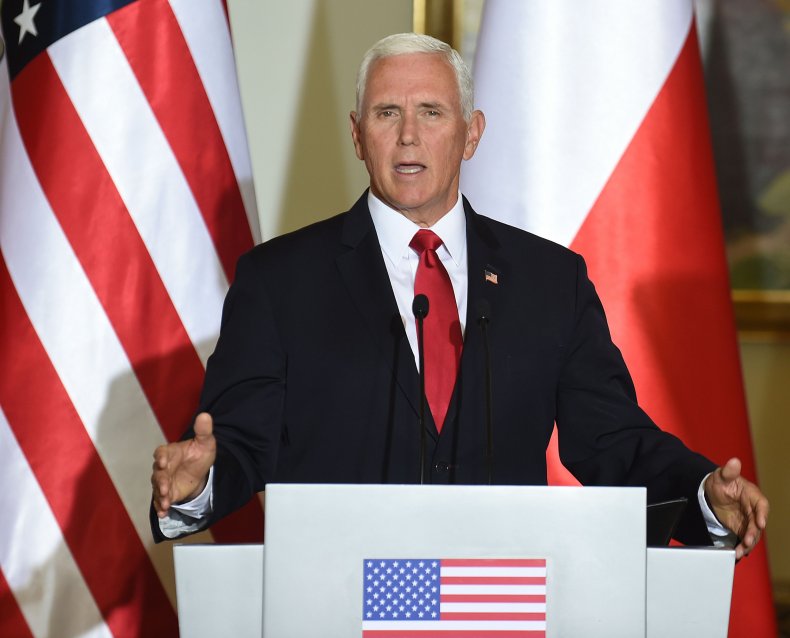 This article was updated with comments by Marc Short.