Mike Pence 'Imagines He's One Day Closer' to Becoming President Every Day, Thanks to Trump and God: Biographer
Vice President Mike Pence believes with every passing day that he is closer to becoming president, courtesy of President Donald Trump's mounting scandals and God, Trump biographer claims in his new book.
"Absolutely everything Mike Pence does is oriented toward him becoming president," biographer Michael D'Antonio said on CNN while promoting The Shadow President: The Truth About Mike Pence, which he co-authored with Peter Eisner released Tuesday.
"His decision to accept Donald Trump's offer to be his running mate, but it even goes back much further," added D'Antonio, who is also a CNN contributor.
By the time he finished high school, Pence had decided he was going to be president and became a member of Congress and governor of Indiana with that goal, D'Antonio claimed.
"He actually heard from his being, God's direction, and he thought God was calling him to now be vice president and function as a president-in-waiting," said D'Antonio. "So we see Donald Trump in this huge crisis, this rolling chaos, and I think with every day, Mike Pence imagines he's one day closer to the Oval Office."
The book went to press before the controversies surrounding Trump reached new heights. Last week, Trump's former campaign manager Paul Manafort was convicted of eight felonies involving bank and tax fraud and failing to report foreign bank and financial accounts. At about the same time, Trump's former lawyer Michael Cohen pleaded guilty to eight criminal counts and directly implicated the president in campaign finance violations.
D'Antonio said that Pence's decisions to become a congressman and governor were not to push legislation but to get executive experience and that "he's been very effective at that."
The book points out that Pence has repeatedly said he is Christian first, conservative second and Republican third, and that he would run the nation in a way pleasing to God and corporate sponsors.
CNN's New Day co-host John Berman asked D'Antonio whether he thinks Pence is maneuvering to get to the Oval Office at the expense of the president.
"Oh, I think yes. I think he's positioning himself to be the normal guy—the guy you can trust," D'Antonio responded. "He's out across the country continuously promoting the president's agenda, but really promoting the development of his own network."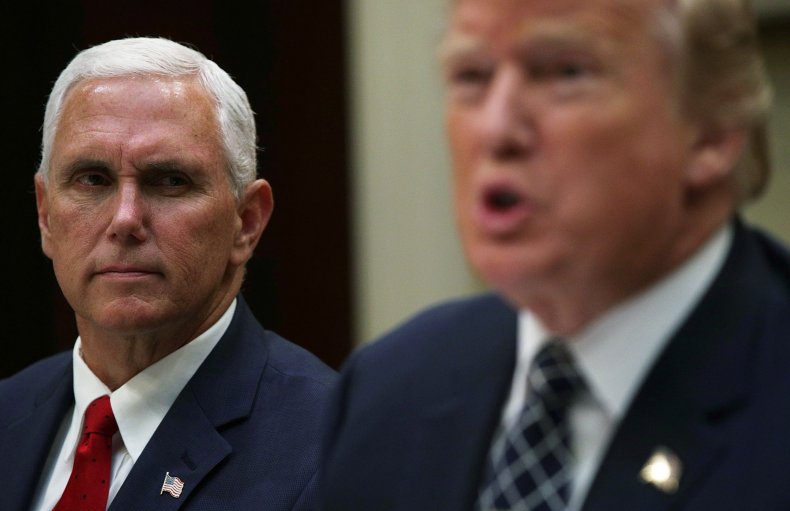 Pence also established his own PAC at an earlier stage than any other vice president in history
"His infrastructure for running for office is complete," the biographer said. "So should Trump stumble, should he decide not to run again, Pence 2020 would be an automatic thing."