Mike Pence Ridiculed for Saying He Confronted Putin: 'Never Happened'
Former Vice-President Mike Pence has been mocked on social media for bragging about an incident he said happened when he met with Russian leader Vladimir Putin.
While speaking to Fox News' Sean Hannity on Tuesday, Pence said that he had met with Putin face-to-face and told the Russian President "things he didn't like."
While with Hannity, Pence also emphasized the significance of the Ukraine-Russia war and why it was important for the U.S. to continue to support Ukrainian leader Volodymyr Zelensky and his troops' ongoing fight against Russia.
The clip was shared on Twitter late on Tuesday night and has gone viral with over 200,000 views.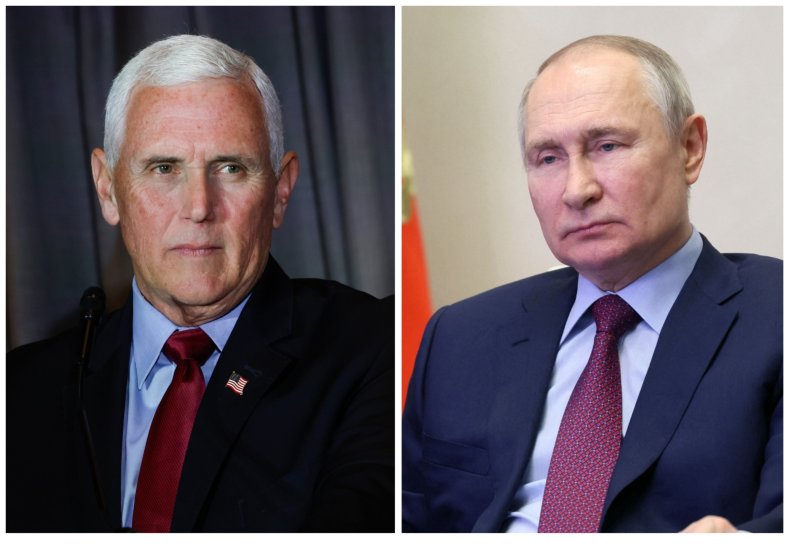 Pence said: "President Biden was dragging his feet from the go [over the Ukraine war].
"Remember he said it might be acceptable if there was just a small incursion by the Russian military.
"This is an absent, without leadership, administration when it comes to the foreign stage and they have been playing catch up ever since.
"I really do believe it is absolutely essential that we embrace that [Ronald] Reagan doctrine.
"I have stood closer than I am to you and looked Vladimir Putin right in the eye and told him things he didn't want to hear."
Pence went on to say that some eastern European nations are growing more concerned about the ongoing conflict due to a fear that Russia would continue to invade other nations after Ukraine.
Despite Pence's convictions, many social media users doubt this interaction between Putin and Pence ever happened. Some Twitter users joked about Pence's comment by making up their own dialogue for the conversation between Putin and himself.
Other users attacked the former Vice President and accused him of not telling former President Donald Trump "things he didn't like" during his time in office.
Political commentator Brian Normoyle wrote: "There are many things Mike Pence has never done in his life.
"Chief among them is look Vladimir Putin in the eye and tell him anything of consequences, let alone things he didn't want to hear. What a weird lie to tell."
Twitter user Goldengateblond also joked: "Of all the things that never happened, this never happened the most."
John Sipher, formally a worker for the CIA Clandestine Service wrote a tweet finishing Pence's sentence that read: "But I never had the courage to do it tot he President or American people."
Journalist and TPM founder Josh Marshall made a similar tweet and wrote: "Was it, 'Sir, I don't think we won the election?"
Newsweek has contacted Mike Pence for comment.