Mike Pence 'X-Men' Meme Resurfaces After Debate—Here's How It Started
Mike Pence is back at the forefront of the 2020 zeitgeist after last night's vice presidential debate made for endless meme material.
The fly moment is no doubt one of the most memorable moments of the debate for many viewers as is Senator Kamala Harris silencing Pence with her new stoic catchphrase: "I'm speaking."
But now the current Vice President is the subject of yet another meme as an old X-Men joke surrounding the politician emerged after last night's debate.
Four years ago a photo of Pence was posted to Reddit with the caption: "Why does Mike Pence always look like he's about to introduce legislation to outlaw the X-Men?"
Following the debate this week, a number of similar jokes were made on Twitter.
One person tweeted: "Mike Pence looks like he's announcing the X-Men have been made illegal."
While another added: "why does mike pence look like he wants to ban the X-Men."
The joke is that Pence resembles a stern politician or police chief who tries to outlaw the mutants in the X-Men movies and comics.
The allegory also runs a little deeper when you take Pence's anti-LGBTQ+ and anti-immigration stance into it, as the mutants of the X-Men franchise are often considered to be a metaphor for oppressed groups.
Another meme known as "Mike Pence Is Race Bannon" began doing the rounds four years ago too.
This one compares Pence to the cartoon character Race Bannon from the 1960s animated television series Jonny Quest, according to Know Your Meme.
Pence has also been likened to the fictional Senator Robert Kelly from the 2000 X-Men film.
The character—played by Bruce Davidson—was portrayed as a reactionary, xenophobic politician with an anti-mutant agenda.
Davidson told Inverse that the fictional Senator Kelly is comparable to a real-life Pence. "I'd rather not be compared to him, but yes, Pence is that guy," he said earlier this year.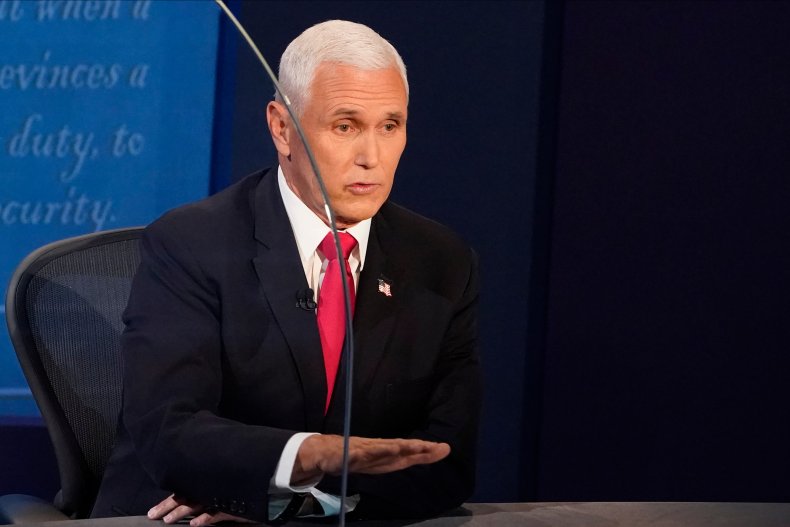 Last night's debate saw Pence's handling of the fly compared to the time Barack Obama killed a fly on television.
The interview in question is from Obama's talk with CNBC's John Harwood in 2009.
The then-president displayed some impressive hand-eye coordination when he became distracted by a fly buzzing around his head. He then watched the fly in silence as it landed on top of his hand before swatting it and swiftly killing it with his other hand—unlike Pence who seemed oblivious that the blue bottle had landed on him.