Neither former President Donald Trump nor former Vice President Mike Pence has declared he will make a run for the White House in 2024, but there has been enough speculation regarding both men that pollsters have gauged public opinion about a potential matchup.
So far, survey results indicate Pence would not fare well against Trump.
On Thursday, the House committee investigating the January 6, 2021, riot at the U.S. Capitol is planning to focus on allegations that Trump tried to pressure Pence into not certifying the results of the 2020 presidential election. Trump's alleged actions are being examined as one of the main potential causes of the riot, during which threats were reportedly made against Pence's life.
Pence and Trump have had a strained relationship since leaving the White House because of the former vice president's decision not to interfere with the certification of President Joe Biden's election victory. In the summer of 2021, Pence called January 6 "a dark day" during a Republican dinner and added that he and Trump may never see "eye to eye" on the event, according to an NBC News report from the time. Meanwhile, Trump said in an interview last month he was "very disappointed" in Pence for not supporting his claims of election fraud, which are not backed by any evidence.
While Trump continues to be a divisive figure in American politics, polls show he has a substantial edge over Pence. In a Harvard CAPS/Harris Poll conducted on May 18-19, 41 percent of registered Republican/independent voters said they would vote for Trump if the 2024 GOP primary "was held today," compared with 7 percent who said they'd support Pence.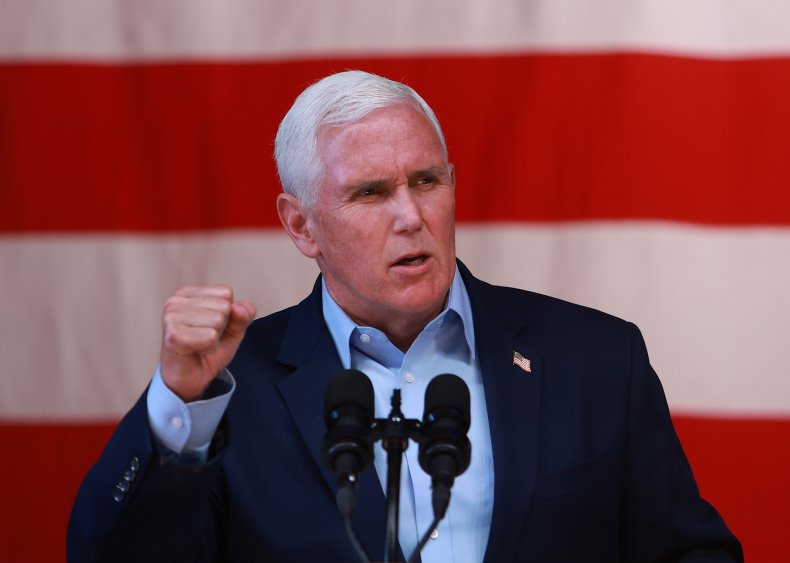 A prior Harvard CAPS/Harris poll, from late January, also found Trump as the winner in a hypothetical GOP primary. The former president received 57 percent support from likely Republican primary voters in that survey, while Pence was supported by 11 percent.
Those January results nearly match the findings of a Reuters/Ipsos poll from earlier in the same month that found Trump had 54 percent in a hypothetical primary matchup to Pence's 8 percent.
Though Pence has not said he will run in 2024, he has also not ruled out the possibility. The New York Times recently reported that Pence was asked in April about a White House campaign in the next election cycle.
"We'll go where we're called," Pence reportedly said and added he and his wife would base the decision on prayer. "That's the way Karen and I have always approached these things."
Last month, Trump was asked during an interview on Fox Business about a potential showdown with Pence in 2024.
"If he ran, I mean, I wouldn't be concerned with that," Trump answered. "'People are very disappointed in Mike, and if he ran, I don't think that would be a problem."
If Pence ultimately decides to run, he could also face competition from Florida Governor Ron DeSantis. Though DeSantis also has not announced his candidacy, he's considered to be a popular choice among many voters, including tech billionaire Elon Musk, who offered his support this week.
In the May Harvard CAPS/Harris Poll, DeSantis garnered 12 percent of the vote in a hypothetical field of GOP candidates that included Pence and Trump. When likely GOP primary voters were asked whom they would support if Trump was not an option, 25 percent chose DeSantis, while 15 percent favored Pence.