Mike Pence's Interruptions During VP Debate A 'Big Win' for Biden-Harris Campaign, Experts Say
The Trump campaign already had a major problem with women voters when Mike Pence strode onto the stage on Wednesday night to face Kamala Harris.
His performance only made it worse.
While more civil than the clash between President Trump and Joe Biden last week, the first and only vice-presidential debate wasn't without tension—especially due to Pence's repeated interruptions of Senator Kamala Harris and moderator Susan Page.
"I'm speaking," Harris pushed back at one point. "Mr. Vice President, I'm speaking," she said again later on in the debate.
A tracker from CBS News found twice as many interruptions by Pence than by Harris during the 90-minute debate. He interrupted her 10 times, while she cut him off only five times. But the senator found a way to make up for the interruptions, as various analyses showed that the two ended up with nearly the same amount of speaking time.
The gender dynamic on stage was quickly picked up by women on Twitter. Representative Alexandria Ocasio-Cortez called it "gross" that Pence demanded Harris answer his own questions while he ignored those coming from the moderator. Harris's "I'm speaking" phrase quickly went viral, sparking the creation of memes and merchandise within minutes.
"I think every woman knows a Mike Pence—someone who dismisses them, talks over them and treats them as if they don't belong there," said Michael Starr Hopkins, a political strategist who served on the Democratic presidential campaigns of Barack Obama, Hillary Clinton and John Delaney.
"We know that this election is going to go however suburban women go, that is the tipping point," Hopkins said, "and everything we saw on the stage was dismissive and disrespectful of women all across the country."
Trump has frequently said that he won over a majority of women in 2016, but the overall picture is much more complicated. A majority of the female electorate, 54 percent, supported Hillary Clinton. But the president did win over more white women, which helped seal his Electoral College victory.
But that key demographic has been eroding steadily for him over the past four years. According to an analysis from the Brookings Institution, Trump's support from white working-class women has plunged 11 percentage points from 2016. Recent polling has also found women are backing the Joe Biden campaign in traditionally red states like Iowa, Georgia and Texas, all of which Trump won by considerable margins four years ago.
Republican strategists said that Pence's behavior on Wednesday night did little to help the matter.
"It's almost impossible for Pence to do anything to help the Trump-Pence ticket with suburban and moderate women," said Susan Del Percio, a political analyst and senior adviser to the anti-Trump conservative group The Lincoln Project, "but he actually did hurt it a bit with this debate performance."
Evan Siegfried, a conservative commentator and president of the public affairs firm Somm Consulting, said both Pence and Harris could leave the debate stage being able to claim victory with their respective bases, but that the vice president also "had the job of trying to arrest the free fall he and Trump are having with women voters."
He said Pence didn't aid that cause.
"His interrupting of not only Senator Harris, but Susan Page did not help that mission," Siegfried said. "If anything, it was a gift to the Biden Harris campaign because he helped women identify with Harris more due to the shared experience of being interrupted and talked over by a man like Pence. Because of that, it is unlikely that the polls shift much, and that's a huge win for the Biden-Harris campaign and a serious error by the Trump-Pence side."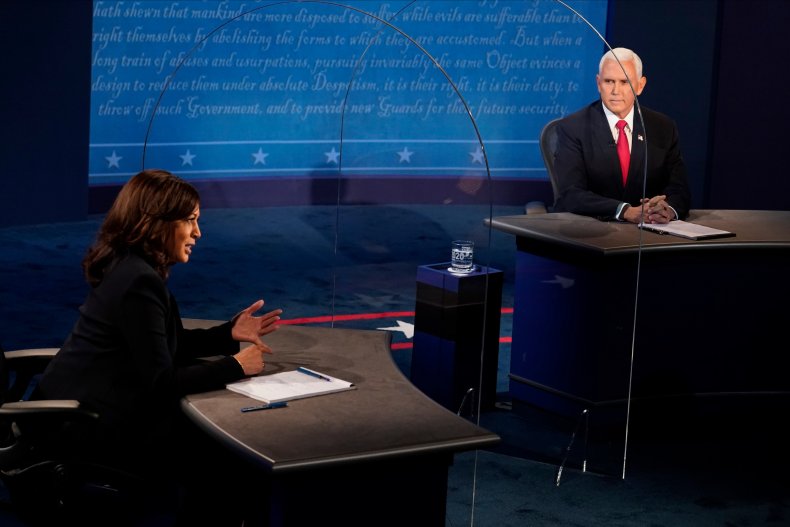 Post-debate surveys have already shown a large gender divide between the two vice-presidential candidates. A CNN Instant Poll of registered voters who watched the event found a near-40-point gap between the performances, with women saying Harris did the best job by a 69 percent to 30 percent margin.
Overall, the CNN survey found Harris was determined to be the winner of the debate by most registered voters. About six in 10 respondents said Harris won, while 38 percent said Pence did a better job.
"She kept her cool, she stayed calm, she stayed steady and for the most part did exactly what she wanted to do,' Hopkins said, "which was be presidential and show Americans that there is an alternative to what they have now."
Although there have been previous vice-presidential candidates who were women, Harris was the first woman of color to take the debate stage as part of a major-party presidential ticket, which set the expectations very high. Women are typically held to a different standard than men when they debate on the big stage of national politics. If they push back too hard, they're considered shrill, while a man is likely to be seen as "assertive" or "strong" if they do the same thing. And if they don't push back hard enough they look weak.
"Senator Harris hit the exact sweet spot of where you are supposed to be," Del Percio said. "Frankly it was Pence's big miscalculation to speak to her, between the interruptions, with a mix of condescending and dismissive that just didn't work. He turned off voters, and I think Senator Harris got some more."
When asked about the criticism of Pence's performance, the Trump campaign asserted he was the only candidate qualified to serve as vice president.
"Kamala Harris blatantly lied and repeated the same tired lines in an attempt to pander for the female vote, but women are smart enough to see through it," said Courtney Parella, the campaign's deputy national press secretary. "Both the Vice President and Harris had equal speaking time to make their case during last night's debate, and it's abundantly clear that Mike Pence was the only person on that debate stage qualified to be Vice President of the United States."