Mike Pence's Pets Won't Stop Dying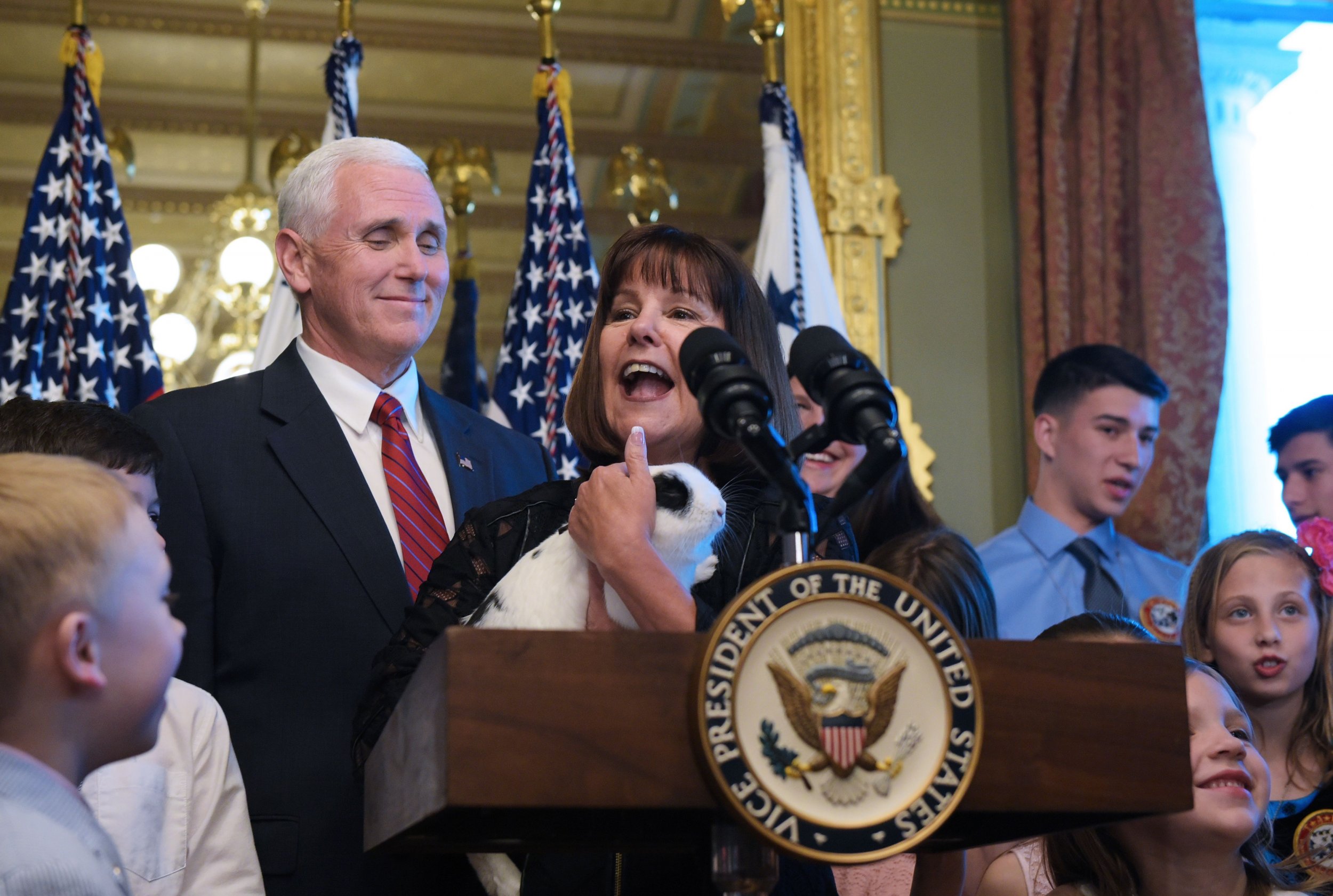 Vice President Mike Pence's family has lost yet another pet––a cat named Pickle––just six months after cat Oreo died.
In a tweet announcing Pickle's death, Karen Pence described the late feline as a "very chatty" and "sweet kitty." The Pences had Pickle for 16 years.
The vice president's daughter Charlotte Pence posted a heartfelt tribute to Pickle on Instagram: "When we first rescued Pickle 15 years ago, she had been neglected so she was scared and mean and almost never let us hold her. When we said goodbye to her last night, she was purring in our arms. Thank you, Pickle, for teaching us about how the power of love and family can change someone."
The Pence family has had tough luck when it comes to pets over the past two years. The clan lost Oreo, its cat of 13 years, in June. "Rest in peace Oreo. You touched a lot of hearts in your little life. Our family will miss you very much," Karen Pence tweeted at the time.
Shortly before the presidential election in 2016, the Pences lost a beagle named Maverick. "Heavy hearts today. Our beagle of 13 years passed away quietly last night. Rest In Peace, Maverick. We will miss you," Pence tweeted in October 2016 after the dog passed away.
After Oreo passed away in June, the Pences adopted a new puppy and kitten—Harley and Hazel—as a surprise to the vice president for Father's Day.
Meanwhile, the Pences also have a rabbit named Marlon Bundo (who has his own Instagram account), about whom Charlotte Pence is penning a children's book. The book, which is set to be published in March, is called "Marlon Bundo's Day in the Life of the Vice President."
The Pences obviously love animals. But President Donald Trump is the first resident of the White House to not have a pet in many years. Before Trump, every president since William McKinley had a dog and some basically ran personal zoos inside the presidential residence. John F. Kennedy, for example, had 10 dogs, ponies, rabbits and birds. Calvin Coolidge had perhaps the most interesting White House pet: a pygmy hippopotamus named Billy.
Trump, however, is petless. He also reportedly views the Pences as "yokels" and "low class" because of all the animals they've brought to Washington.
It is unclear if the stress of Washington life is getting to the Pences' political animals. The typical lifespan for a cat is between 12 to 15 years, so Pickle and Oreo had full lives. The same can be said for Maverick, as beagles typically live between 12 and 15 years, and he made it to the ripe old age of 13. So perhaps there isn't any capital intrigue to the issue.