Mike Pence's Schedule Shows Him Attending Biden's Inauguration but Skipping Trump's Farewell
Vice President Mike Pence's press office released a schedule on Tuesday that showed plans for Pence to attend President-elect Joe Biden's inauguration on Wednesday but did not include mention of President Donald Trump's farewell ceremony.
The schedule shared with reporters showed only one event on Pence's schedule for Wednesday. Trump's send-off was not listed.
An anonymous individual with knowledge about Pence's schedule told the Associated Press that "logistical challenges" would prevent Pence from attending both the farewell ceremony and the inauguration due to the timing and locations of the events.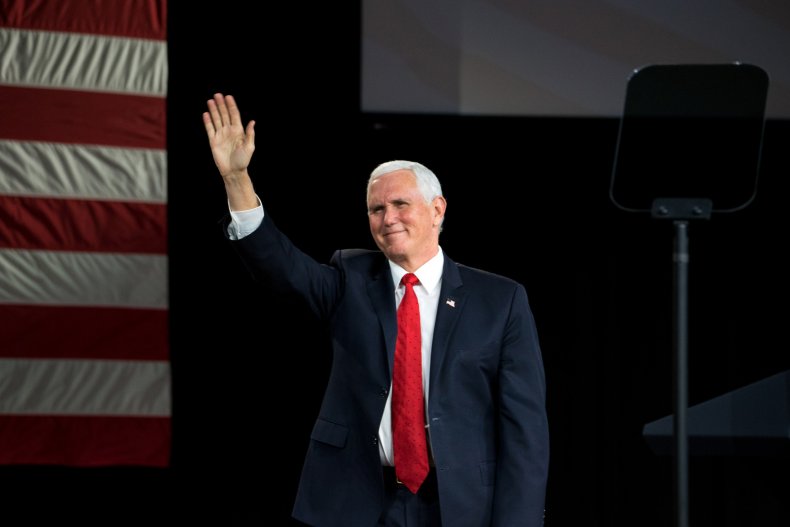 Trump's farewell event is expected to take place at Joint Base Andrews on Wednesday morning shortly before Biden is sworn in, according to the AP. Bloomberg reported earlier this week that some of Trump's supporters and former administration officials were invited to attend his send-off.
Trump announced earlier this month that he would not attend Biden's inauguration. Biden described Trump's decision as "a good thing" and said it was "one of the few things he and I have ever agreed on."
In contrast, Biden said Pence was welcome to attend the inauguration. Pence has been collaborating with the incoming administration in recent days despite the fact that Trump has encouraged conspiracy theories regarding the outcome of the presidential election since November, according to The Washington Post.
In the time since most major networks called the presidency for Biden on November 7, Trump and many of his allies alleged that the presidential election was "stolen" and made repeated claims about rampant voter fraud that have been widely debunked. Dozens of court challenges filed in battle states across the country have been dismissed since early November despite the Trump campaign legal team's efforts.
After Pence said he did not have the authority to overturn the election results during the Electoral College vote certification on January 6, Trump criticized Pence's comments on Twitter as a mob of the president's supporters marched on the U.S. Capitol. The violence at the Capitol that day sent congressional lawmakers into lockdown and resulted in the deaths of four civilians and one police officer.
Biden's inauguration will mark two weeks since the violence at the Capitol. In preparation for the ceremony and any protests it might attract, the National Guard will have a strong presence in the area, with thousands of troops expected to be on guard. The inauguration is expected to have limited in-person attendance due to the ongoing coronavirus pandemic and the recent violence in Washington, D.C.
On Tuesday afternoon, the White House released a farewell speech from Trump as he prepared to leave office. In the speech, he highlighted his accomplishments while in office and acknowledged the upcoming inauguration of a new presidential administration, though he did not mention Biden's name nor that of Vice President-elect Kamala Harris.
Pence also released a statement on Twitter acknowledging Wednesday's official transition of power.
"Thank you for the privilege of serving as your Vice President these past four years, it has been the greatest honor of my life," Pence's tweet said. "On behalf of our Wonderful Second Lady, Karen Pence, and our entire Family, Thank You and God Bless America."
Newsweek reached out to the White House for comment but did not receive a response in time for publication.