Mike Pompeo Appears to Joke About 'Smooth Transition' to Second Trump Term
Secretary of State Mike Pompeo appeared to sarcastically suggest that the U.S. Department of State is prepared for a second term under President Donald Trump when a reporter asked him on Tuesday about the department's plans to work with Joe Biden's transition team.
Though several major networks called the presidential race for Biden on November 7, Trump has yet to concede the race, and some individuals within his administration have discouraged him from doing so.
During a news conference on Tuesday, a reporter asked Pompeo if the State Department was preparing to collaborate with Biden's transition team and, if not, how that might affect the department's responsibilities when a new administration takes power.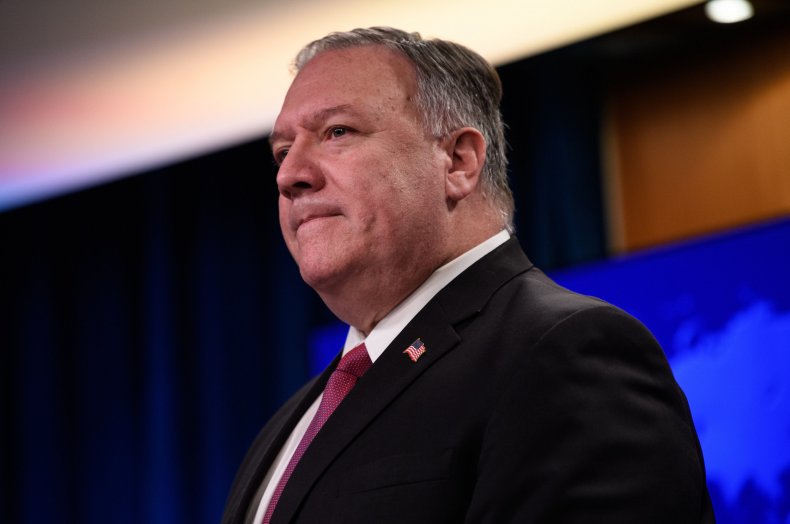 "There will be a smooth transition to a second Trump administration," Pompeo responded. He shook his head and chuckled before continuing his answer, making it unclear how serious he intended the first part of his answer to be. "We're ready. The world is watching what's taking place. We're going to count all the votes. When the process is complete, there will be electors selected—there's a process. The Constitution lays it out pretty clearly."
Pompeo said that regardless of who is inaugurated on January 20, "I'm very confident that we will do all the things that are necessary to make sure that the government, the United States government, will continue to perform its national security function as we go forward."
"The world should have every confidence that the transition necessary to make sure that the State Department is functional today, successful today, and successful with the president who's in office on January 20 a minute after noon will also be successful," Pompeo said.
The secretary of state referenced the 2000 election, during which recounting efforts in Florida took more than a month after Election Day. "I am very confident that we will count—and we must count—every legal vote. We must make sure that any vote that wasn't lawful not be counted," Pompeo said, adding that unlawfully cast votes "dilute" those cast legitimately. "Got to get that right. When we get it right, we'll get it right. We're in good shape."
Pompeo avoided directly answering reporters' questions about whether his department plans to begin communicating with Biden's team and whether he believes the election was marred by widespread voter fraud. Trump has repeatedly said without evidence that voter fraud was an issue that impacted the results of the election.
Later on Tuesday, Biden spoke at a news conference in Wilmington, Delaware, and was asked about Pompeo's earlier comments about the transition process. Biden avoided addressing Pompeo's comments specifically but said the Trump administration's refusal thus far to recognize the election results "is not of much consequence on our planning and what we're able to do between now and January 20."
"We are already beginning the transition," Biden said. "We're well underway."
Newsweek reached out to the Biden transition team for further comment but did not receive a response in time for publication.
This story has been updated with additional information and background.