The Arctic Is Melting. Mike Pompeo Seems to Think This Is a Good Thing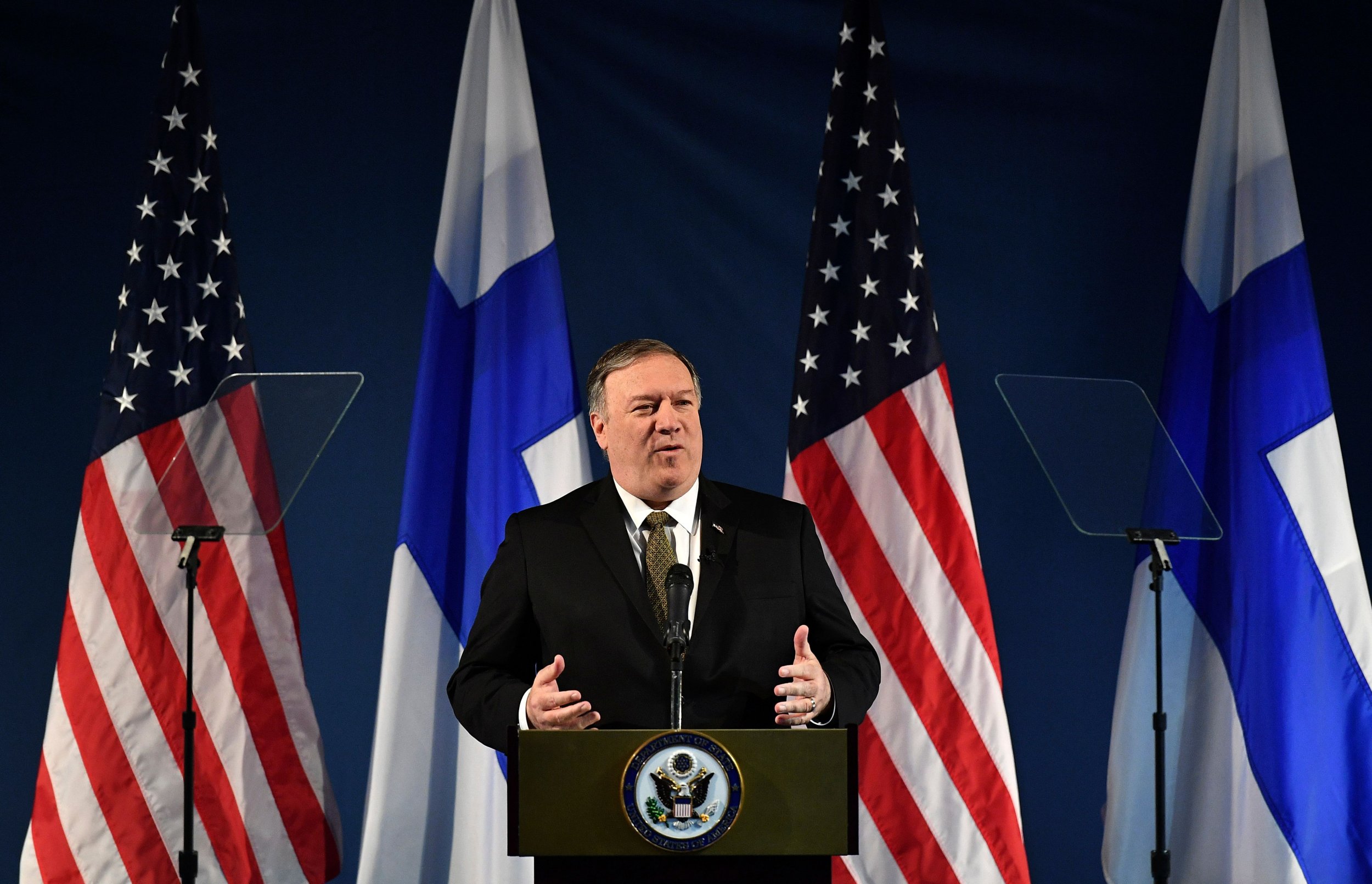 Scientists spoke out after Secretary of State Mike Pompeo said shrinking Arctic sea ice would offer "opportunity and abundance" for industry.
"Passageways" opened up by retreating sea ice could turn the Arctic into a "21st century Panama Canal," he told a meeting of the Arctic Council in Finland Monday, according to The Associated Press.
Pompeo noted the region was home to vast stores of fossil fuels and other resources. He also said melting sea ice would create new trade routes. Arctic sea lanes, he added, could "potentially slash the time it takes to travel between Asia and the West by as much as 20 days."
Pompeo made the comments during a speech about political and economic threats to the region, which several nations see as a vast store of untapped resources. China, Russia and others, he said, were investing in the frigid frontier.
Pompeo did not use the phrase "climate change" once during his 2,400-word speech, according to the AP. But he did say that "America is the world's leader in caring for the environment," adding that President Donald Trump was committed "to leveraging resources in environmentally responsible ways.
When pressed about climate change by a Finnish newspaper, Pompeo said that he and Trump believe "we should put all our emphasis" on "outcomes," CNN noted.
Pompeo's speech was a surprise for the council, which primarily aims to protect the region's environment and inhabitants, said political scientist Malgorzata Smieszek, who is a fellow at the nonprofit group the International Arctic Science Committee.
"Everything has been focused on constructive cooperation, where you don't bring outside problems in," Smieszek said, according to The New York Times. "All of a sudden, the speech today shifted everyone's attention to, 'Are we looking at [the] next conflict in Arctic?' when the real issue here is still climate change. No speech will change that."
Shrinking sea ice is already affecting life in the region, Arctic sea ice researcher Georgia Hole, who is studying for a doctorate at the University of Oxford, told Newsweek. The continuing decline, she said, will lead to a slew of negative consequences, from changes to global atmospheric patterns to habitat reduction for Arctic animals, including polar bears, seals and Arctic foxes.
"To see continuing sea-ice loss as an economic opportunity is short-sighted and ignorant of the realities of this rapidly changing region and the broader global context," Hole said.
"Sea ice in the Arctic is shrinking and thinning every year. In areas of ice-free ocean, the protective cooling cover of ice is lost, and the Arctic Ocean absorbs more solar heat, amplifying existing warming," Hole said. "Just last month a new record Arctic low sea ice extent was reached. And as this sea ice loss continues, the effects will extend far beyond the Arctic."