Mike Pompeo Slams Barack Obama in Cairo Speech: 'The Age of Self-inflicted American Shame Is Over'
Almost 10 years to the day after former President Barack Obama arrived in Cairo and delivered a historic speech titled "New Beginning" in which he aimed to rebuild trust with the Muslim world after years of war, Secretary of State Mike Pompeo delivered his own speech in Cairo, telling the audience that the Obama administration had got its Middle East policy all wrong.
"Remember: It was here, here in this very city, another American stood before you," Pompeo told the audience at Cairo's American University.
"He told you that radical Islamist terrorism does not stem from ideology. He told you 9/11 led my country to abandon its ideals, particularly in the Middle East. He told you that the United States and the Muslim world needed 'a new beginning.' The results of these misjudgments have been dire… In falsely seeing ourselves as a force for what ails the Middle East, we were timid about asserting ourselves when the times—and our partner—demanded it," he continued.
Pompeo then went on to say that the U.S. had been a "force for good" in the Middle East and that "when America retreats, chaos follows."
Republican critics have previously slammed Obama for allegedly apologizing for the United States. Others claimed that Obama had overlearned the lessons of his predecessor, former President George W. Bush, whose invasion of Iraq was widely viewed as a mistake. Many Republicans also disliked the Iran nuclear deal brokered by the Obama administration because they believed that it made Iran, which is an enemy of such U.S. allies as Israel and Saudi Arabia, stronger.
But much of Pompeo's speech appeared slightly out of line with the foreign policy preferences of President Donald Trump. He issued a rebuke of Obama's decision to withdraw from Iraq and trumpeted the U.S. role as a guarantor of peace just weeks after Trump announced that he would pull all U.S. troops out of Syria and reports that he would reduce the number of troops in Afghanistan.
"The good news is this: The age of self-inflicted American shame is over, and so are the policies that produced so much needless suffering," Pompeo told the audience. "Now comes the real 'new beginning.' In just 24 months, actually less than two years, the United States under President Trump has reasserted its traditional role as a force for good in this region, because we've learned from our mistakes. We have rediscovered our voice. We have rebuilt our relationships. We have rejected false overtures from enemies."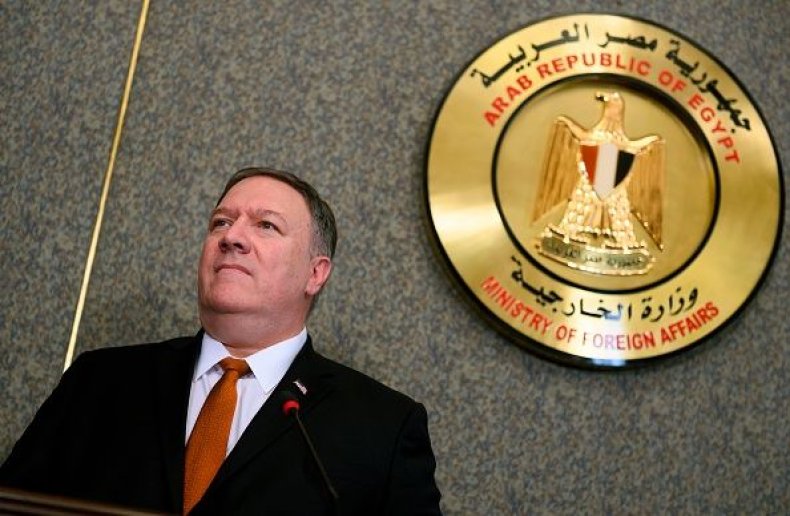 The speech also made no mention of human rights abuses or democracy, despite the fact that the government of President Abdel Fattah al-Sisi has been accused of rounding up dissidents, torturing them and making some disappear.
"The Interior Ministry's National Security Agency, operating with near-absolute impunity, was responsible for the most flagrant abuses, including widespread and systematic use of torture to coerce confessions. Torture techniques included beatings, prolonged painful stress positions and electrocutions. Prosecutors rarely investigated torture claims and almost never dropped torture-tainted confessions," reads Human Rights Watch's 2017 report for Egypt.