Mike Pompeo Pushes for Iran Confrontation at Middle East Peace Conference
U.S. Secretary of State Mike Pompeo declared that peace in the Middle East was impossible without confronting Iran. Speaking alongside Israeli Prime Minister Benjamin Netanyahu in Warsaw, Poland, on Thursday, Pompeo—a long-time hawk on Tehran—said "pushing back" against the theocratic regime was vital to handling other problems in the region, The Associated Press reported.
"You can't achieve stability in the Middle East without confronting Iran. It's just not possible," Pompeo said.
Both Netanyahu and Pompeo were in Warsaw to attend a two-day Middle East security conference that will run through Thursday. It is titled "Promoting a Future of Peace and Security in the Middle East." A collection of high-ranking dignitaries from the Arab world are attending the conference, which appears to be focused on isolating and condemning Iran.
Other U.S. representatives at the event include President Donald Trump's Middle East peace envoy Jason Greenblatt, Trump senior aide and son-in-law Jared Kushner, and Vice President Mike Pence.
Netanyahu will meet with Pence before returning to Israel, and the two are expected to discuss the economic elements of the long-awaited peace plan the Trump administration is preparing, according to Haaretz.
The Polish Foreign Ministry said more than 60 nations had confirmed their participation in the event. Representatives from Saudi Arabia, Bahrain, Yemen, Jordan, Kuwait, Morocco, the United Arab Emirates, Egypt and Tunisia are attending. Russia declined to send representation, and European Union foreign policy chief Federica Mogherini is also absent.
While Iran's adversaries met in Warsaw, Russian President Vladimir Putin hosted trilateral talks with Iranian President Hassan Rouhani and Turkish President Recep Tayyip Erdogan in the Black Sea city of Sochi to discuss the ongoing war in Syria.
Iran was not invited to take part in the conference. On Wednesday, Foreign Minister Mohammad Javad Zarif condemned the event as an American-led, anti-Iranian "circus" and "another attempt by the United States to pursue an obsession with Iran," Al Jazeera reported.
He also suggested on Twitter the "charade in Warsaw" was merely an attempt for "flip-flopping Trump officials try to hide their perpetual lawlessness & global isolation."
As the conference began, at least 27 members of Iran's elite Islamic Revolutionary Guards Corps were killed in a suicide bombing on a road in the southeast of the country, the AP reported. Tehran has previously accused Israel and the U.S. of providing support for militants in the hope of destabilizing the regime, and on Wednesday Zarif implied foreign involvement in the most recent attack.
"Is it no coincidence that Iran is hit by terror on the very day that #WarsawCircus begins?" he wrote on Twitter. "Especially when cohorts of same terrorists cheer it from Warsaw streets & support it with twitter bots? US seems to always make the same wrong choices, but expect different results."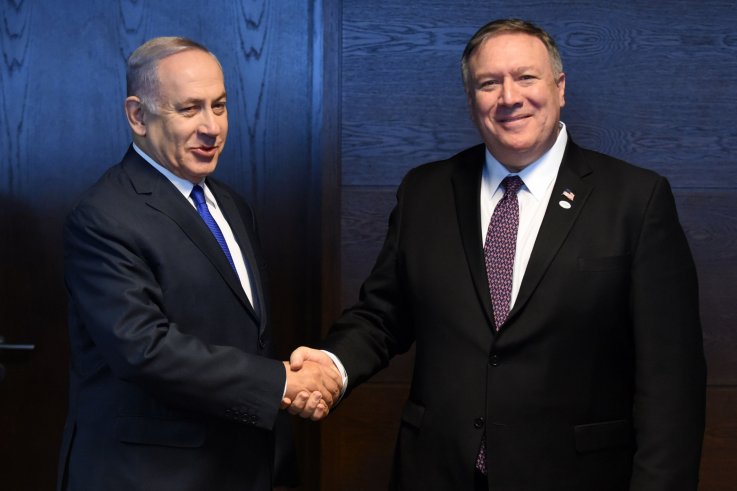 Mike Pompeo Pushes for Iran Confrontation at Middle East Peace Conference | World