Mike Pompeo Criticized by Ex-Republican Officials, Democrats After Transition Remarks
Secretary of State Mike Pompeo has been rebuked by former GOP officials and several Democrats after he said on Tuesday evening that his department was preparing for the "smooth transition" to a second Trump administration.
Three days after several news outlets called the election for President-elect Joe Biden, a reporter asked Pompeo whether the Department of State was preparing to work with the Democrat's transition team, as is the norm.
"There will be a smooth transition to a second Trump administration. We're ready," the secretary of state replied. "The world is watching what's taking place. We're going to count the votes, when the process is complete there will be electors selected. There's a process, the Constitution lays it out pretty clearly."
He added that world leaders should have "every confidence" that the State Department would continue to be "successful" when the next president took office in January next year. It is unclear whether Pompeo was joking when he said there would be a "smooth transition" to a second term for President Donald Trump.
President-elect Biden won the election by a margin of more than 5 million votes, and has so far secured 290 electoral college votes, taking him over the 270-vote line to secure a term in the White House.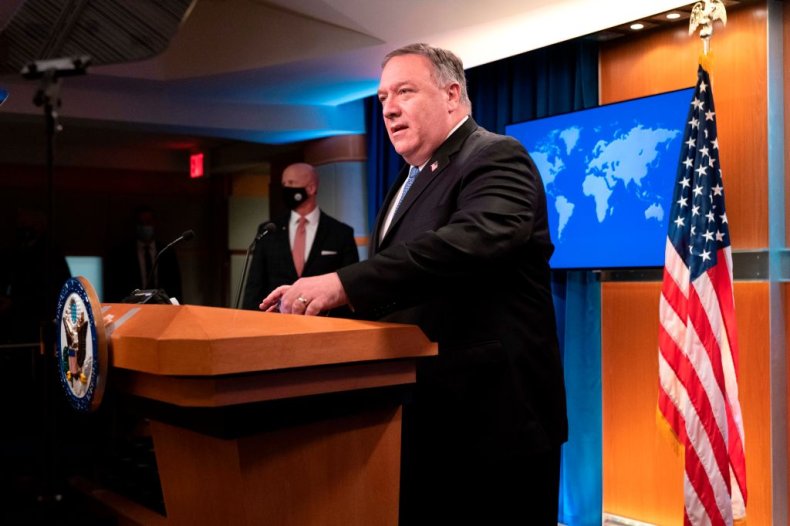 Whether or not Pompeo was joking about a "smooth transition" to a second Trump administration, several Democratic lawmakers hit out at the top State Department official over his remarks.
"This isn't just delusional—it's dangerous. The peaceful transition of power is a cornerstone of our democracy," Senator Elizabeth Warren of Massachusetts tweeted. "Joe Biden won this election, and this administration needs to accept the results and let him get to work."
Senate Minority Leader Chuck Schumer similarly called on Pompeo to accept the reality of Biden's victory at a Tuesday press conference.
"Look at reality. Secretary Pompeo, Joe Biden has won. He's won the election, now move on," Schumer said. "Let's bring this country together and get things done, we have a COVID crisis raging, we don't have time for these kinds of games."
The New York Democrat's congressional colleague Rep. Eliot Engel, the House Foreign Affairs Committee chairman, also said Pompeo should not "play along with baseless and dangerous attacks" on the election's legitimacy.
"In fact, all Administration officials should drop their false claims about electoral fraud and GSA should release the funding and support necessary for a smooth transition that protects our national security," he said in a statement. "The State Department should now be preparing for President-elect Biden's transition."
Democratic Rep. Abigail Spanberger of Virginia dubbed Pompeo's remarks "shocking" and "dangerous" and suggested that the secretary of state was "denying" the results of the election.
"This should shock every American who cares about the foundation of our nation & our national security," she tweeted. "It's appalling that [Secretary Pompeo] would push the type of message we've previously only heard pushed by the henchmen of the foreign dictators our nation used to proudly denounce."
At least two former Republican officials have also weighed in against Pompeo, with President Trump's ex-National Security Adviser saying the secretary's remarks were "delusional" in a CNN interview.
The former Republican senator William Cohen, who also served as Secretary of Defense under former President Bill Clinton, said the Trump administration's behavior was "more akin to a dictatorship" as he reacted to Pompeo's remarks.
Newsweek has contacted the State Department for comment. This article will be updated with any response.