Mike Pompeo Enjoyed Dinner of Steak, Corn and Cheese With North Korea's Kim Yong Chol
Secretary of State Mike Pompeo concluded talks with North Korean General Kim Yong Chol with a toast of Islay scotch and a lavish dinner of steak, corn and cheese, confirming the saying that the way to man's heart is through his stomach.
The top U.S. diplomat and North Korean leader Kim Jong Un's right-hand man broke bread, and a few more things besides, at a luxury building complex on New York's East Side on Wednesday evening.
"The two top dogs on each side," as a senior State Department official described them in a press briefing following the dinner, were meeting to discuss preparations for the historic first summit between a North Korean leader and a sitting U.S. president, due to take place June 12 in Singapore, less than two weeks away.
Related: Does Kim Jong Un even like burgers? Everything we know about North Korea's appetite for fast food
Since time is of the essence, American officials have held preparatory meetings with North Korean delegations in both Singapore and the Demilitarized Zone, the border area separating North and South Korea, in the past few days. The meeting between Pompeo and Kim Yong Chol is particularly significant because of the degree of influence the North Korean general, a former intelligence official with a controversial history who is in charge of the regime's relations with South Korea, enjoys with the country's leader.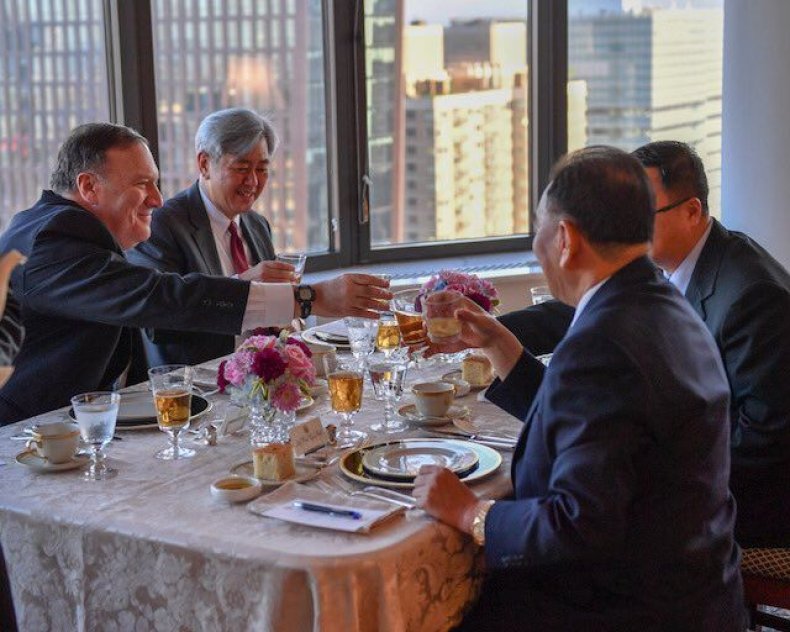 Establishing a good relationship with Kim Yong Chol, the highest-level North Korean official to visit the U.S. in 18 years, is key to ensuring smooth sailing at the summit. "That is how you do these things. You break bread with the person on the other side, you try to get to know them," the senior State Department official said.
The two also clinked glasses full of whisky, as a photo shared on Pompeo's official Twitter account showed, which Kim Yong Chol no doubt appreciated, as was described as a "heavy drinker" by one of the South Korean musicians who performed in Pyongyang in April.
Pompeo and Kim Yong Chol have already met twice in Pyongyang, but as this was Kim's first visit to the U.S., the secretary of state made it a prerogative to show him America's best features, including its steaks. "The secretary of state is from the heartland and likes American food, and he's hosting someone who's never been to our country," the official said.
Formalities and pleasantries aside, the details of the summit between President Donald Trump and Kim Jong Un remain somewhat vague. North Korea has made it clear it seeks security guarantees for the regime before considering a phased-out denuclearization. The U.S. says it is pursuing "complete, verifiable and irreversible dismantlement" of Pyongyang's nuclear and weapons program, which it's willing to reward with economic benefits.
The two positions are hard to reconcile, as it's unlikely North Korea will agree to the "rapid denuclearization" Pompeo discussed in last week's testimony before the House Foreign Affairs Committee.
Top federal government adviser Siegfried Hecker, a former director of the Los Alamos weapons laboratory in New Mexico and now a Stanford professor, recently told The New York Times that North Korea's disarmament process could take up to 15 years.
How Trump and his successors behave in that time frame, what North Korea would gain, and how the denuclearization can be made "complete, verifiable and irreversible" to a certifiable extent are all questions that so far remain unanswered.