Donald Trump Could Be 'Badly Burned' If Mike Pompeo Testifies In The Impeachment Trial, Ex-Prosecutor Says
With Donald Trump's impeachment trial set to begin next week, all eyes are turning to potential witnesses like Secretary of State Mike Pompeo, who could shed light on the president's Ukraine dealings if he testifies.
"He's as critical a witness as anybody," former Watergate prosecutor Nick Akerman told Newsweek. "We just didn't know it quite as explicitly as we know now."
Pompeo has long been a key figure in the Ukraine scandal, having been a participant in the infamous July 25 phone call between Trump and Ukrainian President Volodymyr Zelenskiy. But new evidence suggests that the secretary of state was more deeply entrenched in the scheme than previously thought.
Documents released this week show that Pompeo was aware of the plot to remove former Ambassador to Ukraine Marie Yovanovitch in order to pave the way for an investigation into former Vice President Joe Biden and his son Hunter for Trump's political benefit.
"Pompeii [Pompeo] is now aware of it. Talked to him on Friday," Rudy Giuliani, the president's personal attorney, texted Republican operative Victoria Toensig in the lead-up to Yovanovitch's dismissal. Toensig had asked Giuliani if there was an "absolute commitment for HER to be gone this week."
The documents, unveiled by House Democrats on Wednesday night, were provided by Lev Parnas. Parnas is an indicted associate of Giuliani who was also directly involved in White House efforts to get Zelenskiy to announce an investigation of the Bidens.
The alleged shakedown of the Ukrainian government is at the center of Trump's impeachment. Democrats charge that the president abused his power by withholding nearly $400 million in military aid to Ukraine in exchange for a politically motivated probe into Biden and his son. Trump has denied these charges, but Parnas told MSNBC on Wednesday that the president "knew exactly what was going on."
Pompeo has also been implicated in the Ukraine scheme in testimony from other officials that occurred during the House's impeachment inquiry. Gordon Sondland, the U.S. ambassador to the European Union, used call and email records to show that Pompeo was in the loop. Kurt Volker, Trump's former special envoy to Ukraine, testified that he raised concerns about Giuliani's actions with Pompeo.
"If he testifies truthfully, Donald Trump is going to get burned. Badly burned," former federal prosecutor Michael J. Stern told Newsweek, speaking about Pompeo.
It wouldn't be the first time that Congress has tried to seek information from the secretary of state. House Democrats subpoenaed the State Department during their impeachment probe for documents that could reveal what Pompeo knew about the Ukraine affair, but the agency defied the request. The White House also blocked Pompeo, among other officials, from testifying in the House's inquiry.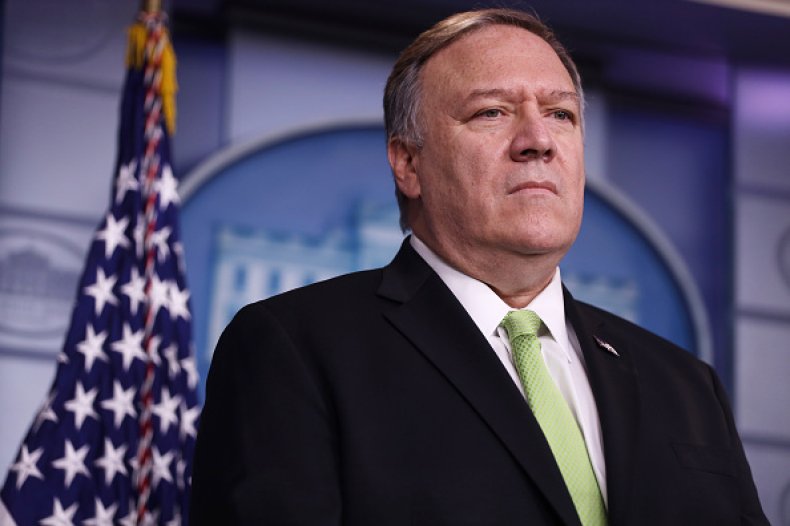 Pompeo said last month that he'd be "happy" to testify or provide documents in the Senate trial if "required by the law."
Trump also appeared willing to let his secretary of state appear in the Senate trial. In a press conference last month, the president said he'd like to put Pompeo on the stand along with acting chief of staff Mick Mulvaney and former Secretary of Energy Rick Perry.
"So, when it's fair, and it will be fair in the Senate, I would love to have Mike Pompeo, I'd love to have Mick, I'd love to have Rick Perry and many other people testify. But I don't want them to testify when this is a total fix," Trump said at the time.
The question of witness testimony has been one of the biggest issues in the impeachment process. The Senate trial was delayed for nearly a month as House Speaker Nancy Pelosi withheld delivery of the two impeachment articles to the upper chamber until she was assured the process would be fair. Democrats wanted the Senate to agree to call witnesses, such as former national security adviser John Bolton, before the trial began.
But Senate Majority Leader Mitch McConnell had the votes necessary to move forward with the trial without guaranteeing witnesses. The upper chamber will now vote mid-trial on issues like whether to call witnesses or consider new documents.
Top Republicans have signaled that they are against introducing additional witnesses in the trial. Some have even suggested "witness reciprocity," meaning that if Democrats want Pompeo to testify, Republicans should be allowed to summon Joe or Hunter Biden in return. Senate Majority Whip John Thune warned Democrats on Wednesday not to push too far on the need for witnesses.
"If the Democrats decide they want to subpoena or call John Bolton or Pompeo or Mulvaney or whoever that is, then the president's counsel is going to want to call its list of witnesses too," Thune said.
But Democrats aren't the only ones who want to hear from officials that didn't testify in the House inquiry. A recent poll from Morning Consult/Politico found that 57 percent of registered voters think the Senate should hear from additional witnesses during the president's trial.