Mike Pompeo Apologized to Indian-American Opponent for 'Evil Turban Topper' Blog During 2010 Congressional Campaign
Secretary of State Mike Pompeo transitioned from an Orange County, California native to a Kansas evangelical congressman in part by defeating an Indian-American Democrat his 2010 campaign touted as an "evil turban topper."
A wide-ranging piece published Monday by The New Yorker details how Pompeo went from opposing Trump during the 2016 election as a "con artist" poised to "take over" the Republican Party into one of his most loyal henchmen. One portion highlights how Pompeo's Tea Party-backed 2010 congressional campaign in Kansas' 4th District ran a "nasty race" against state legislator Raj Goyle.
One incident included when Pompeo's campaign shared and praised a blog post which read: "Just like his evil Muslim communist USURPER comrad [sic], Barrack Hussein Obama, This Goyle character is just another 'turban topper' we don't need in congress or any political office that deals with the US Constitution, Christianity and the United States of America!!!"
Several Hindu and Indian-American groups condemned the blog which was recommended by Pompeo's campaign on Twitter in August 2010.
Pompeo personally apologized to Goyle for what his campaign dubbed a social media "mistake." Pompeo's ultimately successful campaign against the Wichita-born Indian-American legislator also purchased billboards urging voters Kansas voters to "Vote American-Vote Pompeo."
Supporters of Goyle's campaign responded by starting a petition demanding Pompeo "take that billboard down," accusing his campaign of "bigotry."
"Mike Pompeo, you should be ashamed of yourself. First, turban topper! Now this?! Please remove the bigotry from the Eck Agency Billboard! Raj Goyle is a native Kansan and a dedicated American. Insinuations that his supporters, like me, are not 'true' or 'real' Americans is offensive and wrong."
As The Indian Express reported at the time, Pompeo called Goyle and apologized, which a senior strategist on Goyle's campaign said the state legislator accepted.
"We join Mike Pompeo in publicly denouncing the bigoted statements against State Representative Goyle," said Hindu American Foundation co-founder and board member Nikhil Joshi, in a statement responding to the blog in 2010.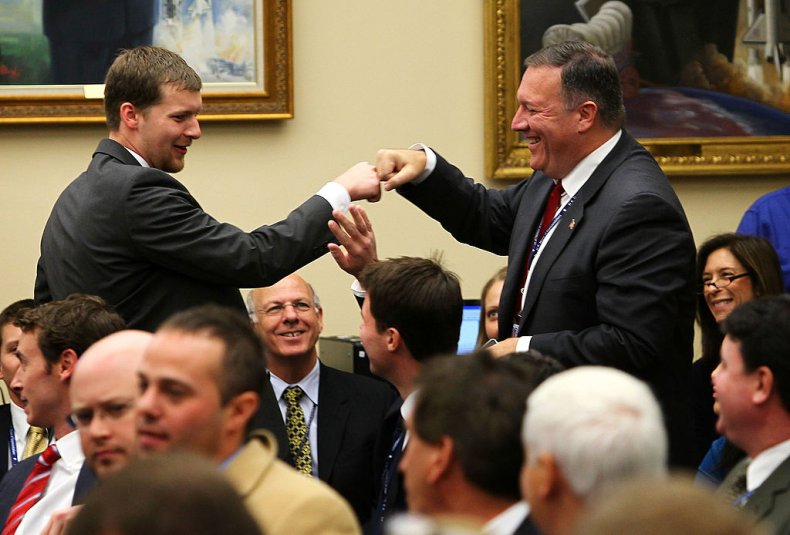 "The statements made by the blogger are not only offensive and hurtful to Rep. Goyle, but also to members of all minority faith communities in the United States," Joshi continued. "Christianity or any faith shouldn't be used as a litmus test for assessing a candidate's qualifications to run for office. Rep Goyle's faith has no bearing on his ability to serve the people of Kansas."
Pompeo easily defeated Goyle in the heavily Republican fourth district election in 2010. He represented the district from 2011 to 2017 before serving as the sixth director of the Central Intelligence Agency from January 2017 until April 2018.