Mike Pompeo Hails Constructive Talks with Boris Johnson Over 5G and Trade
Mike Pompeo, U.S. Secretary of State, has said that he had constructive talks with U.K. Prime Minister Boris Johnson over 5G telecommunications and a potential U.S.-U.K. trade deal.
Pompeo is currently in London to discuss what he earlier said were "shared security challenges" with Johnson.
He is also expected to discuss China with the U.K. prime minister although he made no reference to the country in his tweet, which said: "Constructive visit with
@BorisJohnson today. Our two countries' long-standing, strong bilateral relationship has laid the foundation for today's candid discussion on issues ranging from 5G telecommunication to our negotiations for a U.S.-U.K. free trade agreement."
In pictures uploaded to his Twitter account, the secretary of state was seen disembarking from the plane as it arrived at an unnamed airport, wearing a face-covering decorated with the stars and stripes of the US flag.
He is also said to have met with a group of 20 Conservative MPs, who are seen as "hawks" - those who advocate a tougher line and call for more immediate action - on China, before his meeting with Johnson and Foreign Secretary Dominic Raab.
Before his meeting with the prime minister, Pompeo tweeted: "Great to be back in London to reaffirm the #SpecialRelationship we share with our closest ally. Looking forward to meeting with @BorisJohnson and @DominicRaab as we tackle our most pressing global issues in combating COVID-19 and addressing our shared security challenges."
Dominic Raab wrote on Twitter to say he had a valuable discussion with Pompeo about shared priority issues, "including the Middle East and the diversification of telecoms" and that the two countries would "work together to uphold security & prosperity of our people."
Pompeo's visit to London comes after Raab announced the U.K. had suspended an extradition treaty with Hong Kong, a former British colony, "immediately and indefinitely" after China introduced a controversial security law to the region which the foreign secretary said was a "serious violation" of China's international obligations.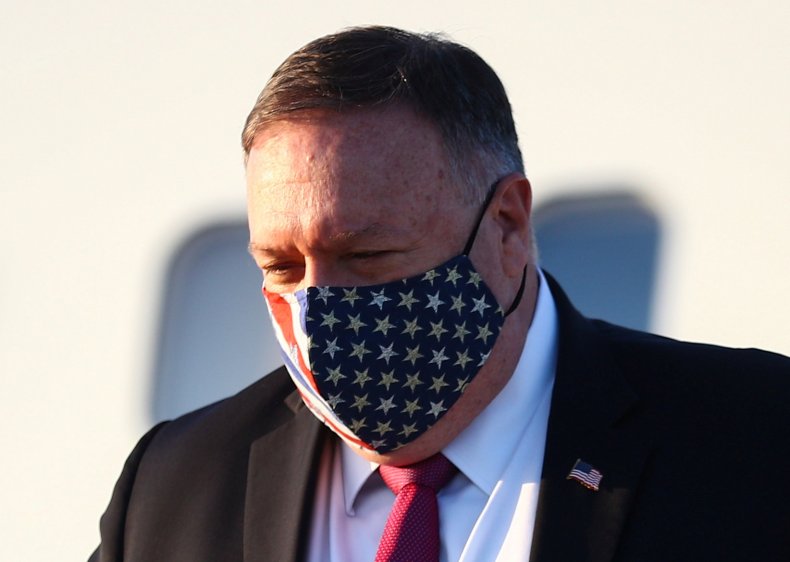 The treaty had meant that if someone from Hong Kong was suspected of a crime in the U.K., then Britain could ask Hong Kong to hand them over to face justice and vice versa.
Hong Kong was handed back to China in 1997 following a 1984 agreement between China and Britain, under the understanding that the territory would be governed under the principle of "one country, two systems", where it would enjoy "a high degree of autonomy, except in foreign and defense affairs" for 50 years.
Hong Kong has its own legal system, and rights including freedom of assembly and free speech are protected, which Britain says are undermined by the new security laws imposed by China.
The British government has also decided to block Huawei equipment from U.K. 5G networks and offered a route to British citizenship for around three million people living in Hong Kong. The U.K. says Huawei is accountable to the Chinese government.