Mike Pompeo Meets with 'Quad' Indo-Pacific Partners, with China Problems at Top of Agenda
Secretary of State Mike Pompeo traveled to Tokyo on Monday to meet with top officials from Japan, India and Australia, members of the Quadrilateral Security Dialogue tasked with ensuring "a free and open Indo-Pacific" in a mission widely aimed at China. While a number of regional powers have been reserved in their rhetoric, the top U.S. diplomat took direct aim at Beijing and its ruling Chinese Communist Party.
"As partners in this Quad, it is more critical now than ever that we collaborate to protect our people and partners from the CCP's exploitation, corruption, and coercion," Pompeo said in his opening remarks.
"We've seen it in the South, in the East China Sea, the Mekong, the Himalayas, the Taiwan Straits," he added. "These are just a few examples."
To reinforce Washington's commitment to a region at the forefront of the growing U.S.-China geopolitical struggle, Pompeo held separate meetings with counterparts and senior officials.
Pompeo and Japanese Prime Minister Yoshihide Suga "reaffirmed that the U.S.-Japan Alliance is the cornerstone of peace, security, and prosperity for the Indo-Pacific region," State Department Principal Deputy Spokesperson Cale Brown said in a statement.
In a conversation with Indian External Affairs Minister Subrahmanyam Jaishankar, the pair "reaffirmed the strength of the United States-India relationship, reviewed our efforts to combat the COVID-19 pandemic, and asserted the need to work together to advance peace, prosperity, and security in the Indo-Pacific and around the globe."
Pompeo and Australian Foreign Minister Marise Payne also "emphasized the importance of the Quad discussions to the promotion of peace, security and prosperity in the Indo-Pacific." In a more pointed commentary, they "also discussed their shared concerns regarding the People's Republic of China's malign activity in the region."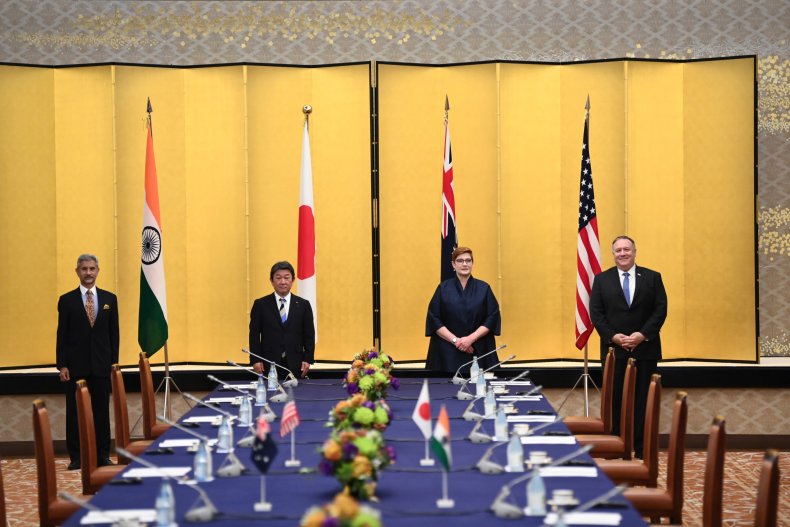 Such language has routinely been rejected by China as a U.S.-led attempt to foster disunity in the region.
"China is committed to the path of peaceful development and firmly safeguards its sovereignty, security and development interests," the spokesperson told Newsweek.
"At the same time, it is committed to resolving differences with other countries through dialogue and consultation," the spokesperson added. "This is what we say and also what we do. We do not accept reckless smearing and groundless accusations against China."
The spokesperson
In anticipation of the Quad meeting, Chinese Foreign Ministry spokesperson Wang Wenbin told reporters last week that the involved countries should focus on international collaboration rather than targeted blame.
"We believe the world's overriding trend is peace, development and win-win cooperation," Wang said. "Instead of forming exclusive cliques, multilateral and plurilateral cooperation should be open, inclusive and transparent instead of targeting third parties or undermining third parties' interests, cooperation should be conducive to mutual understanding and trust between regional countries."
He urged the U.S., Australia, India and Japan to reverse course.
"We hope the relevant countries can think more of the regional countries' common interests and contribute to regional peace, stability and development rather than doing the opposite," Wang said.
Still, tensions in the region have soared this year amid a growing number of territorial disputes involving China.
Beijing and New Delhi remain in talks to ease their deadly border dispute in the Himalayan region between China-administered Aksai Chin and India-administered Ladakh, while disputes off China's shores remain unresolved as well.Despite these efforts, military activity continued on both sides, with Chinese state media advertising on Sunday the deployment of armed drones near another border crossing with India.
Self-ruling Taiwan has been the center of escalations as the U.S. expanded unofficial relations to the China-claimed island, resulting in shows of force by the People's Liberation Army in the disputed strait that separates it from the mainland. Taiwan's Defense Ministry reported Chinese warplanes patrolling within the island's claimed air identification zone on Sunday even as China celebrated its annual state holidays.
And in the South China Sea, the U.S. and China remain at odds over waters and islands contested between Beijing and a number of regional countries. In the East China Sea, China has continued to send fishing vessels on a daily basis to challenge Japan's claims to the Pinnacle Islands, known to Beijing as Diaoyu and to Tokyo as Senkaku.
The China-Australia relationship also remains severely strained over a trade dispute and differences over Beijing's human rights record and handling of the COVID-19 pandemic.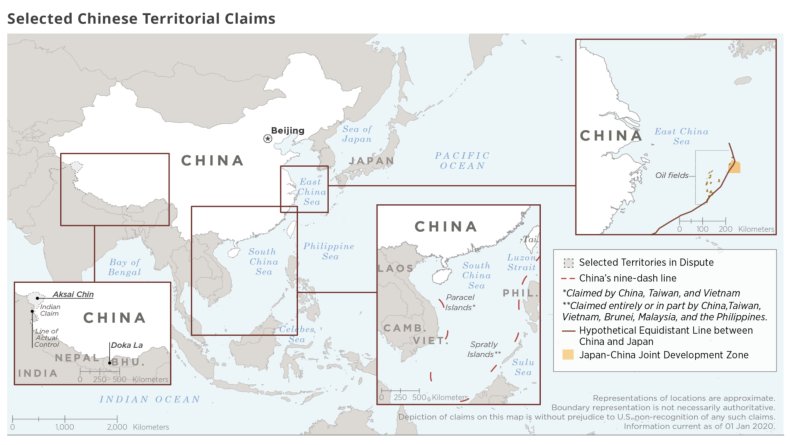 But signs of potential deescalation were also present, with both China and Australia's former ambassador to one another's countries calling for a reset in ties.
Chinese ambassador to the U.S. Cui Tiankai also offered an offramp for tensions in his National Day address, during which he criticized those attempting "to write off the hard-won achievements in China-U.S. relations, stoke up decoupling and incite ideological confrontation and a new 'Cold War.'"
Citing Chinese President Xi Jinping, he said Beijing sought peace and cooperation, not dominance.
"We will never seek hegemony, expansion, or sphere of influence," Cui said. "We have no intention to fight either a Cold War or a hot war with any country. We will continue to narrow differences and resolve disputes with others through dialogue and negotiation."
And he made a point to reach out to Washington in his remarks.
"We believe that a sound and stable China-U.S. relationship is in the interests of both countries," Cui said, "and it is needed for achieving the rejuvenation of the Chinese nation and building a community with a shared future for mankind."
This article has been updated to include comments by a spokesperson for the Chinese embassy in Washington.