U.S. May Lift North Korea Sanctions If Kim Jong Un Dismantles Nuclear Program
U.S. Secretary of State Mike Pompeo said the Trump administration was open to lifting sanctions and allowing private American investments into the reclusive state.
Speaking on several networks Sunday morning, Pompeo said that if North Korea agreed to completely dismantle its nuclear weapons programs and launch capability, then the U.S. would allow capitalist endeavors in the Democratic People's Republic of Korea. Pompeo said such a move would be a huge boost to the country's economic prosperity and could develop a financial relationship that "will rival" that of South Korea and the U.S.
"What Chairman Kim will get from America is our finest—our entrepreneurs, our risk takers, our capital providers. ... They will get private capital that comes in," Pompeo told CBS's Face the Nation Sunday. "North Korea is desperately in need of energy ... for their people. They are in great need of agricultural equipment and technology.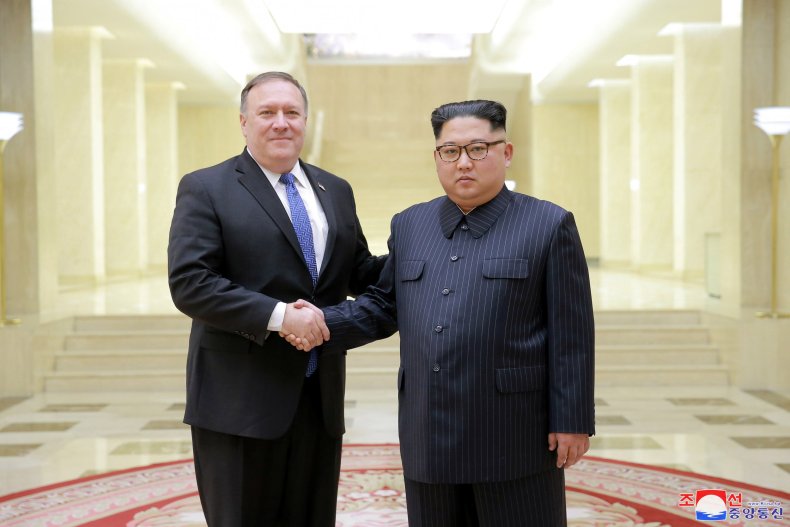 "If North Korea takes bold action to quickly denuclearize, the United States is prepared to work with North Korea to achieve prosperity on the par with our South Korean friends," Pompeo continued.
"We can create conditions for real economic prosperity for the North Korean people that will rival that of the South," Pompeo added. North Korean state media claimed in several weekend reports that the country's leadership had begun the process of dismantling their nuclear weapons program.
"The Nuclear Weapon Institute and other concerned institutions are taking technical measures for dismantling the northern nuclear test ground of the DPRK in order to ensure transparency of discontinuance of the nuclear test," North Korea's state media reported Saturday.
Pompeo added that any sanction relief would depend upon North Korea abolishing its chemical biological weapons program (CBW) and no longer continuing to assert a threat to the U.S. through its "nuclear weapons arsenal." According to the nonprofit Nuclear Threat Iniative, North Korea's primary military development program is the National Defense Commission (NDC), which directly controls the subordinate Second Economic Committee (SEC). Those agencies oversaw the country's 2006, 2009, 2013, 2016 and 2017 missile tests, as well as the 2,500-5,000 metric tons of chemical weapons the organization estimates are in North Korea.
Pompeo's comments came after three American prisoners were released by North Korean Supreme Leader Kim Jong Un and arrived in the U.S. on Thursday. The transfer, which Pompeo told CBS the U.S. "didn't exchange anything" for in return, culminated with President Donald Trump meeting the three men before their arrival at the Walter Reed National Military Medical Center Thursday.
"They came back because Chairman Kim thought it was in his best interest to do so, and we're thankful for that," Pompeo said of the release, which occurred while he was in Pyongyang to help set up next month's summit between Trump and Kim Jong Un.
"Every single site that the North Koreans have that can inflict risk on the American people that is destroyed, eliminated, dismantled, is good news for the American people and for the world," Pompeo told Fox News.
Pentagon spokeswoman Major Carla M. Gleason issued a statement Sunday saying the three Americans released by Kim Jong Un "were grateful, in good spirits and coping well" after their "decompression time" at a Washington-area hospital this week. Gleason said the men "have been reunited with their families. Their time together has been an incredibly joyous occasion. They ask for privacy as they transition home."
U.S. May Lift North Korea Sanctions If Kim Jong Un Dismantles Nuclear Program | World