Mike Pompeo Open to Taking on Donald Trump for 2024 Presidential Nomination
Former U.S. Secretary of State Mike Pompeo said Monday night that he would not let his former boss, Donald Trump, deter him from a White House bid in 2024.
In an appearance in South Carolina, Pompeo said that nobody—not even the former president—would impact his decision on whether to enter the race.
"If I come to believe that I ought to become president, that I have something to offer the American people, I will run no matter who all decides to get in and who else decides not to get in the race," he told reporters.
However, he defended the former president in comments about a recent FBI raid seeking classified documents contained at Trump's Mar-a-Lago home, saying he believed the incident was nothing more than a political stunt.
"This was a deeply politicized use of the FBI to raid a former president, a political opponent," he said. "It's something that's never happened in our nation before. There may well have been disputes about certain documents and the like, but there are methods to handle that."
Pompeo's comments came during an appearance at Republican Representative Jeff Duncan's annual Faith and Freedom Barbecue in the upstate region, which has become a regular stop for prospective Republican presidential candidates in the crucial, early-voting state.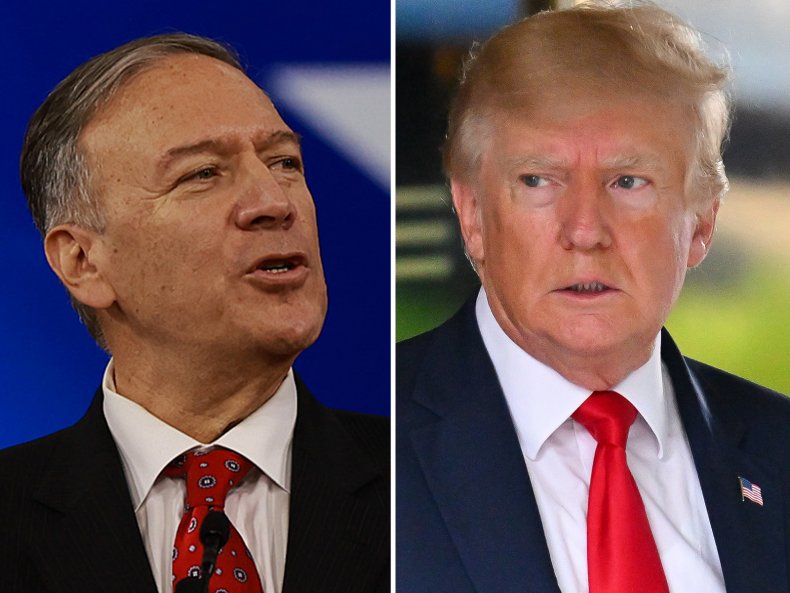 But it also comes amid growing speculation that the 2024 presidential election—long expected to be a formality for Trump's likely nomination—could be split wide open over the next two years.
While some vulnerable Republicans have sought to walk fine lines in their relationships with Trump in tightly contested districts, numerous veterans of his administration—Pompeo, former Vice President Mike Pence and former Ambassador to the U.N. Nikki Haley—have begun laying the groundwork for possible presidential runs in early-voting states around the country.
Other prospects, like South Carolina Senator Tim Scott and Florida Governor Ron DeSantis, have traveled the country making speeches and campaigning for Republican candidates in closely contested races ahead of the midterms, raising speculation they too could be contemplating White House bids, while other political figures like ousted Republican Representative Liz Cheney recently established their own conservative political action committees to oppose Trump and the candidates aligned with him.
Pence, the most likely candidate of the group, has himself made several visits to the Palmetto State in recent months along with visits to states like New Hampshire and also Iowa, where he made a well-received visit to the Iowa State Fair this month. Last month, a Pompeo-aligned super PAC launched digital advertisements in Iowa and South Carolina touting religious freedom with iconography consistent with that of a candidate for federal office.
If there is to be a competitive Republican primary in 2024, the rest of the Republican electorate has yet to catch up. While some polls show figures like DeSantis to be viable contenders, most show that Trump remains a double-digit favorite to win his party's nomination in 2024.