Mike Pompeo Opposes 'Multiculturalism,' Says It Distorts 'Glorious Founding' of U.S.
Outgoing Secretary of State Mike Pompeo voiced his opposition to multiculturalism on Tuesday, claiming that it's not American.
Pompeo, who will depart office Wednesday when President-elect Joe Biden is sworn in, went on a tweeting spree Tuesday morning before his U.S. government social media account will be archived and turned over to the incoming administration. After tweeting a photo of the Constitution and a famous painting of the nation's first president, George Washington, he attacked "woke-ism" and multiculturalism.
"Woke-ism, multiculturalism, all the -isms — they're not who America is. They distort our glorious founding and what this country is all about. Our enemies stoke these divisions because they know they make us weaker," Pompeo wrote.
The U.S. has always been a country of immigrants, with multiple waves of immigration bringing new groups of people from various parts of the world throughout the nation's history. But the Trump administration has taken a hard-line stance against immigration, having enforced highly contentious policies such as family separations at the Mexican border and a ban on people coming into the U.S. from several Muslim-majority countries.
The incoming Biden administration will start off with an entirely different approach to immigration. On his first day in the White House, the new president reportedly plans to sign an executive order ending the Muslim ban. He also intends to quickly put forward legislation to provide a pathway to citizenship to some 11 million undocumented immigrants.
Newsweek reached out to the State Department for comment on Pompeo's tweet but did receive a response in time for publication.
Before his post opposing multiculturalism, Pompeo tweeted an image of the Declaration of Independence, writing, "Required reading." The secretary of state then tweeted an image of the Constitution, writing, "More required reading."
He also posted Washington Crossing the Delaware, the iconic 1851 painting by Emanuel Leutze. With that tweet, Pompeo wrote, "A few final thoughts: The United States of America is the greatest country in the history of civilization."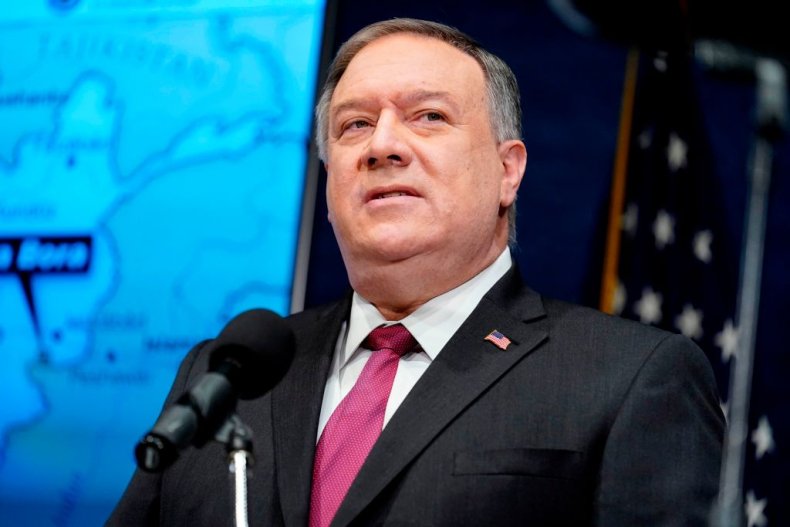 Pompeo assumed office as secretary of state in April 2018, following Trump's decision to fire his predecessor, Rex Tillerson. Before leading the State Department, Pompeo led the CIA under Trump and served in the House of Representatives for Kansas' 4th District from 2011 to 2017.
While many members of Trump's administration resigned in the wake of the violent assault on the Capitol by the president's supporters, Pompeo remained. He has been widely viewed as one of the president's most loyal Cabinet members. In November, he quipped that there would be a "smooth transition to a second Trump administration" when a reporter asked him about Biden's election victory.