Mike Pompeo Pushes Joe Biden to Hold China Accountable for COVID
China must be held accountable for "foisting" the coronavirus upon the world, former Secretary of State Mike Pompeo told Fox News on Monday as he pushed President Joe Biden to utilize the "many tools" at his disposal.
During a segment with Sean Hannity, Pompeo commented on related topics including Dr. Anthony Fauci's emails, in which an expert appeared concerned about COVID-19's potential "engineered" origins.
Fauci has said the correspondence—acquired by The Washington Post and Buzzfeed via the Freedom of Information Act—was "ripe to be taken out of context."
Pompeo told Hannity that the Wuhan Institute of Virology was "almost certainly the place" from where SARS-CoV-2 emerged. The former head of the State Department said the Trump administration had been consistent about this claim since spring of 2020.
Chinese officials and state-run news outlets have dismissed any suggestions concerning the virus's alleged non-natural origins, often citing the phase-one World Health Organization (WHO)-China report that concluded the "lab leak" theory was "extremely unlikely."
However, after WHO Director-General Tedros Adhanom Ghebreyesu urged Beijing for more transparency as the UN health body planned the next phase of its origin studies, China rejected the call.
At a specially arranged press conference in Beijing in July, a senior health official said it would be "impossible" for China to accept a WHO origin-tracing plan that sought more access to research facilities in Wuhan, the central Chinese city where the virus apparently first emerged some 20 months ago.
Pompeo described the response as a "deep cover-up." "It continues to this day. They won't let anybody in to do the investigation in a proper way," he said.
He added: "The Chinese Communist Party is responsible for allowing people to travel with a known, very contagious virus—one that is very lethal—and they put it across the world."
"This is incredibly reckless, and they've got to be held accountable," Pompeo told Hannity, before lamenting what he suggested was a lack of action by the government.
"There are many tools, without any further legislation, that the Biden administration could use to hold the Chinese Communist Party accountable for the millions of deaths around the world and the billions of dollars in lost wealth that resulted from this Chinese foisting of a virus upon the world," he said.
In May, Biden said he had given the U.S. Intelligence Community 90 days to reanalyze all available evidence pertaining to the origins of the coronavirus. The report—due by the end of August—"could bring us closer to a definitive conclusion," he said at the time.
The Chinese Embassy in Washington described the move as "political manipulation" and a "smear campaign."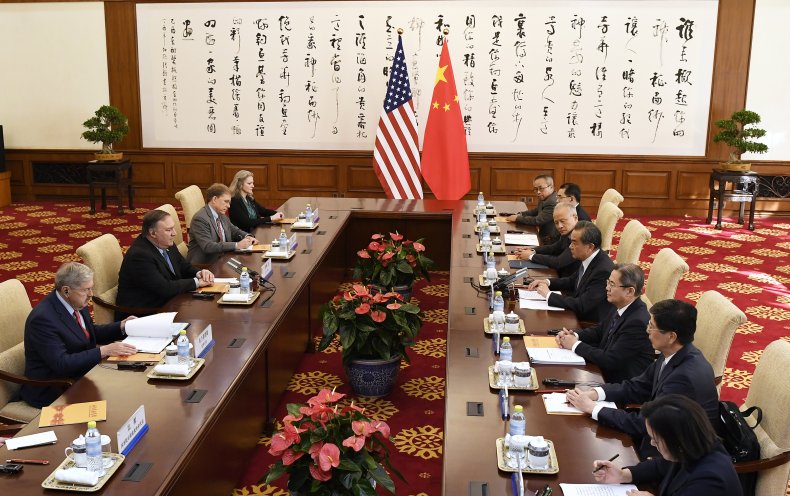 Former Secretary Pompeo said the Trump administration also put "real pressure" on China over its military coercion against Taiwan. He expressed concern about Chinese perceptions of American weakness when it came to the security of the democratic island.
"When you are weak, you beget risk. You create real risk because your adversaries believe they can walk all over you," he said.
Pompeo added: "In our final days we authorized MQ-9 reapers to be sold to the Taiwanese so they could defend their country. We did the same thing with F-16s."
"We made clear we were going to continue freedom of navigation efforts up through the strait, and when the Chinese spoke of reunification—well, that's just false," he said. "It was never part of China. We didn't allow them to use that language without confronting it."
The Biden administration inherited what Beijing has described as the worst U.S.-China relations since official diplomatic ties were establish more than four decades ago. Instead of a rapprochement, however, U.S. perceptions of the challenges posed by China are now remarkably consistent and, importantly, bipartisan in nature.
Despite Beijing's tendency to respond to American engagement with fiery rhetoric and viral put-downs that appear to please its domestic audience, the White House has insisted on maintaining channels of communication to avoid misunderstandings and accidents.