Mike Pompeo Refuses to Talk About Marie Yovanovitch During NPR Interview
Secretary of State Mike Pompeo refused to answer questions about whether or not he defended former U.S. Ambassador to Ukraine Marie Yovanovitch in a Friday interview with National Public Radio.
Yovanovitch, who testified during the November 2019 impeachment inquiry against President Donald Trump, was relieved of her position in May 2019. Recent documents from Rudy Giuliani's former business associate Lev Parnas allege that Yovanovitch may have been the subject of illegal surveillance during her time in Kyiv, Ukraine.
When asked by All Things Considered co-host Mary Louise Kelly to remember a moment when he spoke in Yovanovitch's defense, Pompeo refused to answer the question directly.
"Where have you defended Marie Yovanovitch?" Kelly asked.
"I've defended every single person on this team," Pompeo replied. "I've done what's right for every single person on this team."
"Can you point me towards your remarks where you have defended Marie Yovanovitch?" Kelly asked.
"I've said all I'm going to say today," Pompeo replied. "Thank you."
While Pompeo opted not to speak about Yovanovitch, he did talk about the Trump administration's work in Ukraine.
"I know what our Ukraine policy has been now for three years with this administration," Pompeo said. "I'm proud of the work we've done. This administration delivered the capability for the Ukrainians to defend themselves. President Obama showed up with MREs. We showed up with Javelin missiles."
"The previous administration did nothing to take down corruption in Ukraine," Pompeo added. "We're working hard on that."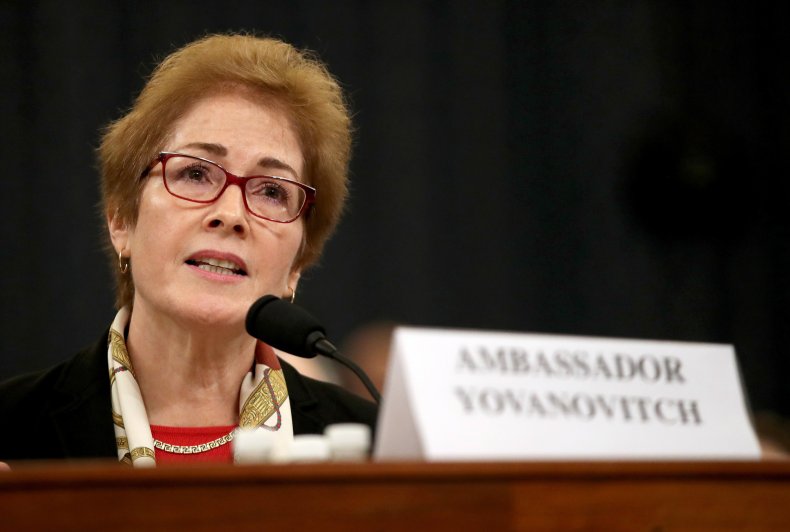 Kelly told Pompeo she had confirmed with his staff that she would be asking questions about Ukraine before the interview began.
"I just don't have anything else to say about that this morning," Pompeo said.
Kelly pressed the issue again, telling Pompeo that State Department employees "have resigned from this department under your leadership saying you should stand up for the diplomats who work here."
"I don't know who these unnamed sources are you're referring to," Pompeo said.
Kelly then told Pompeo she was referring to the testimony of former senior adviser Michael McKinley who said during an impeachment deposition in October 2019 that one of the reasons he resigned was because of the "failure of the State Department to offer support to Foreign Service employees caught up in the impeachment inquiry."
"I'm not going to comment on things Mr. McKinley may have said," Pompeo said. "I'll say only this. I have defended every State Department official. We've built a great team."
Newsweek reached out to the State Department for further comment but did not receive a response in time for publication.
Pompeo told radio host Hugh Hewitt in January that he had been unaware of any surveillance of Yovanovitch until the Parnas documents were released. Included among these were transcripts of text messages between Parnas and Republican Congressional candidate Robert Hyde describing Yovanovitch's movements.
"Until the story broke ahead, to the best of my recollection I had never heard of this at all," Pompeo said.
"I suspect that much of what's been reported will ultimately prove wrong," Pompeo said in a separate interview with radio host Tony Katz, "but our obligation, my obligations as secretary of state, is to make sure that we evaluate, investigate. Any time there is someone who posits that there may have been a risk to one of our officers, we'll obviously do that."