Mike Pompeo Says, I Don't Want to Talk About 'Facts' of Jamal Khashoggi's Disappearance, After Fact-Finding Trip to Saudi
Secretary of State Mike Pompeo has stated that he isn't interested in discussing the facts behind dissident journalist Jamal Khashoggi's disappearance and alleged murder, after a visit to Riyadh to meet with Saudi Arabia's king and crown prince.
Speaking to reporters on Wednesday before boarding a plane en route to Turkey to meet with Turkish President Recep Tayyip Erdogan, Pompeo was asked whether Khashoggi, who was a U.S. resident and a contributor to The Washington Post, is dead or alive.
"I don't want to talk about any of the facts," Pompeo responded, adding that the Saudis "didn't want to either."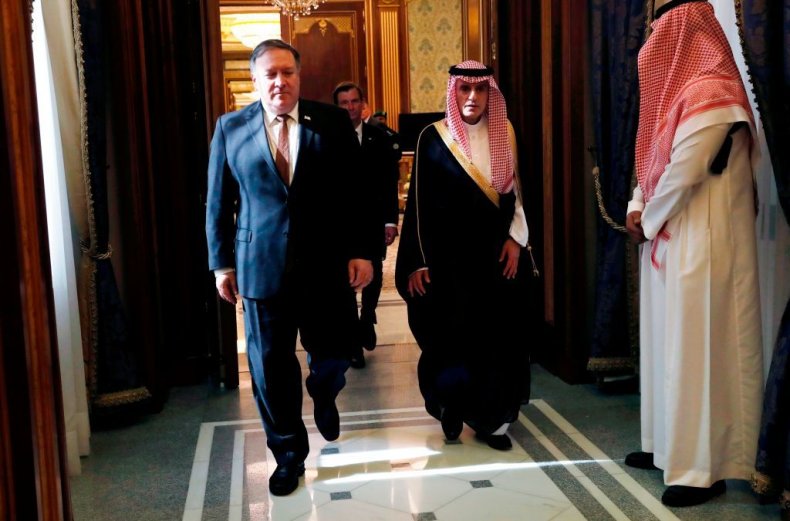 The secretary had been dispatched by President Donald Trump to the kingdom in the wake of the journalist's alleged murder. Khashoggi, who is a Saudi citizen, has been missing since October 2 and was last seen entering Saudi Arabia's Consulate in Istanbul to obtain divorce papers so he could marry his fiancée from Turkey. Turkish officials have maintained that he was executed by a Saudi kill squad after entering the diplomatic facility, with reports suggesting his body was then dismembered and possibly transported to Riyadh.
Saudi Arabia has publicly denied the allegations and expressed concern for the missing journalist. However, Khashoggi fled the kingdom last year as Crown Prince Mohammed bin Salman launched a wide-reaching crackdown on political dissidents. In exile, the journalist had written critically of the Saudi-led coalition's military actions in Yemen, as well as the kingdom's targeting of dissidents.
Pompeo appeared to put his trust in Saudi Arabia's promise to conduct an impartial investigation into the journalist's disappearance.
"They told me they were going to conduct a thorough, complete, transparent investigation. They made a commitment, too, to hold anyone connected to any wrongdoing that may be found accountable for that, whether they are a senior officer or official," the secretary told reporters.
While Trump initially said there would be serious repercussions if Saudi Arabia was connected to the journalist's disappearance, he has taken a defensive tone in the last couple of days. On Tuesday, the president compared the allegations of murder to the accusations of sexual assault against recently confirmed Supreme Court Justice Brett Kavanaugh.
"Here we go again with, you know, 'You're guilty until proven innocent.' I don't like that," Trump said in an interview with the Associated Press. "We just went through that with Justice Kavanaugh, and he was innocent all the way, as far as I'm concerned."
Despite the Trump administration's apparent trust in the Saudi regime, top Republican lawmakers have blasted the kingdom in the wake of the disappearance.
Pointing out that he has previously been the "biggest defender" of Saudi Arabia, Republican Senator Lindsey Graham of South Carolina called the crown prince "rogue" in an interview with Fox News on Tuesday. "This guy is a wrecking ball. He had this guy murdered in a consulate in Turkey, and to expect me to ignore it," he said, "I feel used and abused."
Graham also said arms deals with Saudi Arabia should come to an end as long as the crown prince remains in power. Trump, conversely, has argued that $110 billion in arms sales should move forward, pointing out Riyadh would likely go to Russia or China instead if the U.S. canceled the agreement.