Mike Pompeo Tells China to Own Up to How Many It Killed in Tiananmen Massacre
China has reacted angrily to Washington's demand that it reveal how many people were killed in the Tiananmen Square massacre.
Ahead of the 29th anniversary of the protests in central Beijing, U.S. Secretary of State Mike Pompeo said on Sunday how he remembered the "tragic loss of innocent lives," and that the "ghosts of June 4 have not yet been laid to rest."
He was referring to the day in 1989 when the Chinese government sent in tanks to quell student-led pro-democracy protests in central Beijing. Human rights groups estimated a death toll ranging from several hundred to several thousand.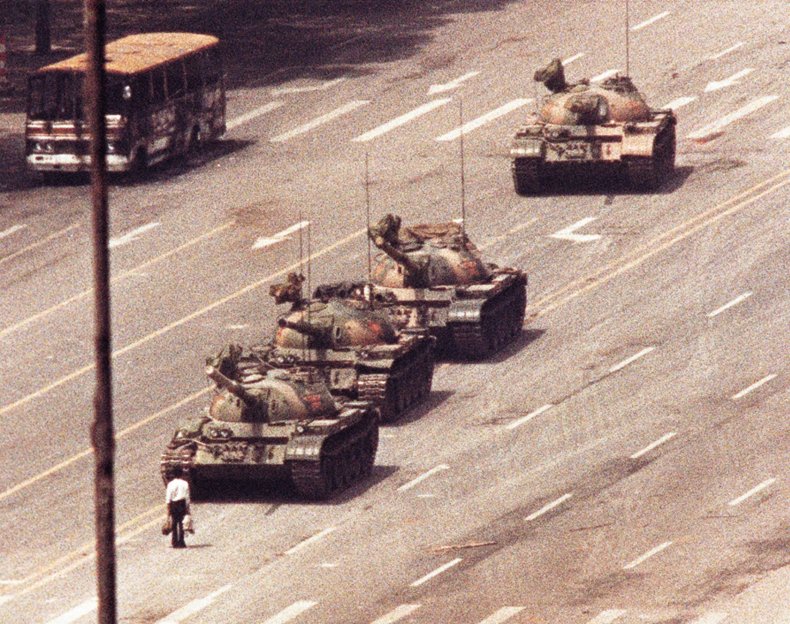 "We join others in the international community in urging the Chinese government to make a full public accounting of those killed, detained or missing," Pompeo said, according to Reuters.
The Tiananmen crackdown is a taboo subject in China, and nearly three decades on it is a major point of dispute between Beijing and the West.
In response, China's foreign spokeswoman Hua Chunying said it had lodged "stern representations" with the United States, which it accused of "gratuitous criticism."
"The U.S. Secretary of State has absolutely no qualifications to demand the Chinese government do anything," Hua said, according to Reuters.
Pompeo's comments came at a time of simmering tension between Washington and Beijing, the latter of which was smarting over U.S. President Donald Trump's plans to slap tariffs on its steel and aluminum.
Tens of thousands of people are expected to gather later in Hong Kong, the only place in China where public commemorations take place, to mark the anniversary.
The Tiananmen Mothers, representing the families of those who died, said in its annual letter addressed to Chinese President Xi Jinping: "Such a powerful proletarian dictatorship apparatus is afraid of us: The old, the sick, and the weakest and most vulnerable of our society."
China director at Human Rights Watch, Sophie Richardson, said Chinese authorities were trying to stop commemorations of the Tiananmen crackdown by arresting a number of activists.
"The only way to remove this stain on China is to own up to it," she said.
Meanwhile, the hashtag #Tankman2018 backs up a campaign started by the Chinese artist and cartoonist Badiucao, and refers to the protester who famously faced off against the tanks in 1989.
Badiucao said "Tank Man" represented "something lost in China's young generation now—the idealism, passion, sense of responsibility and confidence that an individual can make a change," he said, according to The Guardian,which also reported that Chinese state media and officials made no mention of the anniversary.