Mike Pompeo Tells Fox News He Has Hillary Clinton's Emails, Will Release Them Before Election Day
Secretary of State Mike Pompeo told Fox News that he has access to Hillary Clinton's emails and that he is planning to release them "so the American people can see it" ahead of Election Day.
"We got the emails. We're getting them out. We're going to get all this information out so the American people can see it," he said on Friday.
While Pompeo didn't specify which emails he was referring to, Clinton has drawn controversy in the past for using a private email server for official public communications during her tenure as Secretary of State.
"You'll remember there was classified information on a private server—should have never been there. Hillary Clinton should never have done that. It was unacceptable behavior. It's not the kind of thing that leaders do. They don't put that kind of information out," Pompeo said.
His remarks come in response to President Donald Trump's comments from earlier in the day.
"She deleted 33,000 emails. She should be in jail for that. I don't even care if they're very highly confidential emails," Trump said in an interview with Rush Limbaugh during the conservative host's radio show Friday.
The day before, Trump blamed Pompeo for being unable to release the emails.
"Mike Pompeo has been unable to get them out, which is very sad," he told Fox Business' Maria Bartiromo. "Actually, I'm not happy about him for that reason. He was unable to get them out. I don't know why. You're running the State Department, you get them out."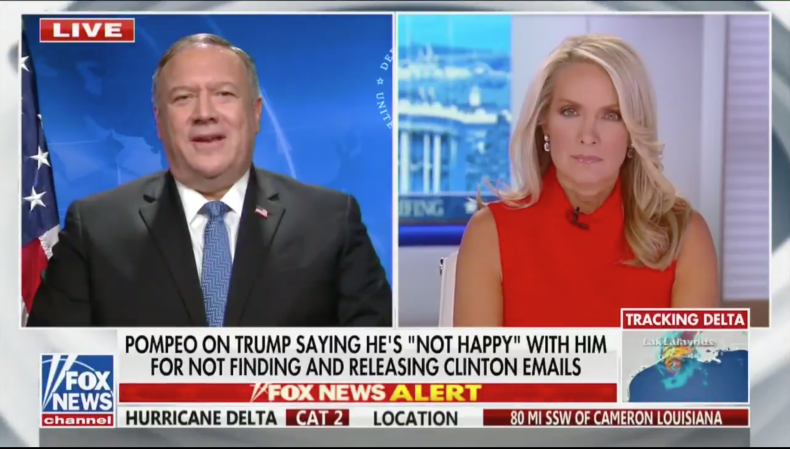 Pompeo said he worked closely on the release of this information during his time in Congress and added that Trump "absolutely" has the authority to declassify the emails if he wanted to.
He also said that if Trump were to order the declassification of Clinton's emails, it would not compromise the health and safety of individuals involved.
"I've never seen him do anything that would put any kind of asset, any one of our officers in any harm's way. He wouldn't do that," Pompeo told Fox News' Dana Perino. "We'll get the information out that needs to get out and we'll do it in a way that protects the intelligence sources that we need to protect."
When asked if the information would be available before November 3, the secretary of state said, "We're doing it as fast as we can. I certainly think there will be more to see before the election."
Newsweek reached out to Clinton for comment but did not hear back before publication.