Mike Pompeo Tells Right-wing Hungary to Counter Russia's 'Malign Influence' in Europe
Secretary of State Mike Pompeo met with Hungary's Foreign Minister Peter Szijjarto on Wednesday and urged him to address Russian aggression in Europe and protect civil society in his country.
The meeting took place just one day after the increasingly pro-Russian Hungary introduced a new bill that would make it illegal for civil society organizations to help migrants and would require organizations that accept foreign donations to register with the government.
"The secretary underscored the importance of maintaining a vibrant civil society. The Secretary also emphasized the urgent need to help Ukraine in the face of Russian aggression, including the importance of facilitating and supporting Ukraine's engagement with NATO, and the need to counter Russian malign influence in Central Europe," State Department spokesperson Heather Nauert said Wednesday following Pompeo's meeting with Szijjarto. "Both sides agreed that Europe should diversify its sources of energy and discussed increasing U.S. investment in Hungary."
Hungary's leadership, however, has shown little indication to move away from Russia. Over the past eight years since Viktor Orban rose to power, the country has solidified its connection to Moscow, both ideologically and through key sectors of the economy. Russian energy companies, in particular, have obtained lucrative contracts in Hungary, which is a member of the European Union. In 2014, Orban signed a $12 billion loan agreement with Russia to rebuild the power plant in Central Hungary with Russian-made reactors, although construction has since been delayed.
Over the years, Russia's strongman leader Vladimir Putin has traveled to Hungary to meet with Orban on numerous occasions. And Hungary's government has started promoting xenophobic, nationalist and anti-immigrant rhetoric that closely resembles that of Russia. Orban and his political allies have adopted Moscow's hatred of the Hungarian-born billionaire philanthropist George Soros. On Tuesday, Orban submitted a new version to parliament of his "Stop Soros" bill, which will impose harsh penalties on organizations that provide assistance to migrants and refugees.
"This cruel plan to hermetically seal their borders would criminalize legitimate activities such as offering information and providing legal advice to asylum-seekers. This could result in paralysis for organizations and leave already vulnerable people in an ever more precarious situation," Gauri van Gulik, Amnesty International's Europe director, said about the bill Wednesday.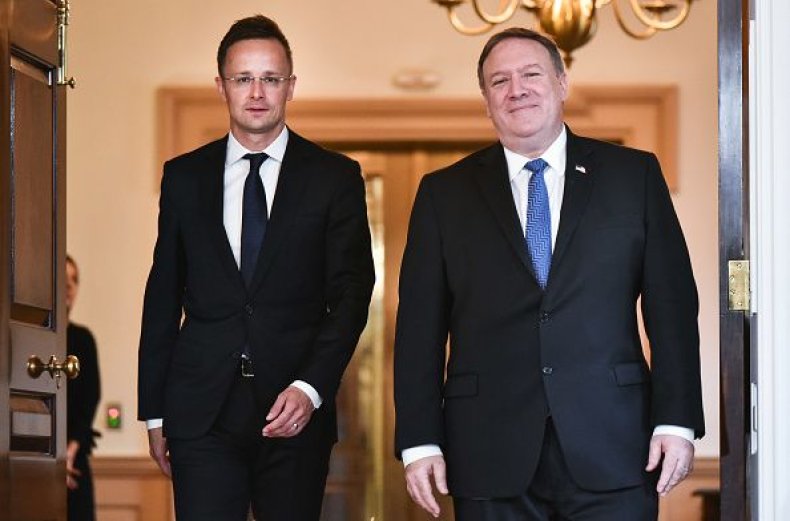 Because Orban's party enjoys a supermajority in parliament, many observers say it is likely the new bill will be passed into law quickly. With all this in mind, experts say the State Department would have to get tough with Hungary in order to curb Russian influence there and ensure that civil society groups can operate freely.
"I doubt that Pompeo's entreaties will be effective with Mr. Orban, as the ties with Russia are very strong, including in the nuclear energy industry," Ariel Cohen, an expert on Central and Eastern Europe at the Atlantic Council, told Newsweek. "However, the U.S. may have powerful tools to convince Mr. Orban to balance his country's ties with the Kremlin, as the financial transactions between Russian and Hungarian persons are screened by the U.S. Treasury."
Rights groups, meanwhile, said the U.S. Embassy in Hungary has continued to pressure the government to protect democracy and human rights, but more efforts are still needed.
"Several concerns have been voiced by the [U.S.] administration and the embassy in Budapest over the past years, and continued under the current administration," Todor Gardos, an expert on Eastern Europe with the organization Human Rights Watch, told Newsweek from Hungary.
"As these have not been addressed, they should remain on the agenda: media freedoms and pluralism, the campaign and laws against civil society…[and] the use of xenophobic and sometimes anti-Semitic elements in the public campaigns of the government," Gardos added.