Mike Pompeo Not Going to Jail 'Would Be an Extraordinary Accomplishment,' Former White House Ethics Lawyer Says
Former White House ethics lawyer Richard Painter has said Secretary of State Mike Pompeo is "toast" after the testimony of U.S. Ambassador to the European Union Gordon Sondland on Wednesday.
The professor, who worked in the George W. Bush administration between 2005 and 2007, also claimed it would be an "extraordinary accomplishment" if Pompeo stayed out of jail, suggesting the Trump official had done something criminal but not giving evidence for such a claim.
Painter posted his comments to social media shortly after Sondland testified in front of lawmakers and the media at a public impeachment inquiry hearing yesterday morning.
During the hearing, the senior diplomat said Pompeo and Vice President Mike Pence were "in the loop" when it came to alleged efforts by President Donald Trump to pressure Ukraine into investigating his potential political rival Joe Biden and his son, Hunter Biden.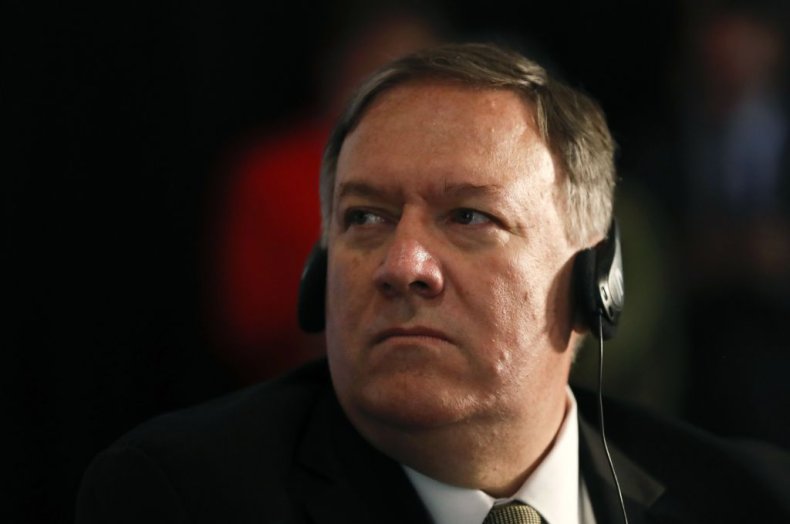 The ambassador also showed lawmakers emails between himself and the Secretary of State about the "quid pro quo" at the center of the ongoing impeachment inquiry.
"Pompeo is toast," the former White House ethics lawyer Painter tweeted last night. "At this point for him staying out of jail would be an extraordinary accomplishment."
He then quoted an article by The Atlantic on Pompeo and yesterday's hearings, which reported: "Pompeo's name has surfaced in testimony a few times already, but never like this."
Painter also suggested Vice President Pence could be impeached along with President Trump in the wake of Sondland's testimony on Wednesday morning, tweeting: "In a few weeks the only open question should be whether the evidence is sufficient for President Pence to be impeached by the House and removed by the Senate."
At a press conference following Ambassador Sondland's televised impeachment testimony, Pompeo told reporters he "didn't see a single thing" from the testimony because he was working.
He was later asked by a reporter from The Washington Post at the event if it was true that he was "in the loop" about the alleged quid pro quo and whether he should recuse himself from decisions provided to congress around Ukraine.
"I didn't see the testimony," Pompeo said. "I'm not going to recuse myself from this. I know precisely what American policy was with respect to Ukraine. I was working on it, and I'm incredibly proud of what we've accomplished."
The chairman of the House Intelligence Committee, Adam Schiff, weighed in against Pompeo ahead of Sondland's hearing yesterday, saying the Secretary of State had made an "across the board effort" to "obstruct" the impeachment inquiry.
He also said the investigation had "not received a single document" from the State Department.