Mike Pompeo Compared Trump to Obama in 2016, Warning He'd Be an 'Authoritarian President Who Ignored Our Constitution'
Mike Pompeo harshly criticized then candidate Donald Trump back in 2016 at a Kansas GOP event, comparing the future president to Barack Obama and warning that he'd be an "authoritarian" leader who would "ignore our Constitution."
A video of the speech from March 5, 2016 was recently obtained by journalist Susan B. Glasser, a staff writer at The New Yorker. The magazine shared the clip via Twitter, featuring Glasser giving her take on Pompeo, who now serves as Trump's Secretary of State and previously served as the director of the CIA under the current administration.
"You know, Donald Trump the other day said that, in quote, if he tells a soldier to commit a war crime, the soldier will just go do it. He said they'll do as I tell them to do," Pompeo told the Kansas crowd, with some audience members audibly booing in response.
"We've spent seven and a half years with an authoritarian president who ignored our constitution," Pompeo continued, referring to Obama, who was still president at the time. "We don't need four more years of that," the Kansas Republican, who was then serving in the House of Representatives, said.
He went on to assert that the nation's soldiers "don't swear an allegiance to President Trump or any other President ... They take an oath to defend our Constitution, as Kansans, as conservatives, as Republicans, as Americans."
With the clip shared by The New Yorker, Glasser pointed out that Pompeo has been very careful to avoid the appearance of disagreement between himself and Trump since joining the president's administration.
"I've never really heard him [Pompeo] go off on Trump in a video form," the writer said. "Mike Pompeo is very, very sensitive about even the appearance of being caught out disagreeing with Donald Trump. I think he is worried about the idea that Donald Trump is gonna remember back to March 5th, 2016."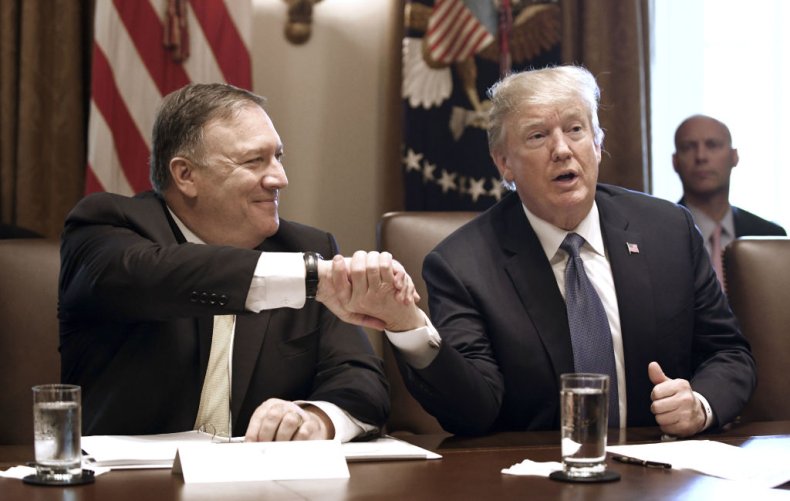 Glasser's commentary and the video shared on Twitter accompanied her expose for the August 26 issue of The New Yorker magazine, entitled: "Mike Pompeo, the secretary of Trump," which dubbed the top administration official as the president's "most loyal soldier."
Pompeo took over as director of the CIA just after Trump's inauguration in 2017. He went on to be nominated as the administration's Secretary of State following the departure of Rex Tillerson. The former Republican congressman officially took over Tillerson's role in April of 2018.
"I think Mike Pompeo will be a truly great Secretary of State," Trump said after Pompeo's nomination. "I have total confidence in him."
Since taking on the top diplomatic post, Pompeo has been seen as one of the administration's more hawkish members, pushing Trump to take a hardline stance against foreign adversaries, particularly when it comes to Iran.