Mike Pompeo's Home State Newspaper Calls His 'Gaudy, Taxpayer-Funded Dinners' a Gross Exploitation of Public Trust
An editorial published Thursday by The Kansas City Star called Secretary of State Mike Pompeo's "gaudy, taxpayer-funded, rolodex-building 'Madison Dinners'" a gross exploitation of public trust.
The dinners, which Pompeo and his wife have held at the State Department since 2018, used government money and resources.
The extravagant dinners, which included cocktail hours, seasonal menus and gift bags, were paid for out of the State Department's Emergencies in the Diplomatic and Consular Service Appropriation, a fund allocated for activities related to U.S. foreign policy objectives.
Held in the Diplomatic Reception Rooms, the dinners are named after James Madison, America's fourth president and fifth secretary of state, who was known to invite foreign diplomats for dinners. However, Madison paid for his own social events.
Pompeo's home state newspaper said these dinners "should make him damaged goods in Kansas."
Newsweek reached out to the State Department for comment on the Star's editorial but did not hear back before publication.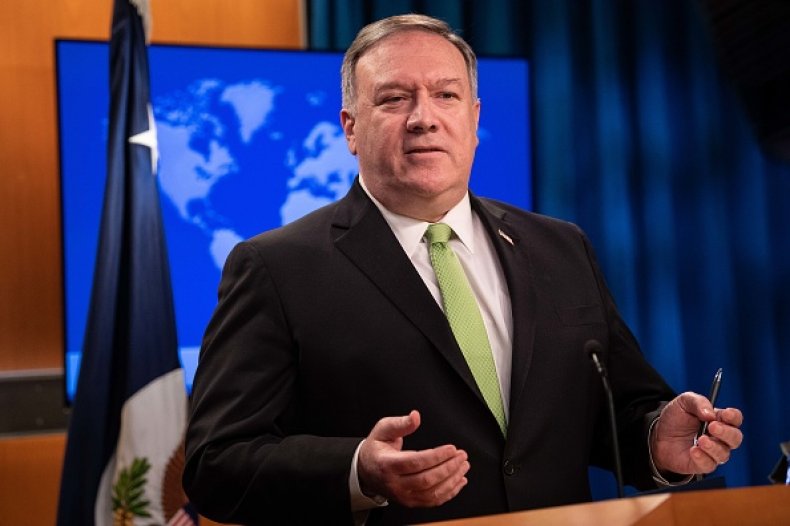 In a recent investigation of the Madison Dinners, NBC obtained a guest list for every dinner hosted through the end of 2019. The master list of nearly 500 invitees shows that the gatherings were "essentially using federal resources to cultivate a donor and supporter base for Pompeo's political ambitions," which led involved State Department officials to raise concerns internally, NBC reported.
Only 14 percent of the guests were diplomats or foreign officials. The rest of the breakdown showed that 30 percent of the invitees worked in politics and government, 29 percent were from the corporate world, and 25 percent were from media and entertainment, the majority of which were conservative media.
"Nothing against Reba McEntire or Dale Earnhardt Jr. or anti-abortion lobbyists or Fox news anchors," the Star wrote, "but it's a lot harder to see what they have to do with foreign policy than how they could help fund and admiringly narrate a future campaign."
State Department spokeswoman Morgan Ortagus told NBC that the dinners are "a world-class opportunity to discuss the mission of the State Department and the complex foreign policy matters facing our exceptional nation."
Future dinners, which had been scheduled through the end of October, have been put on hold with the coronavirus pandemic, but "the secretary looks forward to continuing these Madison Dinners, as they are an important component of the execution of his duties as secretary of state," said Ortagus.
Pompeo has resisted Senate Republicans' attempts to recruit him for Kansas' Senate race. The Star said that if Pompeo decides to run before the filing deadline, which is in 10 days, "voters might not find Pompeo's behavior disqualifying."
The editorial said the recent leaks "should come as no surprise," as Pompeo faces several ethical issues, a reference to the recent firing of State Department Inspector General Steve Linick on May 15, which Pompeo requested.
Linick had been investigating reports that Pompeo was having a political appointee run his personal errands. It is unknown if he had been looking into the Madison Dinners.
At Wednesday's news conference, Pompeo said Linick's firing was unrelated to the investigation.
"I have no sense of what investigations were taking place inside the inspector general's office," the secretary of state said. "Couldn't have possibly retaliated for all the things—I've seen the various stories, that someone was walking my dog to sell arms to my dry cleaner."