Mike Richards Out as Executive Producer of 'Jeopardy!' and 'Wheel of Fortune'
Mike Richards will no longer serve as the executive producer of Jeopardy! or Wheel of Fortune, according to a statement Sony Pictures Entertainment provided to Newsweek on Tuesday.
News of Richards' departure from the role came less than two weeks after he quit as the host of Jeopardy! amid a wave of criticism over controversial comments he made in the past. Though Richards stepped down as the show's host, Sony initially said he would remain as its executive producer.
Suzanne Prete, the executive vice president of business and strategy for Wheel of Fortune and Jeopardy!, announced Richards' departure from his executive producer role in a message to staff members that Sony shared with Newsweek.
"I'm writing to let you know that Mike will no longer be serving as EP of Wheel and Jeopardy! effective immediately," Prete's message said. "We had hoped that when Mike stepped down from the host position at Jeopardy! it would have minimized the disruption and internal difficulties we have all experienced these last few weeks. That clearly has not happened."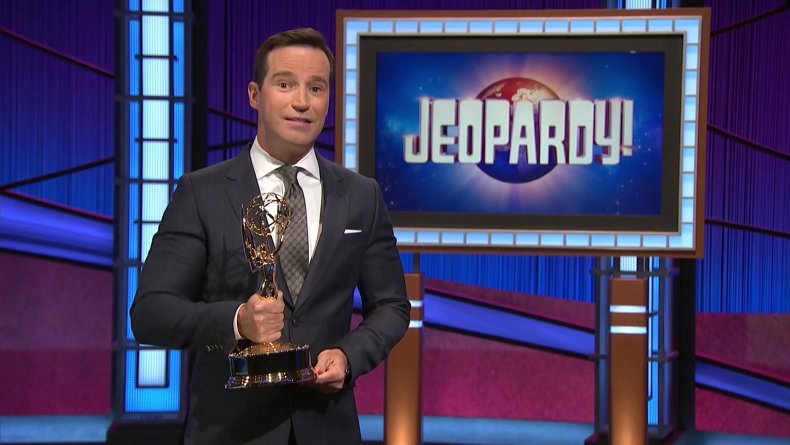 Richards was introduced as the new full-time host of Jeopardy!'s syndicated programming on August 11 after a months-long search. He was to succeed longtime host Alex Trebek, who died last November.
Actress Mayim Bialik was also named as the host of Jeopardy!'s prime-time and spin-off shows.
Richards initially led the search for Trebek's successor before accepting the role, a factor that triggered early criticisms of his appointment. After The Ringer published an article that resurfaced offensive comments Richards made while hosting a podcast show in 2013 and 2014, pressure began mounting on Richards to resign.
Richards announced his decision to step down from his hosting duties on August 20. In a statement Richards sent to the show's staff, he said continuing in the role "would be too much of a distraction for our fans and not the right move for the show." The earlier search to find a full-time host for the syndicated program would resume in the wake of his departure, Richards added.
Following Richards' exit as Jeopardy!'s host, Sony said it supported his decision and was "surprised" by the "offensive language" Richards used in the comments that resurfaced. "We have spoken with him about our concerns and our expectations moving forward," Sony said at the time.
With Richards also now out as the executive producer, Prete said Michael Davies, the founder and president of Embassy Row, will step in to assist with production "on an interim basis." Davies and Prete will collaborate "to ensure that production remains on schedule and we do not miss a beat as we head into the new season," Prete wrote.
Updated 8/31 at 1:22 p.m. ET: This story has been updated to include additional information and background.