With his dramatic life inside and outside of the boxing ring, it was always a given that Mike Tyson would one day become the subject of a Hollywood biopic.
The 54-year-old legend—whose pugilistic prowess earned him the nickname "Iron Mike"—has remained one of the sport's most famous faces in the decades since his 1985 debut.
Tyson's life and career is set to be the focus of two productions, one with his whole-hearted support and another that he's dead set against.
It was revealed this week that Moonlight star Trevante Rhodes has been cast to portray the sportsman in an eight-episode Hulu series. Entitled Iron Mike, the series—set to go into production later this year—will be executive produced by Steven Rogers, who wrote the Oscar-winning film I, Tonya.
Tyson not only has nothing to do with the project, he has also spoken out to condemn it.
When Iron Mike was announced in February, Tyson took to Instagram to share a since-deleted statement, which read: "Hulu's announcement to do an unauthorized mini-series of the Tyson story without compensation, although unfortunate, isn't surprising.
"This announcement on the heels of social disparities in our country is a prime example of how Hulu's corporate greed led to this tone-deaf cultural misappropriation of the Tyson life story.
"Hollywood needs to be more sensitive to black experiences especially after all that has transpired in 2020. The real Mike Tyson authorized story is in development and will be announced in coming days."
Within weeks, it was officially confirmed that Oscar-winning actor Jamie Foxx had signed up to star in a biographical series called Tyson.
To be directed by Antoine Fuqua and executive produced by Foxx and Martin Scorsese, the series has Tyson's full backing.
In a statement, Tyson—who in 1986 became boxing's youngest ever world heavyweight champ at the age of 20—said of the project: "I have been looking to tell my story for quite some time...
"I look forward to collaborating with Martin, Antoine, Jamie, and the entire creative team to bring audiences a series that not only captures my professional and personal journey but also inspires and entertains."
It was originally announced in 2014 that Foxx would be portraying Tyson in a feature film, though in the end the decision was made to proceed with a series.
Foxx—who won an Oscar for his portrayal of Ray Charles in 2004's Ray—informed fans last June that he was preparing for the role, as he shared images of his gym-sculpted physique on Instagram.
He wrote: "It is no secret that I have been pursuing the @miketyson biopic for some time... people always ask me when is it going to happen?... things have finally lined up...
"A few months ago we started the journey... The first but biggest task is to transform the body... with a regiment of pull-ups dips and push-ups we are off to a pretty good start... we have a ways to go but God willing..."
Foxx, 53, also spoke of his enduring friendship with Tyson, after meeting him in the early 1990s, when he was aged 22 and making his mark as a stand-up comedian.
Speaking during an Instagram Live session, he recalled: "I met Mike Tyson in the weirdest way, I was on stage doing stand-up years ago.
"I get to my Mike Tyson joke and nobody claps, nobody laughs. You know why? Because Mike Tyson was watching.
"So I started hanging out with Mike Tyson so I got to see Mike in two different ways, two different lives.
"I saw him at the height of his career and then when things got bad, things got bumpy, I also saw him as well, so what I'm excited about the movie is to show those moments of the different Mike. That's the person we want to show."
A broadcasting home for Tyson has yet to be announced, and the release dates for Tyson and Iron Mike aren't yet out.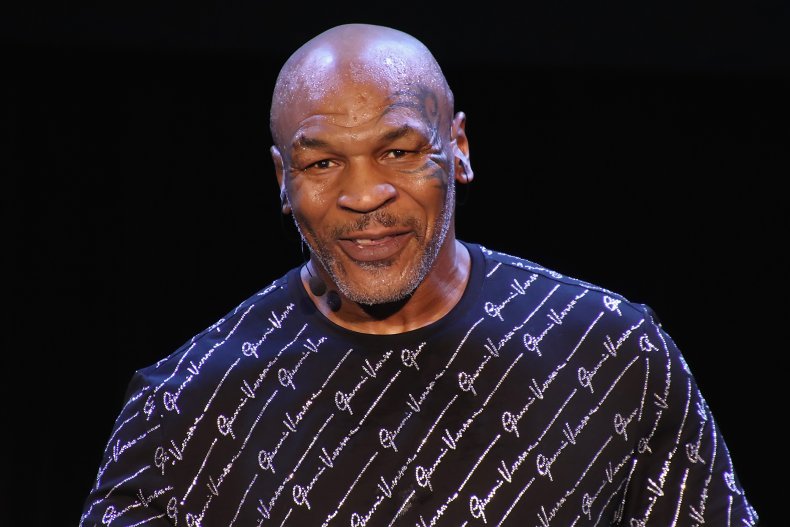 Uncommon Knowledge
Newsweek is committed to challenging conventional wisdom and finding connections in the search for common ground.
Newsweek is committed to challenging conventional wisdom and finding connections in the search for common ground.
About the writer
Ryan Smith is a Newsweek Senior Pop Culture and Entertainment Reporter based in London, U.K. His focus is reporting on pop culture and entertainment. He has covered film, TV, music, and Hollywood celebrity news, events and red carpets. Ryan joined Newsweek in 2021 from the Daily Mail and had previously worked at Vogue Italia and OK! magazine. Languages: English.
You can get in touch with Ryan by emailing r.smith@newsweek.com.