Mike Tyson Repeatedly Punches Passenger on Plane, Video Appears To Show
Mike Tyson has reportedly been shown repeatedly punching a fellow plane passenger in the face, leaving him bloodied, in a new video clip.
In footage shared by TMZ on Thursday, a man resembling the 55-year-old veteran boxer is seen standing up and striking a man seated behind him in the face.
A voice can be heard saying, "Hey Mike, stop that," as the punches continue to be thrown, before the camera is angled away from the incident.
In footage that appears to have been shot earlier in the flight, the individual who was apparently punched is seen engaging in playful banter with the man resembling Tyson, who smiles along.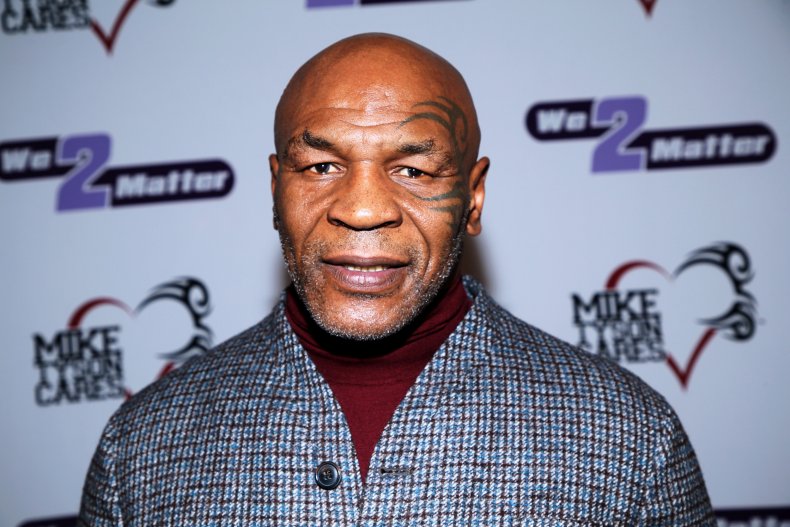 However, the clip then cuts to the man being filmed pulling a sad face as he shows bloodied cuts to the side of his head, with a voice saying off camera that he "just got beat up by Mike Tyson."
"Yeah, he got f***ed up," the person off-camera continued. "He was trying to ask for an autograph, man. I don't know what happened."
According to TMZ, the incident took place at around 10:30 p.m. on Wednesday, on a JetBlue aircraft headed from San Francisco International to Florida.
Citing witness accounts, the outlet reports that Tyson was initially patient, spoke with the excited fan and posed for a selfie with him, before eventually requesting that he calm down.
However, after the fan continued to communicate with him, Tyson allegedly turned around and aimed a flurry of punches at him before walking off the plane, which at the time was still boarding.
The man who was allegedly punched received medical attention and spoke with police after the incident, according to TMZ.
Newsweek has contacted representatives of Tyson, JetBlue and the San Francisco Police Department for comment.
Tyson has not publicly addressed the incident, taking to Instagram on Thursday to share a post promoting T-shirts bearing his likeness.
Hours before the incident would have taken place, his Instagram posts indicate that he attended San Francisco's Hippie Hill 4/20 event, which celebrates all things cannabis.
Tyson is one of the most recognized figures in boxing history, after a formidable career that saw him retire with a record of 50 wins to 6 losses, with 44 of those victories coming by way of knockout.
Outside of the ring, he has faced a series of controversies that included serving nearly three years in prison between 1992 and 1995 after he was convicted of rape.
After reviving his career, the pugilist attracted further headlines when he bit off part of Evander Holyfield's ear during their 1997 fight. He was subsequently disqualified.
Tyson—who in 1986 became boxing's youngest-ever world heavyweight champ at the age of 20—last competed in an official professional boxing match in 2005. He returned to the ring in 2020 for an exhibition fight against Roy Jones Jr. that ended in a draw.