Watch Mike Tyson's Intense Training Workout Leading up to His Fight With Roy Jones Jr.
Mike Tyson is still one person you definitely don't want to take a punch from. A new video that shows the 54-year-old boxer preparing for his upcoming fight with Roy Jones Jr. should serve as a reminder of just how strong of a fighter Tyson still is.
The compilation video—which was shared to YouTube in late July and recently resurfaced on Reddit—shows Iron Mike in a private ring, boxing a trainer (who's wearing protective gear) into a corner. He seems like he's working on his accuracy, as well as dodging, blocking and strength.
The video is made up of a bunch of clips that date back to at least May. One of the videos is taken from Tyson's Instagram, and features him in some of the early stages of training, before his November 28 match with Jones was even announced. At the end of the Instagram clip, Tyson turns to the camera, wearing a sweaty Los Angeles Clippers t-shirt and says, "I'm back."
When it comes to the YouTube video, the most fun part is getting hyped up watching Tyson practice his punches with his trainer. But the end of the video shows that even the once-undisputed champion needs to warm up. The last few seconds of the video show Tyson on a knee with a trainer, seemingly stretching out his leg muscles. Tyson shadow boxes at the very end of the clip. While it's not as likely to get your heart pounding as the footage of the boxer landing punches, it's interesting to see just how much care and work has to go into this latest comeback.
Tyson and Jones will face off in California on November 28. The fight marks Tyson's return to boxing 15 years after his famous final match with Kevin McBride in June 2005. The fight will be available on Pay Per View and video-streaming app Triller. The fight is presented as part of Tyson's "Legends Only League," for which the boxer has said he wants to bring legendary athletes back to their respective sports to "relive [their] glory days."
In a September 4 interview on The Joe Rogan Experience, Tyson spoke about why he wants to return to the ring. Tyson said that he started training after venting to his wife about his weight, and she suggested that he hop on the treadmill for 15 minutes a day, which led to hours on the treadmill every day. He also said that his brother asked if he'd be interested in fighting again for an exorbitant amount of money, which made him consider hopping back in the ring.
On the podcast, Tyson joked about how difficult it was to prepare for a fight versus just getting in shape. "Being able [to get in shape], you have to fit your clothes," he said. "Being in [fighting] condition is being able to come outside your soul, and you can't do that automatically."
Tyson's agent did not respond to Newsweek's emailed request for comment in time for publication.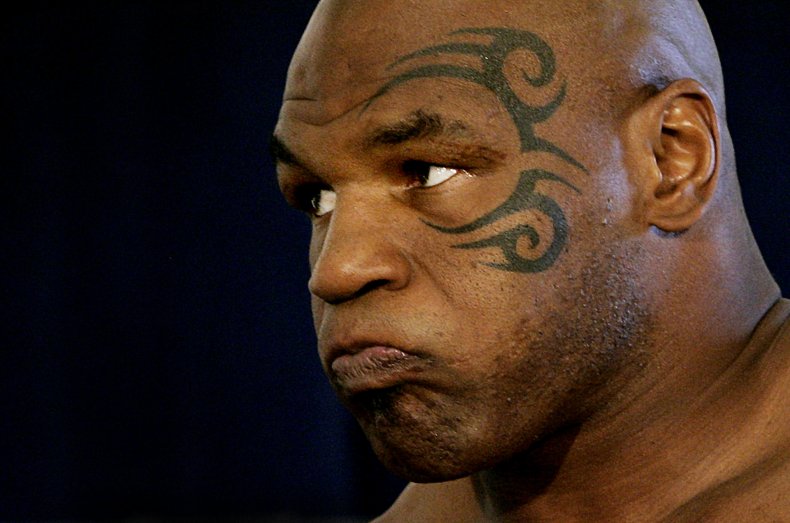 Watch Mike Tyson's Intense Training Workout Leading up to His Fight With Roy Jones Jr. | Culture