Nathan's Hot Dog Eating Champion Miki Sudo on Her Favorite Foods, How She Prepares and What Competing Is Like
One of the most beloved Fourth of July traditions is the annual Nathan's Hot Dog Eating Contest, and Wednesday morning some familiar faces will arrive at Coney Island ready to eat.
Miki Sudo, four-time champion in the women's competition at Nathan's and the fifth best competitive eater in the world, will be there Wednesday. Sudo, who started in competitive eating after winning a jackpot deal at a restaurant, finished off 41 hot dogs last year and is looking to retain her Nathan's Champion title for a fifth year in a row.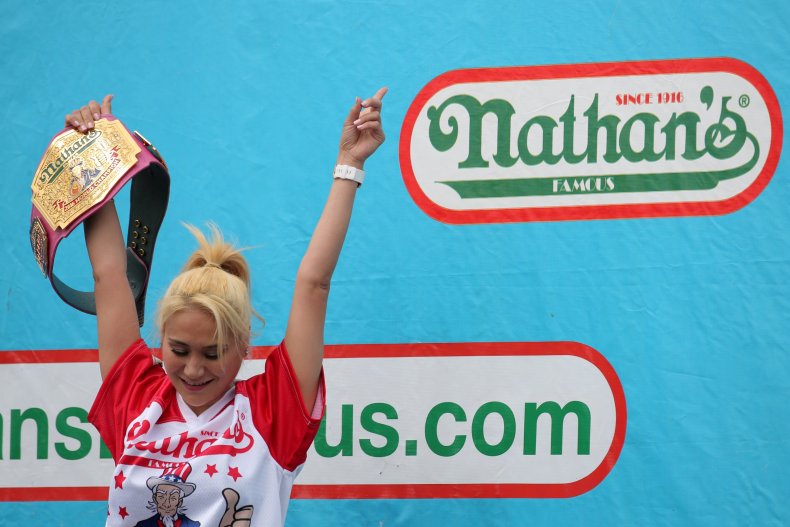 The women's competition is scheduled to start at 11 a.m. at the historic Nathan's location, and coverage of the competition is set to begin on the streaming service ESPN3, at 10:50 a.m. The men's competition is scheduled to take place afterward and will be televised on ESPN2 and rerun throughout the day.
Miki spoke with Newsweek about life as a competitive eater, the days leading up to a competition and the sport of competitive eating.
What's your favorite food outside of competition, and your favorite food to eat for competition?
Probably grilled salmon is one of my favorite foods to eat. I do love sushi, and I do love just rare steak in general.
My favorite competition food is probably Nathan's just because it's huge. It's the largest event on the circuit, it's the Super Bowl of competitive eating, so that's a great event. In terms of the food itself, I really enjoy eating ribs and chicken wings in competition.
What's it like to go out to eat at a restaurant, do people ever recognize you?
I've been recognized before. One time I was at an all-you-can-eat Korean place with a friend. That was pretty interesting and unexpected, especially since I hadn't had my hair and makeup done, and I feel like I looked pretty different from my normal competition self.
What I eat depends on who I go with. If I go out to eat with my competitive eater friends, I'll eat a certain way, but if I go out with, you know, family or friends who are not involved in competitive eating, I just have what people would consider a normal meal.
How do you prep, what's a day leading up to a competition for you?
Leading up to Nathan's it's just a lot of press, getting people excited about the event, reminding them when and where they can check out the competition.
Is there any specific type of food you try to eat to prep? Do you practice with hot dogs or another type of food?
I did practice with hot dogs this year. I was able to do three practices.
I tend to stay away from that just because I feel like, for me, it's more important that I get back to my optimal health, which is in terms of weight, energy level, stamina, all that. So prepping with food is less important for me.
But I did do three practices in the last three weeks, so it was mainly for coordination and just getting used to the flavor of hot dogs, as well as the consistency and kind. You have to get used to the sensation and the taste of soggy, warm buns, because we dunk the buns in competition.
If you win it'll be your fifth. Are you trying to break your Nathan's record or focusing on taking home the title?
You know, honestly, a win is a win. I have mixed feelings about this, of course, no matter what you do you want to give it your all, you want to be your best, but I hate to admit it, I would have more incentive if the women's contest was actually on TV. Other than that, people might check the results and see that I won, and they're not going to care if I won by five hot dogs or 15 hot dogs.
Truthfully, on a personal level, I'd like to give it my all but I'm not really in a place where that makes any difference.
I want to talk about that a little bit, how Nathan's is the only competition that has women and men compete separately.
Yeah, on the major league eating professional circuit it's the only competition where men and women compete separately. And I'm great with that. I think it's great to be able to give an audience to the women that really do well in these events, with that said there are probably only a handful of women that are serious competitors. So I understand why the women's competition can get less coverage, but maybe there would be a way to at least acknowledge the women that would have placed fairly well in the men's event.
I wanna make it clear that I'm not saying that the women's event deserves more coverage or equal coverage in general. I'm just saying that there has to be a way for the women who are putting up numbers in the 30s and 40s to get some sort of acknowledgment because numbers like that beat out more than half the male field.
Right, I feel like that's not really clear to a lot of people.
Yeah, exactly. So people are like, 'Oh you do that hot dog competition?' and I'm like, 'Yeah I've actually won four years in a row.' Then they look at me confused, and I'm like, 'Oh yeah, I won the women's division.'
"Oh you won the women's division," like it's some sort of amateur baby league opening act, and the thing is, I still would have held my own. Would I have come close to Joey Chestnut who ate 70 plus? Of course not, but I wouldn't have come in dead last.
You know, it is what it is. I take the good with the bad. I love competing and performing at Nathan's. So at this point, that's where it's at, but it is a great event.
I wish everybody could really fully understand and get the full experience. There's nothing like actually being here. For those who actually find this convoluted way in which the women's contest is even archived online, it's really not the same.
What are those final moments before you head out there? Do you have a playlist you listen to hype you up?
No, in the final moments I really just like, I try to be in as quiet and as peaceful a place as possible, and I've got my hiding spots around Coney Island where I go to just kind of just calm down for a little bit because there's just so much chaos and excitement and energy leading up to it. I mean I do feed off the energy once onstage, but I need to have a level of calm come over me so that I can focus.
As far as music and playlists, that's more like when I'm working out or doing cardio. I have my favorite artists and favorite tracks and all that.
If you weren't involved in competitive eating, what would you be doing instead?
I'd still love to be in the field of entertaining in some capacity, and I do enjoy food a lot. I mean, it would have been great to have Adam Richman's job as the next Man v. Food host, but we'll see what's on the horizon. I don't know. For now, I'm going to be doing competitive eating for as long as it's fun.
Watch Miki compete in the Nathan's Hot Dog Eating competition Wednesday on ESPN3 or in person at Coney Island.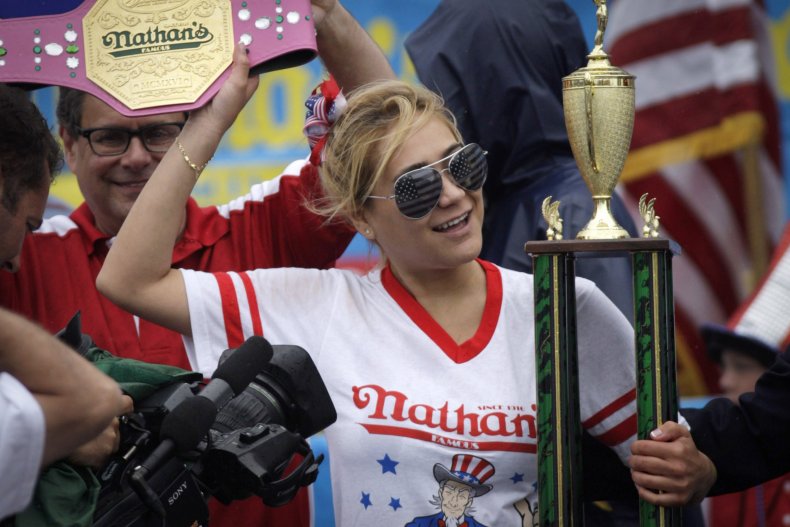 Nathan's Hot Dog Eating Champion Miki Sudo on Her Favorite Foods, How She Prepares and What Competing Is Like | U.S.