Rep. Mikie Sherrill Claims Lawmakers Led 'Reconnaissance' of U.S. Capitol Before Riot
A Democratic lawmaker has accused Congressional colleagues of helping protesters prepare for the insurrection in the U.S. Capitol.
Rep. Mikie Sherrill (D-NJ) made the claim in a Facebook live in which she told her constituents about the events of last Wednesday and outlined why she backed an appeal to Vice President Mike Pence to use the 25th Amendment to remove President Donald Trump from office.
She referred to "members of Congress who had groups coming through the Capitol that I saw on January 5—a reconnaissance for the next day." She also said that there were "members of Congress that attempted to help our president undermine our democracy."
The U.S. Navy veteran and former federal prosecutor did not mention any lawmaker by name, nor did she specify what the actions the "groups" had carried out during the "reconnaissance." Newsweek has contacted Sherrill's office for comment.
During the Facebook Live, Sherill said that "we can't have a democracy" if members of Congress "are actively helping the president overturn the election result."
Sherrill also said that she not only wanted Trump removed but also to see "that those members of Congress who abetted him...are held accountable and if necessary, ensure that they don't serve in Congress."
During the online address, Sherrill described fearing for her safety as pro-Trump protesters banged on the doors to disrupt the certification of the Electoral College results on January 6.
"We were told to get out the gas masks," she said, "then we were told we had to get down because as they had barricaded the door as the glass was breaking, they were worried that an active shooter was going to get into the chamber.
"As I was on the floor, I heard other members making calls home, afraid that that would be the last call that they ever made."
Her comments come ahead of a House vote on Wednesday on a second impeachment of Trump in relation to the storming of the U.S. Capitol. Some Republican representatives have come forward to say they would back such a move.
Jaime Herrera Beutler (R-WA), Fred Upton (R-MI) have joined Liz Cheney (R-WY), Adam Kinzinger (R-IL), and John Katko (R-NY) in publicly stating their support for impeachment.
Democrats have appealed to Senate Majority Leader Mitch McConnell (R-KY) to publicly back ousting Trump amid reports that he privately supports his impeachment. Newsweek has contacted the White House for comment.
The graphic below by Statista shows how Americans feel about the removal of Trump from office before the inauguration of President-elect Joe Biden.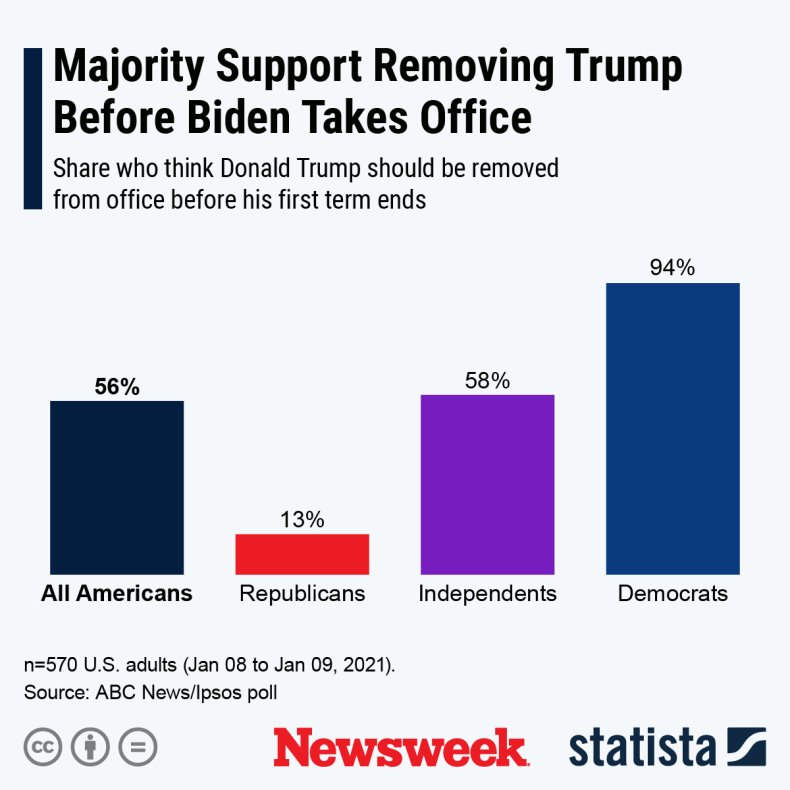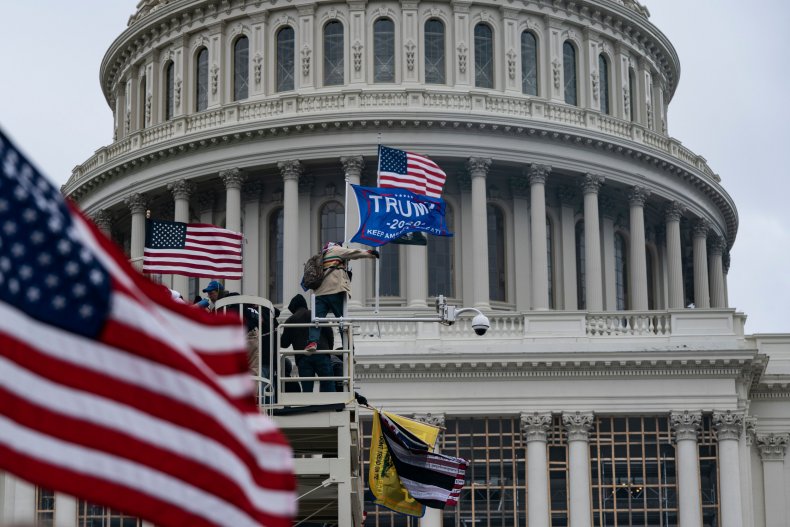 Correction 1/13/21: This story has been updated to correctly state Adam Kinzinger represents Illinois.