Fans Really Want Miles Teller to Play Elvis in the New Baz Luhrmann Biopic: 'Pretty Perfect Casting'
With the news that Baz Luhrmann is currently screen testing a number of Hollywood actors for the role of Elvis Presley in the filmmaker's upcoming biopic of the legendary singer, a number of people have taken to social media to declare the person they'd most like to be handed the role—Miles Teller.
The 32-year-old Whiplash and Too Old to Die Young star is apparently in the running alongside Ansel Elgort (The Fault in our Stars, Baby Driver), Aaron Taylor-Johnson (Kick Ass, Godzilla), Austin Butler (Once Upon A Time in Hollywood, The Dead Don't Die) and former One Direction member Harry Styles (Dunkirk), according to the Hollywood Reporter.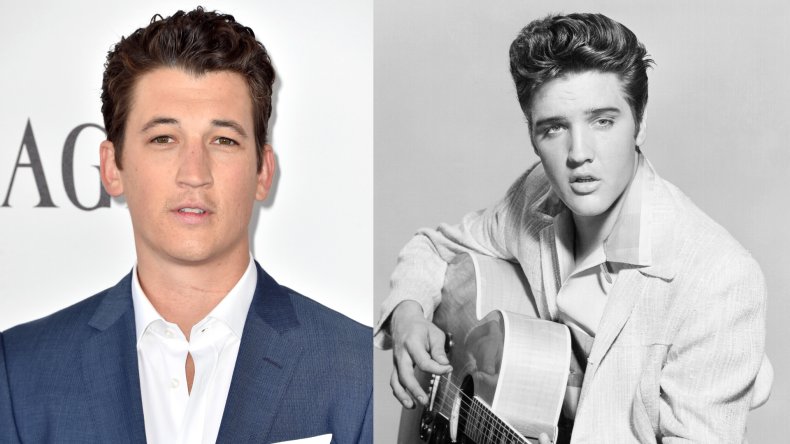 A number of people have already taken to Twitter to say they'd like to see Teller take on the role.
"Baz Luhrmann better cast Miles Teller as Elvis. That's all I'm sayin," tweeted one person, while another said, "there's no one that will play Elvis better than Miles Teller."
"Miles Teller as Elvis is some pretty perfect casting if they're intending to go the dark (truthful) route with the movie and show him as a deeply flawed individual. TOTDY and WHIPLASH are proof of Teller's immense talent," wrote another.
But others pointed out that it would be a tough call to pick who to play the role.
"I think Austin Butler might be the best look wise for Elvis Presley, but both Ansel and Harry would kill at vocals and dancing. Then Miles Teller & Aaron Taylor Johnson would be best acting wise...DECISIONS," one person tweeted.
The as yet untitled Elvis biopic has been penned by Luhrmann and fellow Australian Craig Pearce. The movie will focus on the relationship between aspiring Mississippi-born musician Presley and his veteran manager, Colonel Tom Parker, who held exceptionally tight control over the pop star during the two decades he managed him and took 50 percent of Presley's earnings from recordings, films, and merchandise. It has already been confirmed that Tom Hanks will play Parker in the film.
One of the most beloved musicians of the 20th Century, Elvis Presley remains the best selling solo artist of all time. Last year he was posthumously awarded the Presidential Medal of Freedom by President Donald Trump.
When asked by Jimmy Kimmel on his late night show on June 20 about the actor's resemblance to Elvis, Teller responded by saying "I absolutely want to play Elvis...I will play him at some point."
Teller, who rose to fame in the Best Picture Oscar-nominated flick Whiplash in 2014, will next be seen on screen alongside Tom Cruise in Top Gun: Maverick, the long-awaited sequel to the 1986 action film about U.S. fighter pilots. The movie is set to be released on June 26, 2020.