Miles Teller's Not-So-Rough Landing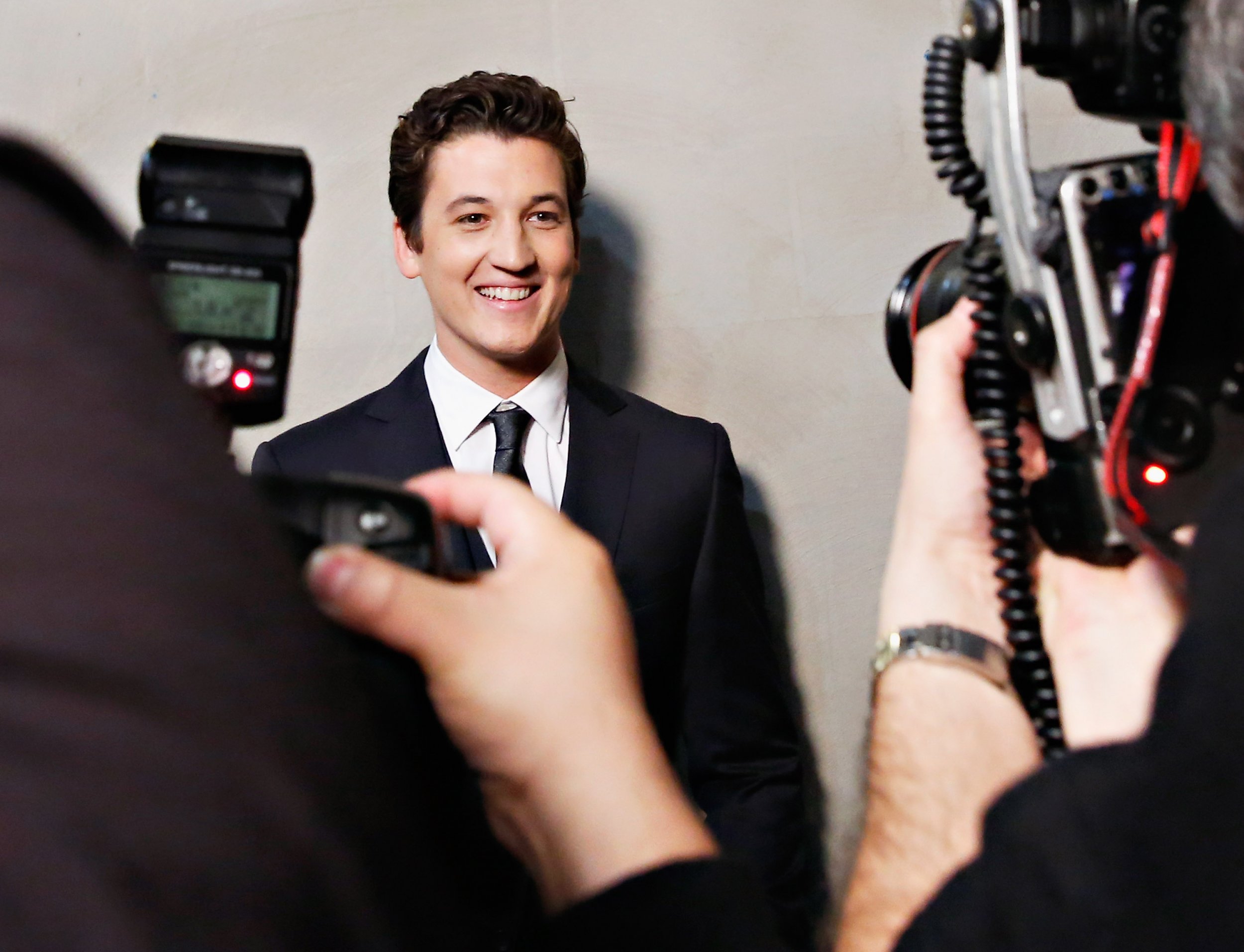 Just because Miles Teller has been called the "breakout star" of the Sundance Film Festival for two years running doesn't mean he's got a problem with acne. True, the jazz drumming prodigy of Damien Chazelle's Whiplash, which won both the Grand Jury Prize and the Dramatic Audience Award, does have some noticeable facial scarring, but that's due to a 2007 car accident (the result of hotrodding with a friend and seven highway rollovers) that studded his left cheek with gravel.
Teller's mug may be rough, but he's not hard to look at. The 26-year-old actor bears a passing resemblance to John Cusack, circa Say Anything. He has the same soft features and, onscreen, radiates the same easy charm and quiet integrity. Teller was terrifically natural in last year's Sundance teen hit The Spectacular Now, and terrifically au naturel (wearing nothing but a strategically-placed tube sock) in 21 & Over.
On this blustery afternoon at Park City's InStyle Lounge, he's causally clad in blue jeans, a black Henley and an orange Philadelphia Flyers cap. Teller was born in Downingtown, Pa., a Philly suburb terrorized by a Jell-O-like alien in that sci-fi classic The Blob (1958) -- which starred another up-and-comer named Steve McQueen.
As a child, he ricocheted all over the East Coast – his father was a nuclear power plant engineer – before settling in Florida. At 15 he got a drum set and joined The Mutes, a band whose name derived from its first song at a homecoming day parade. "Our sound system went kaput," he recalls with the elongated vowels distinctive to natives of the city of Brotherly Love. On a whim ("the drama teacher was hot"), Teller auditioned for a school play and landed the part. He burnished his skills at NYU and made his film debut four years ago in The Rabbit Hole, playing a teenage driver who accidentally kills the four-year-old son of a suburban couple (Nicole Kidman and Aaron Eckhart).
Teller has cruised into Park City to promote Whiplash, in which he plays a would-be Buddy Rich driven perilously close to the edge by his tyrannical high school band teacher (J. K. Simmons). Like the drummer in the video for the Arctic Monkeys' 2006 "The View From The Afternoon," Teller pounds away until his hands bleed. (It was just a movie, kids, though, in rehearsals, Teller performed with such abandon that his palms quickly blistered). Though the movie was dubbed "Full Metal Jacket at Julliard" by its producers, New York Times critic Manohla Dargis wrote, "it's deeper and richer than its nickname suggests."
Whiplash opened Sundance this year, and, shortly after the closing credits rolled, Sony Pictures Classics bought the international rights. (A week later Sony outbid several other studios to distribute the $3.3 million film domestically). Teller is already on to bigger and more expensive projects. On Friday, he teams bromantically in That Awkward Moment with Zac Efron and Fruitvale Station's Michael B. Jordan.
In March, he'll be projected on 3D Imax screens in the latest Hunger Games variant, a dystopian Chicago yarn (the city has been split into five factions and the Cubs still haven't made the World Series!) called Divergent. Teller appears opposite his Spectacular Now squeeze, Shailene Woodley.
Here in the InStyle Lounge, surrounded by vases of gray hydrangeas, Teller shields his eyes from the bright sunshine that beams around the space. "I've got a hangover," he says. Flexing his jaw muscles and scraping his tongue with his teeth, he reminds you of Lucky Jim, the sodden protagonist of Kingsley Amis' novel of the same name, whose mouth "had been used as a latrine by some small creature of the night, and then as its mausoleum."
When I ask Teller if he wants anything to eat, he shakes his head and says, "I'm not quite there yet."
Must have been some party.
It was fun for, like, 20 minutes. This girl came up to me and says, "You should come over to my house later." So I say, "I can't, I have a girlfriend." She says, "Okay, tell me your name, though." I say, "Miles."
And she says, "Twerk?"
No. She just couldn't place me.
Maybe she thought you were Miley Cyrus?
I get that reaction a lot. Girls are like, "Come over. Wait… who are you?"
When I Google your name, the first suggested search is "miles teller scars."
There are two rocks in my face.
Will they eventually pop out?
No, they're surrounded by too much scar tissue.
Another suggested search is "miles teller dancer"
I think of myself as a pretty good dancer. I was at this lounge last night partying. I was actually throwing the flowers around that are right in front of us.
Yet another suggested search is "miles teller baseball?"
I played in college.
Like Jonah Hill in Moneyball, you seem to be into stats and metrics. You've said that you did 70 percent of your drumming in Whiplash. And that during the Divergent shoot you ran on top of trains traveling at up to 14-miles-an-hour, which is only slightly slower than the speed of Tom Cruise's train in Mission Impossible.
I like to let people know statistically where I stand as an actor. Movie audiences don't know what's real and what's not. Unless it's a documentary, but then all my films are basically documentaries.
That's very Sundance of you.
I'm an indie darling.
This was your second year at the festival. Is it just coincidence that you, Zac Efron and Michael B. Jordan all appeared in films that played Sundance in 2013?
Zac Efron had a movie at Sundance?
Didn't he pee on Nicole Kidman in one?
No, The Paperboy premiered at Cannes.
My bad. Totally wrong then.
At the time of last year's festival we were all filming That Awkward Moment.
Do you hang out with Zac Efron?
Zac's a cool guy. He dealt with fame so early. He was Justin Bieber before Justin Bieber.
Didn't Zac Efron get famous from Vanessa Hudgens sending him naked selfies?
What naked selfies? Vanessa Hudgens has a naked selfie?
Allegedly. Maybe that was Zac's first awkward moment.
I'm sure he's had a lot of awkward moments. He told me someone sent him a piece of her skin.
Do you think of yourself as a heartthrob?
I've always thought of myself as "not a heartthrob." I don't even know what a heartthrob is.
What'll happen if you find out and become one?
I can't tell you… Probably I won't have to wait in lines. Probably get people sending me skin.
By the way, where's your girlfriend?
Sleeping. I'm jealous.
Is she an actress?
No, I don't date actresses.
Oh, so she's a…
She's a real person.
What's next, career-wise? Planning to pull a James Franco?
And get stuck between a boulder? I… guess.
Earlier in this interview you said lots of people confuse you with Miley Cyrus?
No, I didn't say that. You said that.
And so I did. As a personal favor, when you eventually tour Europe with Whiplash, would you change your first name to Kilometers?
Yes. Thanks for sharing.