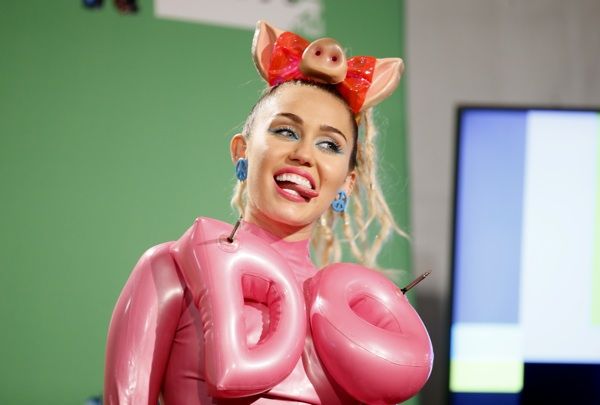 Miley Cyrus once told Rolling Stone magazine that weed was "the best drug on earth," and she even advocated for marijuana during a London concert in 2014, when she told audience members to "just roll a fat joint" instead of smoking cigarettes, because "weed has never killed anybody." However, the singer has apparently exchanged all her bongs, blunts and joints for clearer, sharper, cleaner living—at least for now.
During a recent interview with Billboard, the Bangerz singer happily revealed she had quit smoking the green along with drinking alcohol and using other drugs, a decision she made upon the release of her new song, "Malibu," which is set to debut May 11. The song will also appear, along with nine others, on her as-yet-untitled album, due out later this year.
"This is crazy, but I haven't smoked weed in three weeks," she said, adding that this is the longest she's gone without the herbal substance since she started using it. "I'm not doing drugs, I'm not drinking, I'm completely clean right now. That was just something that I wanted to do."
The 24-year-old said the decision to quit, "for a second," was completely her own and was a part of her evolution as an artist, which she realized wasn't taking place while she was surrounded by stoners.
"I like to surround myself with people that make me want to get better, more evolved, open. And I was noticing it's not the people that are stoned. I want to be super clear and sharp, because I know exactly where I want to be," she said.
The former Disney star had become something of a leader among a certain subsection of millennials following her 2010 album, Can't Be Tamed. She had taken on an even more undefinable rock-star role upon the release of her 2013 party anthem "We Can't Stop." In the video, a gold-grilled, pants-less Cyrus and her teddy-bear-bodied dancers were seen twerking, floating in pools and puffing clouds of smoke from their privates. Pot and partying had seemingly become a big part of the singer's lifestyle.
But Cyrus said going off cannabis cold turkey hasn't been as grueling for her as it has for some others who have kicked the habit.
"It's easy, dude," she said. "When I want something, it's fucking easy for me. But if anyone told me not to smoke, I would have not done it. It's because it was on my time. I know exactly where I am right now. I know what I want this record to be."
Cyrus's admission comes following the singer's latest collaboration with the ultimate stoner band, the Flaming Lips, whose members she once did ayahuasca with. While speaking with Rolling Stone in January ahead of the release of the band's Oczy Mlody album, in which Cyrus was featured on the track "We a Family," frontman Wayne Coyne said he once tried the brewed Banisteriopsis caapi vine with Cyrus and some friends around the time Cyrus was working on her Miley Cyrus & Her Dead Petz album.
Cyrus is only the most recent celeb to publicly note her separation from marijuana and other substances. Check out this list of a few more stars who say they have cleaned up after spending years smoking cannabis:
1. Woody Harrelson: The Natural Born Killers actor was considered a party animal back in the day. However, during a March interview with Vulture, he admitted he had been marijuana-free for a year after "30 solid years of just partying too f**king hard."
2. James Franco: The actor appeared as somewhat of a super-stoner in the 2008 film Pineapple Express. However, during a 2014 interview with Howard Stern, Franco said that he "doesn't smoke weed at all" anymore and that there was "just no need" for him to continue the habit.
3. André 3000: One-half of the rap duo OutKast, Andre told The Guardian in 2003 that he hadn't smoked weed or had alcohol since 1998. He said his decision to get clean came after he realized how much the drug was affecting his life. "I was kind of abusing it. I wasn't looking my best. I had a platinum album out, and I would do stuff like go to [the] projects to buy weed," he said.
4. Lady Gaga: During a 2016 interview, the self-proclaimed mother monster admitted to having a marijuana addiction following hip surgery. The singer said she would smoke anywhere between 15 and 20 marijuana cigarettes a day to self-medicate. However, after undergoing treatment, Gaga says, she was able to shake her addiction.
5. Brad Pitt: The actor has been candid about his marijuana use in the past, telling Parade magazine in 2011 that he picked up smoking back in the 1990s during a depressed phase of his life. In a recent interview with GQ, the 53-year-old said he was able to kick the habit for good when he started his family with ex-wife Angelina Joie and has since kicked all substances, including alcohol, following their divorce.