Miley Cyrus May Have Leaked the Tracklist for Her New Album, Shawn Mendes and Cardi B to Feature?
Miley Cyrus may have revealed the tracklist for her new album, or at least part of it, during an Instagram livestream on Sunday.
Fans watching the star's live stream caught a glimpse of a whiteboard in her home office that listed several songs, which may or may not be lifted from her upcoming album She Is Miley Cyrus. The whiteboard also had a tentative November 23 release date—Cyrus' birthday—reported MTV.
The whiteboard tracklist features the song "Mother's Daughter," which Cyrus released as part of her She Is Coming extended play in May and as a single in June, and "Slide Away," which dropped in August.
Other tracks that can be seen include "Cattitude," featuring RuPaul's Drag Race host RuPaul, and "Party Up the Street," featuring Swae Lee and Mike Will Made It. Both tracks first appeared on the She Is Coming EP.
New tracks teased for the album are "Play With Fire," which appears to feature Shawn Mendes, and "Naked," a possible collaboration with Cardi B.
Also listed are: "American Dream," "Mary Jane," "Victoria," and "Bad Karma."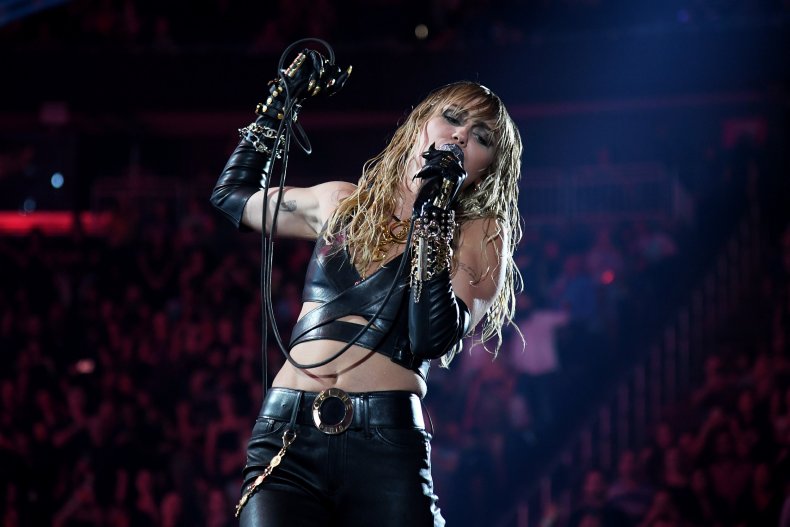 She Is Miley Cyrus doesn't have an official release date yet, but Cyrus spoke about the new album in an interview with Elle in July, describing it as a genre-fluid record—that is to say it doesn't fit into any one specific genre.
Speaking about the title, Cyrus told the magazine: "My record is called She Is Miley Cyrus. 'She' does not represent a gender. She is not just a woman. 'She' doesn't refer to a vagina. She is a force of nature. She is power. She can be anything you want to be, therefore, she is everything. She is the super she. She is the she-ro. She is the She-E-O."
Cyrus also teased the new song "Bad Karma," saying: "I have a new song called "Bad Karma," but there is no such thing as karma. There's just cause and effect. Otherwise Donald Trump wouldn't be president. I don't believe that everyone gets theirs."
Cyrus' new album is her seventh studio album, following 2017's Younger Now, which was more country-tinged than the pop-rock songs she has released so far ahead of She Is Miley Cyrus.
The actress-and-singer has been in the news recently because of her split from husband Liam Hemsworth in August after just seven months of marriage.
"Liam and Miley have agreed to separate at this time. Ever-evolving, changing as partners and individuals, they have decided this is what's best while they both focus on themselves and careers," Cyrus' spokesperson said at the time. "They still remain dedicated parents to all of their animals they share while lovingly taking this time apart. Please respect their process and privacy."
Hemsworth filed for divorce in late August, citing "irreconcilable differences."